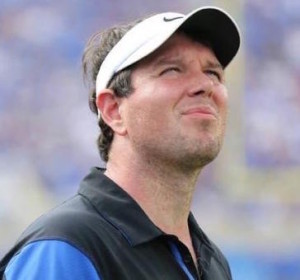 Matt Jones (@KySportsRadio) is the founder of KentuckySportsRadio.com, the self-proclaimed largest independent college sports blog in America, and host of Kentucky Sports Radio, with 34 affiliates around the state of Kentucky. This is Matt's second appearance in the series, although the first one was a while ago.

1. What's the first thing that comes to a Kentucky fan's mind when Auburn football comes up?
I would say it is the long history of that program performing at a high level. For a lot of Kentucky fans both schools in Alabama have kind of been secondary teams to cheer for in football because of our long history of being bad at the sport. In recent years however, I think most Kentucky fans think of the win down there in 09 and then the great game with Cam Newton in Commonwealth Stadium the year you guys won the title.
2. What's the vibe like in Lexington after a hot start seemed to slow with the need OT to beat Eastern Kentucky?
Most people are just chalking it up to a team not really being ready against a FCS program. But Kentucky really almost lost that game…for 53 minutes EKU dominated. But the Cats got two late drives and won. UK is significantly better than the last couple of years and the wins over South Carolina and Missouri are big for the program and its attempts at moving up in the East. But I think for UK Football to remain on the forefront of fan's minds, they need to win Thursday.
3. How "live" do you think Commonwealth Stadium will be on Thursday?
I think it will be one of the best atmospheres we have ever had there. The last time I remember this much excitement was in 07 when College Gameday and Tim Tebow came to town, but when you add in the Thursday night vibe, this might be bigger. It was going to be an off the charts game had Auburn not struggled early in the year, but it is still very big.
4. Be honest, does the interest in football wane a little bit once basketball practice starts?
In the vast majority of years yes, because the football team is not very good. But this year is a little different because Stoops has the program on another level and there is still a little hangover from the disappointing loss in the Final Four. But games in mid-October are important in Lexington because if the Cats lose a bunch in a row, the fans tune out until the Louisville game. That is why Thursday is so crucial.
5. Name two Wildcats that Auburn fans should be worried about.
UK has a lot of young studs on offense at the skill positions. They start only one Senior on the two deep roster on offense and the young guys can make plays. I would say the two to watch are Running Back Boom Williams, who when focused, is one of the most underrated players in America and Wide Receiver Dorian Baker. Dorian will play on Sundays and his catches against EKU saved the game. Both are Sophomores and very good this year, but potential All-SEC guys next season.
6. Who are your two favorite Auburn Tigers of all time and why?
Well I think everyone would say Bo because of how insanely athletic and unique he was in both sports. I always cheered for Cam Newton because I like the guys that everyone around the country decides they hate. I have been that way my whole life and when the entire nation piles up on a player, I tend to invite him into my camp. I root for Cam because he seems to play with joy and he was a special talent. Throw in Barkley on basketball and you guys have 3 of my favorite non-Cats in the SEC.
7. Where do you see each team having an advantage over the other?
I think Kentucky has a real advantage at Quarterback where Patrick Towles is severely underrated. If he plays well, I think he is the best pure QB in the SEC (Dak Prescott is the best player at the position). But bad Patrick, like he was against Florida, can be very frustrating. Still he can win you games and I think the Cats have a big advantage there. Teams have been able to run on Kentucky all season in big moments and I don't understand why most teams don't just pound the ball on UK.
I would think Auburn should be able to run the ball fairly well if they can hit any passes at all to make UK play them honest.
8. What's your analysis and prediction for this game?
I think both teams are fairly even from a talent standpoint, which is kind of insane. But the lack of development at QB, plus the WR dismissal, etc have made it a lot closer. I think UK wins a close one based on the crowd. They were overhyped against Florida and played scared…I don't think that happens this time and Towles will be able to throw enough to get a 21-17 win.
9. Where will Auburn and Kentucky end up this season?
A lot depends on this game for both teams obviously. For Kentucky, they have a real chance to have a special season by their standards. After Auburn is a three game stretch (at Miss St, Tenn and at Georgia) that is tough. But then they play Charlotte, Vandy and Louisville to end, all winnable games. If they beat Auburn, I will say they finish 8-4 and maybe even 9-3 (upsetting Miss St or Tenn). If they lose, then I will say 7-5, by beating UL to end the year. I don't know Auburn's schedule but I would think they need to win this game to make a bowl…so if they win, lets say 7-5, lose then everyone is furious you lost to Kentucky and I will guess 5-7.
10. Will Coach Cal be on the hot seat after Bruce Pearl beats him on 1/16/16?
Pearl plays Calipari very well…always did at UT when Cal was at Memphis and Kentucky. Auburn catches UK early in the conference schedule and I would assume the place will be wild down there. Cats are vulnerable to a loss…I still think however Pearl is a year away from being where he needs to be there. A&M, Vandy, and LSU are probably the contenders for second best in the SEC this season. But you guys have what I think is the second best coach in the conference and I can't wait to watch the games over the next few years.