All things considered, the Sean White era had with a promising start against Mississippi State. He didn't play scared, he had poise, and he looked like he knew what he was doing. There were very few freshman mistakes aside from the interception to end the first drive of the game, but anybody could've done that.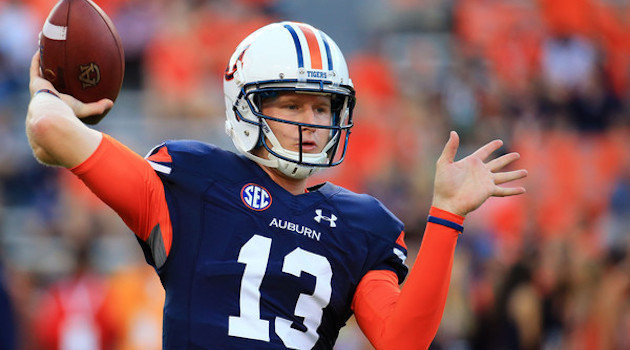 The defense, with a few changes, shut down Dak Prescott in the 2nd half of the game, a major feat considering how he had run against Auburn for the previous three years.
That being said, it wasn't good enough as a whole. The offense scored zero touchdowns and it made the defense's best performance to date moot. It wasn't a bad game. It was a start.
Now as San Jose State rolls into town, it's time for Auburn to build on that start. The Spartans are typically the team to do that against. This time it could be a tad tougher.
Last week, San Jose State was able to knock off the usually decent Fresno State. I say knock off, but they actually beat them by 26 points. That's impressive and all, but consider the fact that Fresno State lost to Ole Miss by a score of 73-21, and that may take a little bit of the impressiveness away.
The Spartans are 2-2, with a win over New Hampshire and not terrible losses to Air Force and Oregon State. That's probably a little bit better than last season.
You'll remember that Auburn beat San Jose State 59-13 last year, but obviously things are a little different this season. But are they THAT different. Are they different enough to make a difference in a 59-13 difference? No, but speaking of differences…
Differences were the problem with Auburn this season. Difference at quarterback. Difference at defensive coordinator. Difference pretty much everywhere. And since that difference wasn't doing too well, there is now more difference at quarterback and even a few spots on defense.
But now that one game is under this difference's belt, you have seen the worst this difference will play all season. Sean White will only get better. This new lineup in the defense will only get better. The attitude and effort will only get better.
The durr-hurrs out there think that San Jose State can knock of the Tigers because of how they played against Louisville, Jacksonville State, and LSU. But guess what… that team is not playing anymore. This is a different team by many accounts, and the difference will be the difference.
Sean White will continue to gain experience against a team Auburn should beat. The playbook will be opened up, the offensive line will open holes up, and the problems will be hemmed up. Expect a real Auburn performance. It may be a MWC opponent, but it's a needed a game to continue to grow this new team.
Auburn 51, San Jose State 21