Sometimes the blog gods give you nothing and sometimes they give you a major Manziel scandal the day before you are scheduled to post the Texas A&M Other Sideline. I guess those Clay Travis paperbacks I offered as burnt sacrifices worked.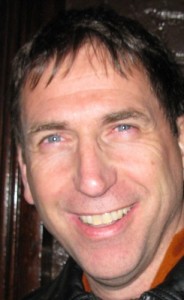 Olin Buchanan (@olinbuchanan) is columnist/assignments editor for TexAgs.com. He previously worked as a Texas A&M beat writer for the Bryan-College Station Eagle and the Austin American-Statesman. He also was a national CFB writer for Rivals.com and Yahoo! Sports. More importantly, he's a making his return to the Other Sideline, which is probably at the top of his resume.

1. Right at this moment, what is an Aggie fan's first thought of Auburn football?
I think most Aggies view Auburn as a rebuilding team. The feeling is Auburn will be better than last season because the offensive talent on hand is better suited for Malzahn's style of play. However, most see Auburn as a team that likely finishes fifth or sixth in the SEC West.
2. How are Aggie fans handling the Summer of Manziel?
It's been like the proverbial roller coaster. Truly, most of the incidents in the offseason were overblown. Seriously, what's his most serious legal transgression? Having a fake ID and getting a parking ticket. The Manning Academy incident was bad PR, but even the Mannings said they'd like to have him back next year. Of course, the latest story alleging autograph sales has caused much angst. Really, everybody was just hoping A&M could get to the season without any more issues. It didn't work out that way.
3. It sounds to me like Manziel and his family have an affinity for the University of Texas (tattoo, showing up at UT parties, pictures flashing the "Hook 'm Horns" sign). Do Aggie fans see this as well? If so, how are they taking it?
Aggies are aware that Manziel was a Texas fan and would have gone there, but they were only interested in him as a safety. They know he has friends at Texas, too. Basically, they accepts who he is and overlook it as long as he keeps scoring touchdowns.
4. How do you think the departure of OC Kliff Kingsbury, huge chunks of the offensive line, and a few key receivers will affect this year's team?
There aren't as many offensive losses as some might think. Kingsbury wasn't at the Cotton Bowl, but Clarence McKinney called a great game and A&M didn't miss a beat. He's been around coach Kevin Sumlin's offense for several years and they are like-minded. The change at OC doesn't project to be a major issue.
Losing Luke Joeckel and C Patrick Lewis is more of a problem, but not a huge one. Jake Matthews will move to left tackle to take Joeckel's spot and Cedric Ogbuehi moves fromg guard to tackle — his natural position. Mike Matthews (Jake's brother) moves in at C and the coaches are very high on redshirt freshman guard Germain Ifedi. The offensive line still could be one of the best in the country.
Ryan Swope is a big loss at WR, but A&M will be better overall at that position. Also, historically Sumlin's offense is better in year two than in year one. It won't be a surprise if A&M is better offensively.
5. Name two current Auburn Tigers that worry you and why.
Gus Malzahn, because he's a coach that has been so productive every where he's been. And Kiehl Frazier (or whoever starts at QB) because QBs have historically been so productive in Malzahn's offense. Aggies are also aware of the potential that RB Cameron Artis-Payne has.
6. Who are two Aggies that the rest of the world may not know about now, but will once we're a few games into the season.
RB Brandon Williams, a former transfer from Oklahoma, sat out last season but will add some big-play ability to A&M's running game. Also, WR Ja'Quay Williams or TE Cameron Clear figure to be very productive in Sumlin's offense.
7. This will be Auburn's first ever trip to College Station, TX. What should Auburn fans expect? Any spots we definitely need to hit?
Expect a great time and a great atmosphere. Aggies are usually gracious hosts (unless you're wearing burnt orange, but that's not an issue anymore). You might make a point to visit the Dixie Chicken in the North Gate area across from campus and perhaps take in Midnight yell practice at Kyle Field.
8. What's your early score prediction for this year's game?
Well, if there are no injuries or ineligibilities (you know what I'm talking about) I'd still look for A&M to win by two or three touchdowns. I'd guess something like 38-24.
9. Where will Auburn and Texas A&M end up this season?
If I was a betting man I'd pick A&M second in the West and very likely finishing at least 11-1. But I would not discount the Aggies chances of beating Alabama again and winning the West. This A&M team could look a lot like Auburn in 2010 and will have a shot at a national title. If A&M doesn't reach the national championship game it would have a great shot at the Sugar Bowl. We see Auburn winning probably six or seven games and landing in a lower tier bowl game.
10. If Cam Newton was Texas A&M's quarterback last season, would they have won the national championship?
Probably not. A&M had a QB just as dynamic as Newton last year and could not win the national title. Had the Aggies not played its first game against Florida (after Florida had already played a game) the Aggies might have won it all last season. Heck, I'd say the former Auburn player A&M needed most last year was either Nick Fairley or Wes Byrum.