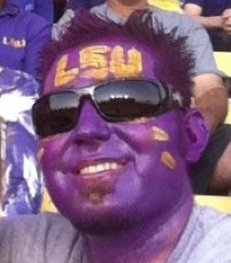 Hunter Bankston has been a LSU fan forever and created Tiger Hype as a Facebook page before the 2011 season. Since then it has grown into a website for posting memes, hype videos, graphics, and podcasts. You can see, read, or hear all of his work at TigerHype.com, @tigerhype, Tiger Hype (Facebook), Bengal Beat (Facebook), and the Bengal Beat Podcast.

1. What is the common LSU fan's thoughts on Auburn right now?
Before last weekend I think a lot of us were banking on you guys having a rock solid defense because of the Muschamp hire. I was looking at you guys to contend for the West. Not sure what happened but it was the season opener. We are expecting a good game. The main focus right now is getting Drunk & loud on Saturday… just wish it was a night game.
2. What's the vibe like in Baton Rouge after a near collapse at Mississippi State?
Optimistic, while everyone else in the nation talks about how the Tiger's almost lost… (A lot of LSU games tend to be close) LSU fans are discussing how good Harris looked in the first quarter. Everyone knew Fournette would be great, everyone knew we would have a good defense. The big question mark was Harris. He made good decisions and proved he has the capability to win in a hostile environment on the road. (Keep in mind we had 14 points called back.)  
3. How much longer will Les last? What does he have to do this season to stay at LSU?
LSU's fan base is split pretty even on Les Miles. 50% love him and the other 50% want him gone. I personally don't think he is going anywhere. As long as he continues to get 10 win seasons, I believe that there is a good chance you will see him retire in Baton Rouge. 
4. Name two LSU Tigers that Auburn fans may not know of, but will need to keep an eye on.
I'll give you three names to watch out for.
1) Kevin Toliver CB who beat out older competition for his spot on the team. Recorded 8 tackles and broke up a pass against Miss St. His first true performance in college football.
2) Arden Key CB people are comparing him to Barkevious Mingo. Unsure of his numbers but I know he recorded a sack.
3) Darrius Guice RB We didn't see him last weekend but something tells me Les will have him on the field Saturday. This kid is making a lot of noise at practice and is turning heads even with Fournette on the roster.
5. Has Auburn's performance last week taken the luster off of this game?
We wish you guy's were ranked higher obviously, but it doesn't take away from the fact that it is an SEC West opponent at home.
6. Where do you see each team having an advantage over other? 
Secondary: LSU > Auburn
QB:  LSU < Auburn
Rush: LSU > Auburn
Pass: LSU < Auburn
O Line: LSU > Auburn
D Line:  LSU > Auburn
Play calling: LSU <<< Auburn
Venue: LSU > Auburn
Food: LSU > Auburn
Mascot: LSU > Auburn   
7. Who are your two favorite Auburn Tigers of all time and why?
Probably Bo Wallace. I like smash mouth football.
8. What's your analysis and score prediction the game?
I'm going to say LSU on top by 10 points. The Stadium is going to be really loud & I think LSU wins it in the trenches.
9. Where will Auburn and LSU end up this season?
Hard to say. LSU is in a bad spot because we missed our opener against McNeese St. If we lose it's over. However with the talent and my confidence in Harris I'm going to say we have a 10 win season. If AU beats LSU in Death Valley this weekend I think people will pay attention to that and give you a mulligan for your opener. (this is CFB… so nobody knows what's going to happen)
10. Corndogs are probably one of my top 10 foods of all time. Why do y'all taste so good?
Everyone loves corndogs… but seriously when you have food like we do, you will rarely find them in Death Valley.