The first few weeks of the season are not always great for football watching, but are great for padding a predictions record. The few games that I stepped out on last week ended up biting me, but you can't make money if you don't spend money… or something.
Last Week: 13-2 (86.7%)
This Week: 10-2 (83.3%)
Overall: 23-4 (85.2%)
This week gets a little better with a few SEC matchups, but once you see what they are, you won't be too excited. But hey, at least it's not us pretending to care about South Carolina-North Carolina.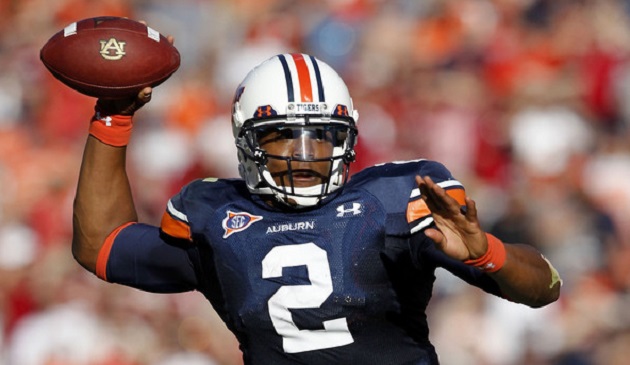 9/12
Jacksonville State at Auburn – Check back tomorrow for my game preview, but SPOILER ALERT: all wrongs righted against inferior foe.
Auburn 56, Jacksonville State 10
Auburn 27, Jacksonville State 20 (OT) – SUCCESS!
Fresno State at Ole Miss – Fresno State used to be half decent. I, of course, am not referring to 1996 when Auburn beat them 62-0 after Lee Corso called for the upset. I don't have the scouting report on them this year, though. Ole Miss absolutely blasted UT-Martin last week, but what does that tell you? Doesn't matter. Rebs win.
Ole Miss 38, Fresno State 17
Ole Miss 73, Fresno State 21 – SUCCESS!
Georgia at Vanderbilt – This is the CBS game. What does that tell you about this week's slate? Vanderbilt is terrible.
Georgia 45, Vanderbilt 7
Georgia 31, Vanderbilt 14 – SUCCESS!
Toledo at Arkansas – The Razorbacks and the Rockets meet in Little Rock. Wait… Rockets… Little Rock. Will the Rock be there? Where am I going with this? Nowhere. This game will be closer than Bert wants it to be.
Arkansas 31, Toledo 21
Toledo 16, Arkansas 12 – FAILURE
Middle Tennessee State at Alabama – Kodi Burns coaches wide receivers at Middle Tennessee State. He knows Nick Saban's defense. He knows how to beat Alabama. He… I mean, yes, I want it to happen, but sadly it won't.
Alabama 41, Middle Tennessee State 14
Alabama 37, Middle Tennessee State 10 – SUCCESS!
Oklahoma at Tennessee – It's always good to see a team from the Big 12 get beaten by a team from the SEC, but it's just as good to see a team from the SEC with grande pre-hype get put back in its place. That latter will happen. Sorry, big orange.
Oklahoma 38, Tennessee 21
Oklahoma 31, Tennessee 24 (OT) – SUCCESS!
East Carolina at Florida – Pat Dye's old team rolls into Gainesville to try their best and knock off McElwain's Gators. Does anybody else get uncomfortable anytime you see that guy? I don't know what it is, but I do. Maybe it's the constant "spent the day at the lake" look he always employs.
Wait, these two teams played in the Birmingham Bowl last year. That's right. The Gators won 28-20. This team is probably more offensive in multiple ways. They'll win.
Florida 35, East Carolina 17
Florida 31, East Carolina 24 – SUCCESS!
Missouri at Arkansas State – Last week, Mississippi State traveled to Southern Miss, but this is deplorable. Missouri already plays every team under the sun before getting into SEC play every year, but going TO Arkansas State?! I hope Trooper Taylor beats you senseless with his towel.
Missouri 34, Arkansas State 20
Missouri 27, Arkansas State 20 – SUCCESS!
Ball State at Texas A&M – The Aggies will take the new Kyle Field much like Auburn will take the field in front of their new video board: against a team they should beat badly. They will.
Texas A&M 56, Ball State 13
Texas A&M 56, Ball State 23 – SUCCESS!
Kentucky at South Carolina – Both of the these teams won last week, but neither one should be very proud. They were both awful games. South Carolina did beat North Carolina, but Kentucky had to come back to beat Louisiana-Lafayette. Cocks win.
South Carolina 35, Kentucky 14
Kentucky 26, South Carolina 22 – FAILURE
LSU at Mississippi State – Hey, it's the first "big" SEC game of the season. LSU didn't get to play last week. Mississippi State didn't look totally awesome against Southern Miss. I'm assuming that LSU is better. They don't have the best quarterback, but they have the much better running backs. They'll win in Starkville.
LSU 38, Mississippi State 21
LSU 21, Mississippi State 19 – SUCCESS!
Other Game of Note
Oregon at Michigan State – Oregon gave up a lot of points to Eastern Washington last week. Michigan State only beat Western Michigan by 13 last week. Who will it be? That's a mystery.
I'll go with the home team because it's better for Auburn for Michigan State to win because they are already ranked ahead of them. If Oregon wins, they'll jump Auburn, but then Michigan State would drop down below Auburn. Flawed logic, Blogle, but Sparty wins.
Michigan State 38, Oregon 35
Michigan State 31, Oregon 28 – SUCCESS!
Now that you know who will win, head on over to the 2015 War Blogle Pick 'em and get your picks in. There will be weekly prizes and and overall winner at the end of the season. It's easy. Do it.