1. Auburn 34 vs. Alabama 28 – Nov. 30, 2013
Note: This game was not in the 2010 edition of this list because it was played in 2013.

How I Remember It: I was lucky enough to watch this game, the best home game in Auburn's history (forget just the last 30 years), from the 50-yard line. Don't ask me how. It just happened. But just like the 2009 Iron Bowl, due to someone trying to squeeze an extra butt into the row, I had half a seat… if that at all.
I remember the weather being perfect. I remember the fans wearing blue and Auburn giving out all-orange shakers. It looked awesome, and was the only time I've liked the single color shakers. It really popped.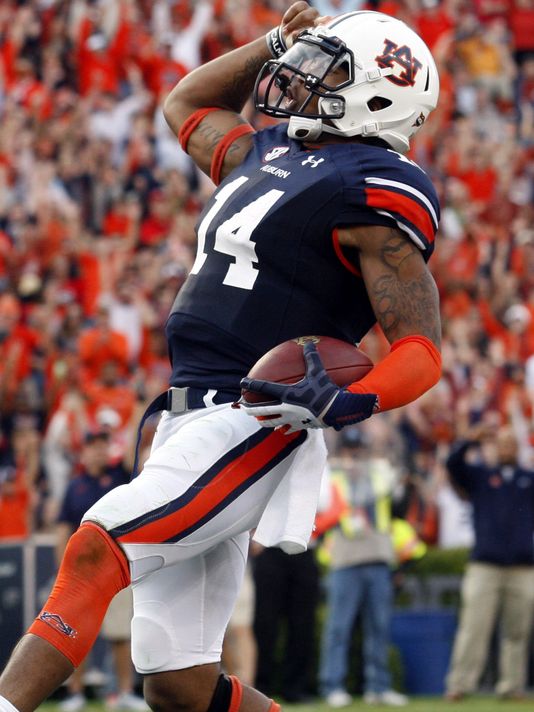 I remember Nick Marshall making Alabama's defense look really stupid early in the game. I remember feeling like Auburn may run away with it, then feeling like Alabama would run away with it.
Around the mid-point of the 4th quarter, with Alabama up a touchdown, the wife and I had to meet up with my mom to get Baby Blogle. Yes, I sat on the 50-yard line and made my kid sit somewhere else with the grandparents. So we walked down to the concourse somewhat already conceding the Alabama victory.
It was about that time that Nick Marshall faked a run to the left and flipped it to a wide open Sammie Coates.
After that… you know what, here, just let me show you what I wrote for this part of my game review because it's my favorite thing I've ever written.
We stood there and watched as TJ Yeldon ran two draws further than we wanted him to at the time. We yelled at the head official giving Alabama one second on the clock. We told each other, "there's no way they make this kick, no way," and "but after the game they've had kicking, I bet he does." The overall feeling, though, was relief that Auburn was at least getting to overtime, given the way the 4th quarter had gone.
"Oh, we've got Chris Davis back there to run it out," said my brother. I thought that was cool, but that's about where that thought ended.
As the redshirt freshman kicker for Alabama kicked the ball, I initially thought Robenson Therezie had blocked it. Once I saw it in the air, I was nervous for a nanosecond before looking at Chris Davis preparing to catch the ball. "Alright good, let's win it overtime."
"Go Chris… Go Chris… Go… Go… Go! Go! GO! GO! GO! GO! GO! AHHHHHHHH!!!!!!!"
I turned and saw my uncle, who had been standing right next to me at the beginning of the play, running towards me from what seemed like 100 yards away. I had no idea what he was saying, but he had tears in his eyes. We high-five/half-hugged for about a second, I kissed @BeautifulBlogle three times, and then turned to @BabyBlogle. He was just standing there.
He could tell you half the roster, who Auburn plays in basketball in three weeks, and the score of every game this season, but he hadn't grasped what had happened. He really just knew that everybody around him was going Georgia-ending crazy times 109. I picked him up and told him the exact same thing I told him when Ricardo caught the pass against Georgia: "You just saw the best Auburn play of all time!" Is it? Maybe. Probably. Yes.
After that, I remember the happiest I've ever seen anything Auburn. It was perfect.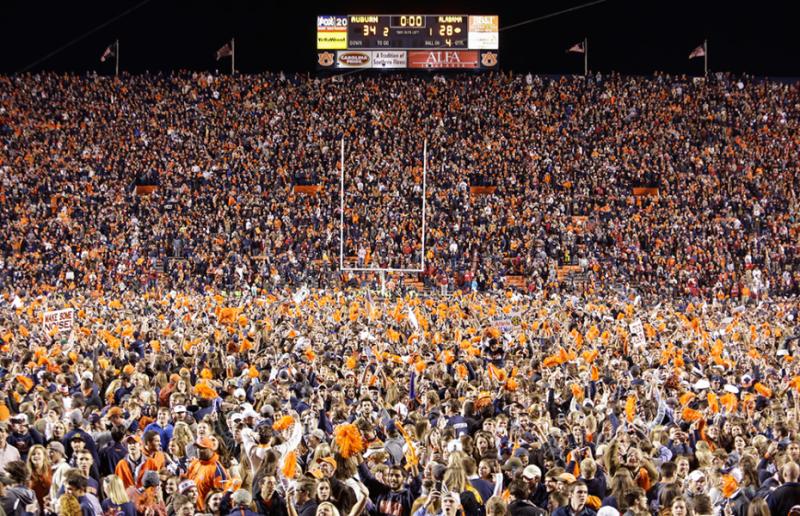 What Really Happened: Alabama came into the 2013 Iron Bowl with an 11-0 record, ranked #1 in the nation. Auburn was 10-1 and ranked #4. It was the first time since the SEC split into two divisions in 1992 that the Iron Bowl would decide the SEC West and send the winner to Atlanta for the SEC Championship.
On Alabama's first drive of the game, the Tide was forced to attempt a field goal. In what quickly became the theme for the night, Cade Foster missed the kick.
After trading punts, Nick Marshall took a zone read and ran it 45 yards for the game's first score. At the end of the 1st quarter, Auburn led 7-0.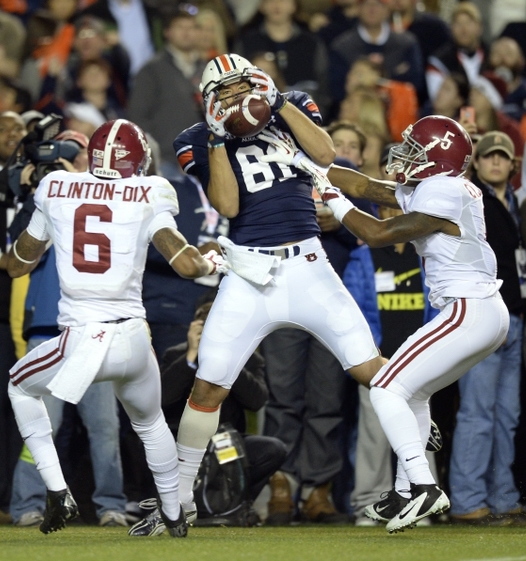 Alabama then scored on all three of their drives in the 2nd quarter, thanks to an Auburn fumble and a few three-and-outs. But with a few minutes on the clock before halftime, Auburn rode Tre Mason down the field to get the deficit back to one touchdown.
Auburn got the ball first in the 2nd half and also took that drive down and scored to tie it up early in the 3rd quarter with a nice pass from Marshall to CJ Uzomah. Entering the 4th quarter, the game was tied at 21-21.
After Cade Foster missed another field goal, Auburn stalled on their drive as well. But punter Steven Clark pinned Alabama at the their 1-yard line. Then AJ McCarron's "Heisman moment" happened.
Due to some bad pass coverage, AJ chunked one up, Amari Cooper caught it, and ran nearly 50 yards at a steady jog to finish off a 99-yard touchdown pass. It was disgusting.
The 4th quarter was a lot of back and forth with some fumbles, some missed field goals, and lots of punts, but with 2:32 on the clock and 65 yards to go, Auburn drove down with a steady dose of Tre Mason. The drive ended with the aforementioned pass to Sammie Coates with 32 seconds on the clock. The game was tied.
It appeared Alabama would run the clock out, but on what appeared to be the final play of regulation, TJ Yeldon got a few more yards than Auburn wanted and stepped out of bounds. Nick Saban then asked (begged) for the officials to check the clock. After a lengthy review, they put a second back on the clock.
Much to everyone's surprise, Nick Saban sent a kicker out on the field. It wasn't Cade Foster. It was a freshman. After an attempt to ice the kicker, Gus decided to send Chris Davis to the end zone for an attempt at a return.
You know what happened next. It was the biggest and best ending it college football history.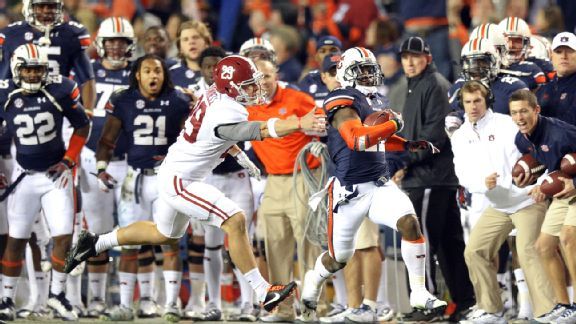 Why did I pick this game? Aside from it ending with the greatest and most gut-wrenching play in the history of football, this was one of the best Iron Bowls I have ever seen. It was back and forth, it seemed lost, and then it wasn't. It was truly a heavyweight battle with an amazing finish.
Fun Fact: This was the first game in college football history that ended on a game-winning missed field goal return.
Play of the Game: Chris Davis caught Alabama's attempt at a game-winning field goal with one second left on the clock and returned it 109 yards to victory.
Player of the Game: Nick Marshall had a great game. Tre Mason had a great game. Chris Davis had one of the best plays of all time. This one goes to Chris.
Quote of the Game: "I knew when I caught the ball I would have room to run. I knew they would have big guys on the field to protect on the field goal. When I looked back, I said, 'I can't believe this.'" – Chris Davis
Game Story: ESPN 
The Kick Six (w/ radio call):
Full Game:
You can view the rest of the 2015 edition of this list here.