22. Auburn 65 vs. Arkansas 43 – Oct. 16, 2010
Note: This game was not in the 2010 edition of this list because it was played in 2010.

How I Remember It: CBS was in town and it wasn't quite the cold part of October yet, so this meant a hot, giant glare and tons of commercials throughout at least the first half. This was a back-and-forth affair, with Auburn eventually opening it up in the 4th quarter.
Tyler Wilson introduced himself to the world after Ryan Mallett was injured, and in true Auburn fashion, they made him look like a Heisman trophy winner. The only problem was that there was an actual future Heisman winner on the other sideline.
I remember Cam running slap over an Arkansas defender as he stomped his way into the endzone. I remember Zac Etheridge picking up a fumble and returning it for a touchdown. I remember controversial reviews. I remember a 22-point victory feeling like winning on a last second field goal.
What Really Happened: Arkansas came into the game ranked #12 with a 4-2 record (1-2 SEC) while eventual national champion Auburn was ranked #7 with a 7-0 record (4-0 SEC). Auburn was coming off the last-second win at Kentucky. Arkansas had just beaten Texas A&M. No, they weren't in the SEC yet.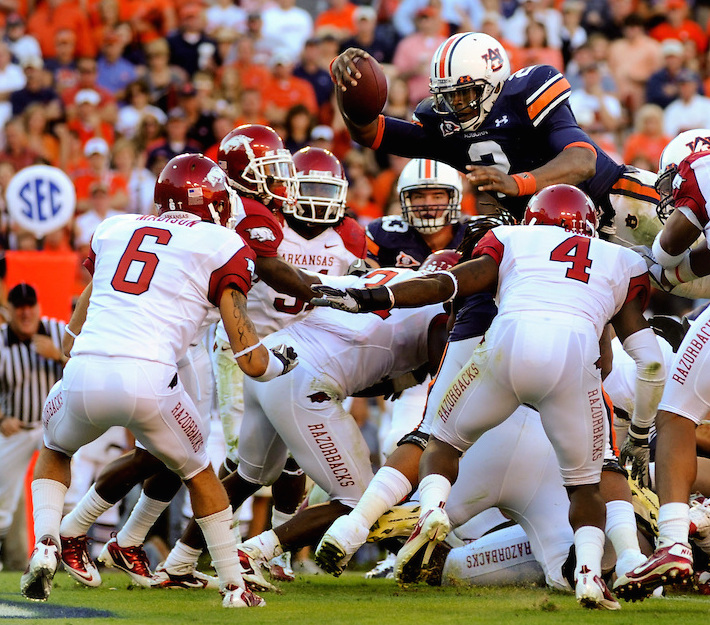 Bobby Petrino brought his potent offense to Jordan-Hare and went score-for-score with Auburn for 3.25 quarters. The Razorbacks were right there the whole game due to Tyler Wilson throwing for 332 yards, coming off the bench after Ryan Mallet went out of the game suffering from a Nick Fairley love-tap.
Not to be outdone, though, Auburn's quarterback accounted for 328 total yards and four touchdowns. He was good.
Arkansas led Auburn 43-37 with 13 minutes left in the game, but Auburn scored four straight touchdowns in the final 12 minutes, two of which were set up by interceptions from Josh Bynes on consecutive drives. One of the other touchdowns was of course the aforementioned fumble recovery by Zac Etheridge.
The scoring was completed with a 38 yard, mostly untouched, run by freshman Michael Dyer. If only.
Fun Fact: The 108 combined points is the most scored in a non-overtime game in SEC history.
Why did I pick this game? This was one of the most scary/exciting games of the 2010 season. The margin of victory ended up being pretty high due to Auburn's 28 points in the 4th quarter, but this was about as much as a shootout as you can get.
Play of the Game: Zach Etheridge's fumble recovery and subsequent 47-yard run for a score completely ripped the game wide open. From then on, it was Auburn's game.
Player of the Game: Josh Bynes did have two interceptions, one that basically sealed the game, but Cam Newton rushed for 188 yards and 3 touchdowns, and threw for 140 yards and 1 touchdown. I think Josh will understand.
Quote of the Game: "No. 2 [Cam Newton] is one spectacular football player. I'm not one to go out on a limb, but everyone in the world can see it." – Gene Chizik
Game Stories: ESPN | al.com Tigers Corner (me)
Full Game: 
You can view the rest of the 2015 edition of this list here.