We've been over the tiny, tiny tweaks to Auburn's football uniform for 2015, but that doesn't mean that the uniform accessories aren't getting major, shiny upgrades. The same day that Under Armour announced that Auburn would be wearing "ungrabbable" uniforms, Auburn unveiled some killer, sweet, awesome gloves, cleats, and sleeves to be worn during various games this season.
There were multiple photos and one video of this unveiling and I've done my best to find them all and pull them together. Let's go through them all.
At first glance, the only thing that stands out is the orange covering Cassanova McKinzy. Melvin Ray is in the best road uniform in the nation, and he has matching gloves and shoes. Byron Cowart (which is a big deal because he's a freshman showing off a uniform) is huge and is wearing nothing major, but those cleats look interesting. Maybe we can see them close up a little further down.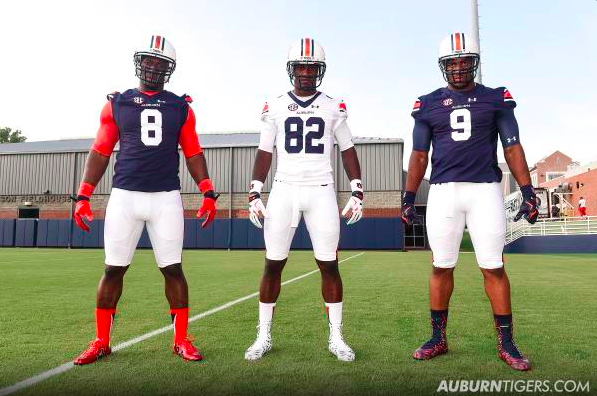 Oh, here's a candid shot of the guys. Byron Cowart scares me, and those cleats are interesting, but why does Cassanova have his sleeves pulled up so high? It's really making the orange sleeves look way too dramatic. It's going to scare the traditionalists, even though most of the team wore orange pseudo-sleeves during the Kick Six.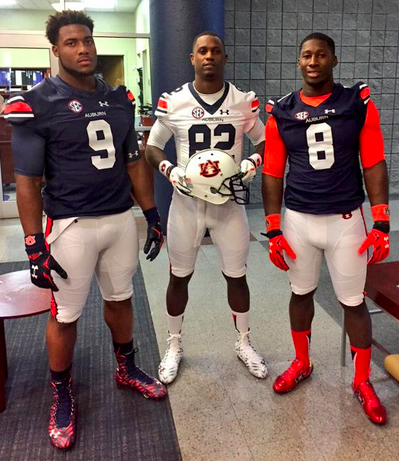 Oh man, I do like those cleats. All of them. I wish we could get a closer look.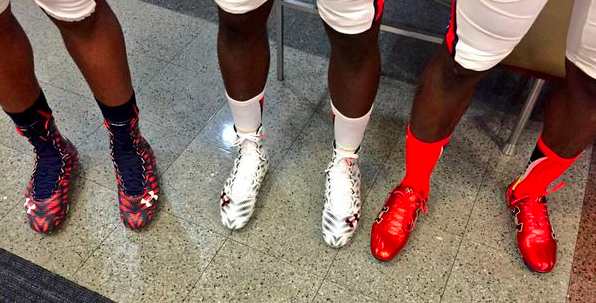 There they are, and they are clean. I hope the socks are part of it, too. And before you blow a gasket on the orange cleats, and all of the orange in general, remember that they'll likely only wear this getup in one game, the Mississippi State game, that has been deemed All Auburn All Orange. Not to mention, most of the team will have their cleats taped up, so all you'll see is the traditional white feet running around.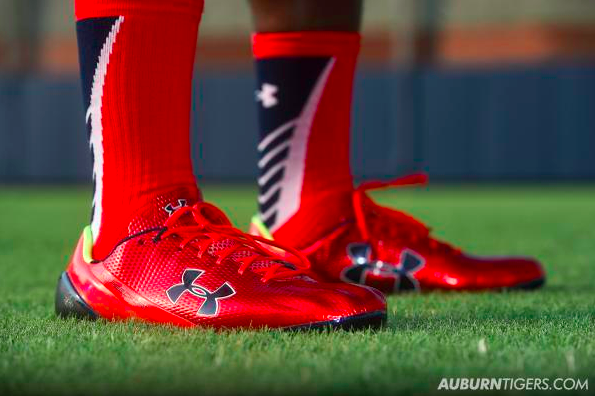 Really clean, and I would wear those socks everyday.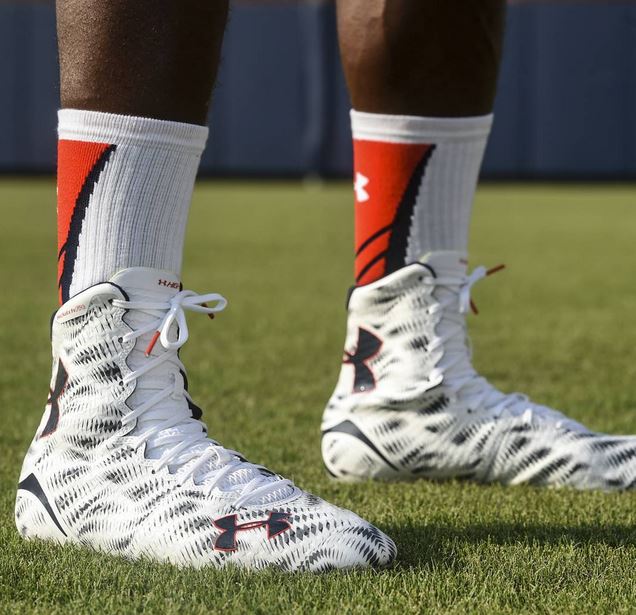 Oh my, those are the best skeleton-footed cleats I have ever seen. I'd wear those to work.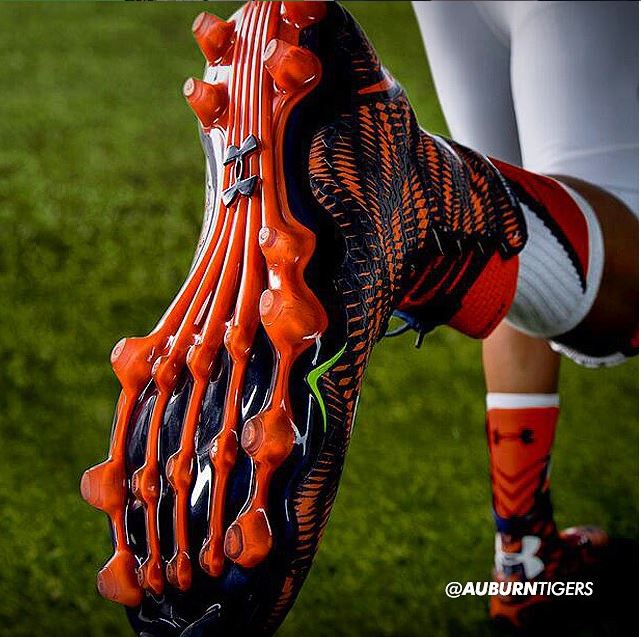 Now for most player's favorite accessory: the gloves. I'm glad the old spiderweb look is gone. These are nice.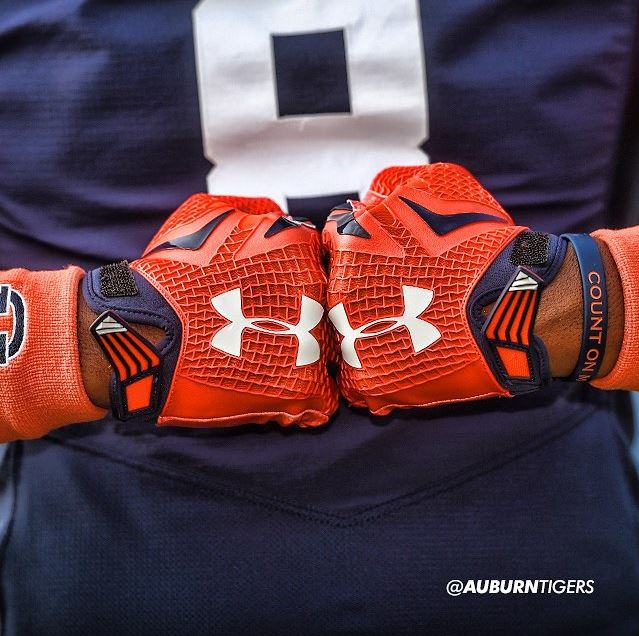 And from this view you can tell the overdone logo thing that every team does now is gone. A subtle tiger stripe is just fine.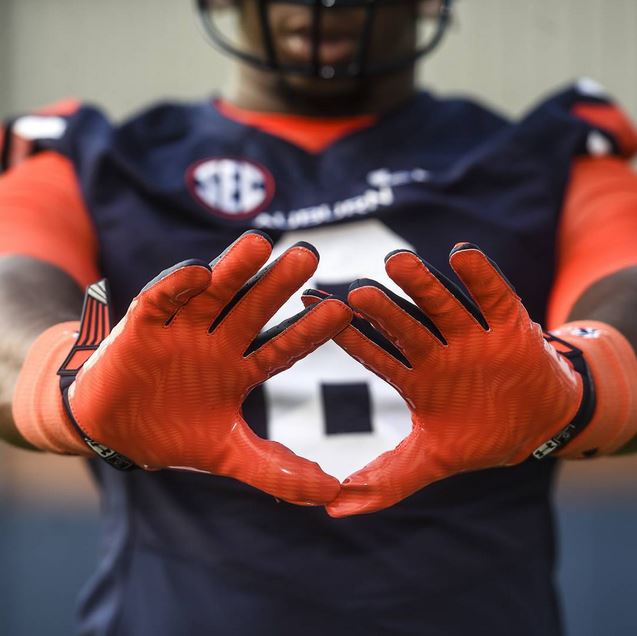 Same idea for the white gloves, too. I'd wear one playing golf.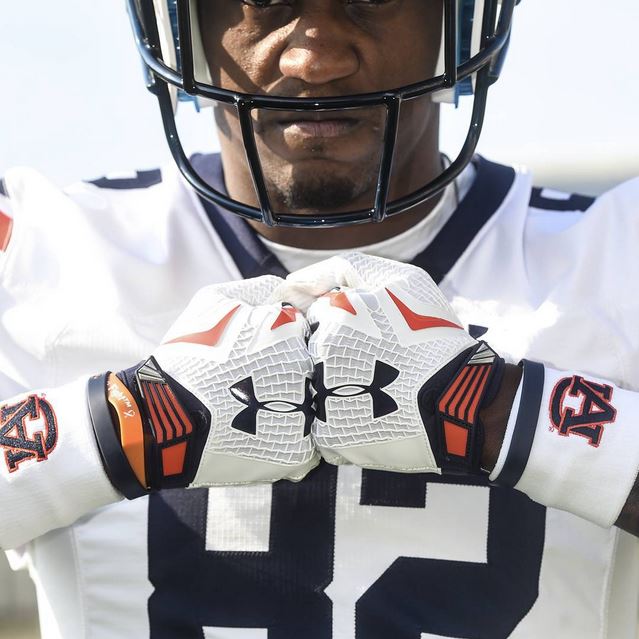 The blue tiger stripes remind me of the shower curtains, but they look good on the inside of a glove.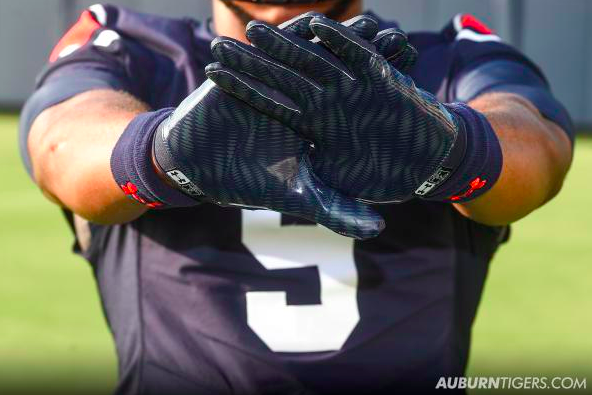 One of the slightly unnoticed tweaks to the actual uniform is a subtle chrome/shiny addition to the helmet stripes and logo. It's hard to see, but the lighting in this picture of Cassanova shows it pretty well. Calm down, olds, it's not that drastic. Or maybe it is…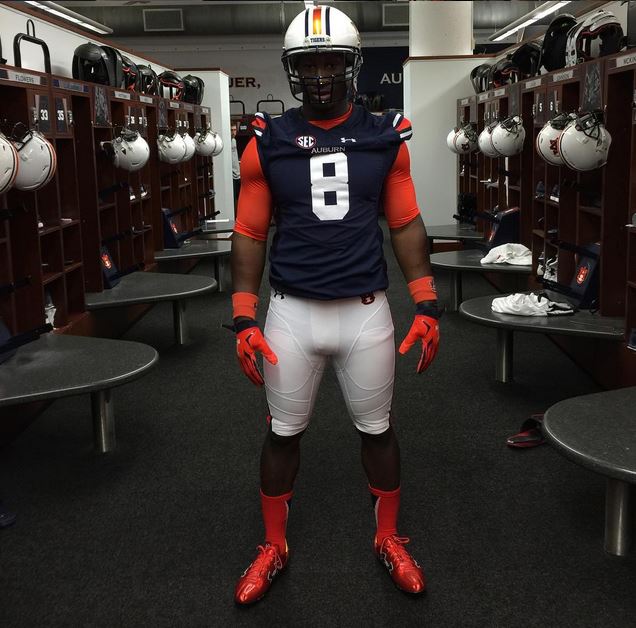 One thing that's fun to see from other schools is when a team gets to see new uniforms for the first time. You can really see how excited this stuff makes them. Here's Cassanova coming in, and as you can see, the team loved the orange cleats.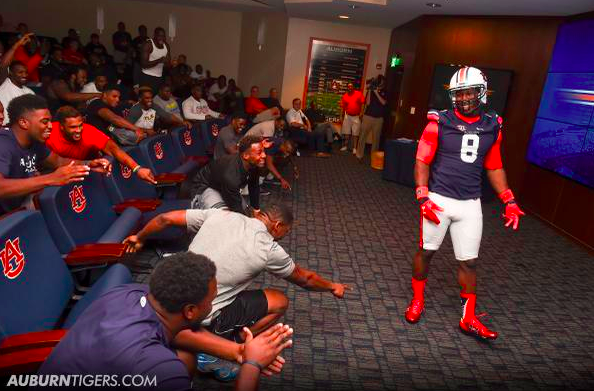 Here's a video Auburn released that shows Cassanova showing off the new accessories, while equipment manager Dana Marquez talks more about when/how the team will wear them.
In general, I love all of these upgrades. I don't think we'll notice it that much when the games are played, but it excites the players, and that's all that really matters. If they have to stay "traditional," then this is the best they can do to keep recruits and players interested. Yes, this stuff does matter.
Photos from @AuburnTigers, @zdbland_photo, and @jayjacobsauad.