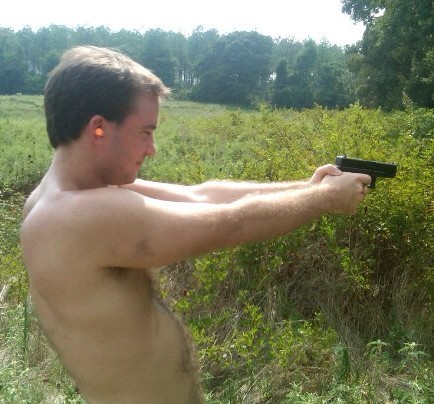 Rick Muscles (@rickmuscles) is an Alabama fan and recovering Ole Miss fan boy, who is making his 109th appearance on the Other Sideline series. He has written for EDSBS, Friends of the Program, and Roll Bama Roll. In real life he's a recovering alcoholic claims adjustor who loves to lift weights and see rock concerts.

1. What is an Alabama fan's first thoughts of Auburn football right now?
My first thought is Auburn doesn't have the talent on defense to stop Bama. Ellis Johnson is good coordinator and he proved that last year. He relies on his defensive ends to get a pass rush and that just hasn't happened. Auburn has a total of 19 sacks this year compared to 32 last year. The Tigers really miss Dee Ford and Carl Lawson. I'm a Bama fan so, of course, I'm not going to focus on Artis Payne's 1400 yards and 11 TDs and think of that first. 
2. What was it like when your favorite team beat your second favorite team in Oxford earlier this year?
That was a tough Saturday because my family connections have left Oxford. It's a great city and I love supporting the Rebs but those days are over.
Alabama's center Ryan Kelly was injured in the game and it really threw off Sims' rhythm. A backup kept snapping the ball low and suddenly Bama looked like they were coached by the Comcast Corporation. BTW, have y'all had any problems snapping the ball this season? 
3. How do you feel about the loosening of musical standards at Bryant-Denny Stadium? Doesn't it feel a little Richtian?
Can't stand it! If it were up to me the stadium would exclusively play Joe Diffie's Greatest Hits. Could you imagine Reuben Foster executing another bone breaking hit and the stadium blares "Prop Me Up By The Jukebox If I Die?" What if Blake Sims eludes three defenders, scores an TD and "Texas Size Heartache" comes thundering down? What if Amari Cooper brings down the game deciding catch and he has a choreographed dance routine to "Pick Up Man" ready to go? The States of Alabama and Auburn would win. Might bring us closer together y'all. 
4. Who are two Tiders that aren't big names that Auburn fans should look out for?
Bama's special teams have been a punchline all year and I'll admit the field goal kicking needs work. However, the punting game has been amazing. JK Scott is a weapon. Pretty sure Bama doesn't beat LSU without him. 
Nick Perry has been playing lights out for the defense. He flew to the football and made a lot of plays against Miss State. Really hope he doesn't lead the team in tackles against Auburn from the safety position. It'll be a long day if he's tackling Nick Marshall after 8 yard gains. 
5. You think you can keep Reuben Foster from giving himself a concussion on every special teams play?
No thanks! Again, special teams has been a bigger disaster than Dumb and Dumber To but he's made the kicking game fun. (I do support the safety of players though!)
6. Who are the two Tigers that worry you the most and why?
Nick Marshall is a major concern. I spend a lot of time wondering if Trey DePriest can run with Nick. Rolando McClain would cheap shot you 2 yards behind the line of scrimmage and DePriest cheap shots you after a 5 yard gain. This is the most glaring matchup concern.  
Ricardo Lewis just makes big plays. He'll need to rip off some serious runs if Auburn is going to be in business. We're all aware he's faster than Kentucky Chrome on meth. 
7. What was the most exciting moment for the Tide fanbase this year? Beating LSU? Beating Mississippi State? Or any Auburn loss?
The LSU game was a blast. Sure they haven't been good this year but it's easier to break in the White House than get a win at Death Valley. The Miss State game was a typical Bama game. The Tide squeezes for 4 quarters and Bama's depth eventually causes the opponent to give out. 
Unfortunately, Auburn – UGA game wasn't that exciting. I'll leave that one out. 
8. What's your score prediction/analysis for this game?
In 4 road games, Auburn has scored an average of 20.25 points. The statistics indicate Bama is an elite defense so we can deduct 3 points from that total to 17.
Against SEC competition, Bama has scored an average of 42 points. Let's deduct 7 points for a fumble and another 3 for a special teams disaster. That leaves Bama with  32 points. 
Sure, you get Duke Williams back and he'll probably make a big catch and you just don't stop Auburn's running game unless you're Jeremy Pruitt. So Auburn will score. In reality, I assume they'll score 21 or so. 
The knock on Bama during their prior championship run was a vanilla offense. That's no longer the case. Kiffin has found creative ways to get the ball in the hands of Amari Cooper and the Lane Train still pounds you with the running game. Auburn has lost a players on the D Line and Blake Sims has quietly had a great season. I'd laugh in your face if you told me Blake Sims would have the 2nd highest QB rating in the SEC going into the last game of the season. Hell, I'd assume Bama would be going to the Birmingham Bowl if Sims started the whole year but he's been dang good. That said, I do think Bama will probably score 35. 
So Bama 35 and Auburn 21. If you're mad that I picked Bama just know that I'm so bad at match I don't factor in field goals. That and it's not Bama's strength. 
9. Where will Auburn and Alabama end up this year?
Auburn is going end up tied for 4th in the SEC with Ole Miss. I think it'd be fun to see them in the Belk Bowl playing Notre Dame. I know for sure y'all don't want to play Clemson again. Also, Belk has a terrible name and we all miss Parisian but Belk has some ok stuff. 
10. If you had your choice of a Bear Bryant or Nick Saban Commemorative Plate set for Christmas, which would you choose and why?
Unfortunately I've lost too much weight on this nutty weightlifting program I'm on. I'm starting to look like a Mexican boxer with Marfan Syndrome. Clearly, if I chose the Saban plate, my servings would be too small to make gains. The Bear was a much larger man so I would choose that plate because Eat Big / Lift Big.