The War Blogle (regular season college football) Pick 'em has returned for the 2nd annual iteration. A few years back we did it all through Twitter, but y'all got too plenty. Last year we moved things over to PickorPlay.com. This year we're moving it over to ESPN.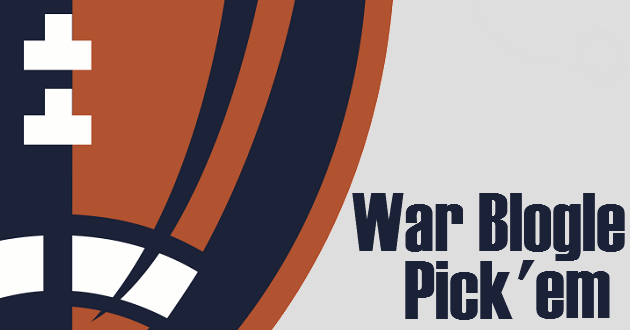 It's a simple pick 'em. ESPN picks ten big games for the week, you pick and order them by confidence level, enter a tiebreaker score, and WHAMO you're all set.
As you read this, there is a WarBlogle.com group over at ESPN.com waiting for you to join. So go do that because it's about the simplest thing you can do. It's so easy that Bert Bielema could do it with a hot dog in each hand.
Click this link.
Click the big, red GET STARTED button in the group info.
Login to your ESPN.com account or sign-up if you do not have one.
Give your entry a name.
Enter the password: warblogle.
Skip the step about joining other groups because no groups are better than this one.
Invite more people if you know what's good for you.
Make your picks
We will have a winner each week of the season, and an overall winner at the end of the season. Weekly winners will receive something small but of value and the overall winner will get something larger and of value. If you miss a week, that's fine, just make it up during the other weeks.
Now go join because we've reached reverse cool guy on the internet status where it's actually cool to do stuff like this again.