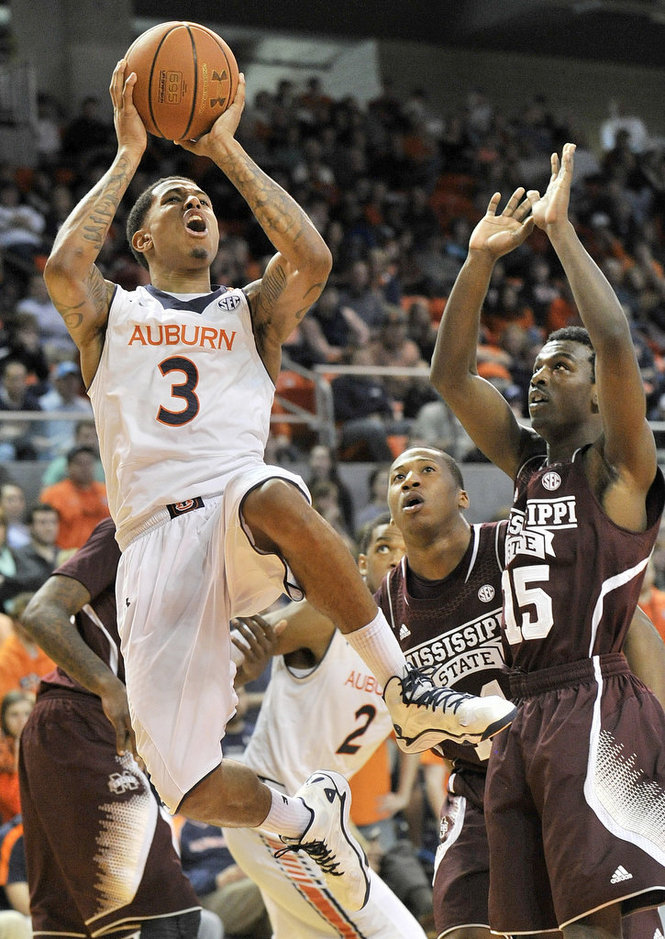 The Auburn men's basketball team begins their trek for 11-straight wins and a national championship tonight in their third meeting of the season with the South Carolina Gamecocks to start off the 2014 SEC Basketball Tournament. For the 2nd time in as many years, Auburn will take part in what is seemingly a "play-in game" for the real tournament of 12.
Luckily for the Tigers, starting the tournament on Wednesday means you already know who you're playing for the first three days. No, I'm not really acting like that's a positive. Anyway, here's how Auburn's path will look, provided they keep on winning.
Round 1 (3/12): #13 South Carolina – Auburn has beaten the Gamecocks twice the season. Having seen them in person in Auburn a few weeks ago, it's easy to say that they are the worst team in the SEC. Yes, I'm considering their win over Kentucky, and yes, I'm considering Mississippi State. The only thing that scares me is that winning three games against a team in the same basketball season seems to be a little harder than not, right? Auburn should still win, though.
Previous meetings:
2/5 – at South Carolina – 79-74, W
2/26 – at Auburn – 83-67, W
Round 2 (3/13): #6 Arkansas – The Razorbacks gave Auburn their first "bad" SEC loss of the season way back in January. It was Auburn's 6th straight loss to start the conference schedule, but the first that was embarrassing. Arkansas hung around the middle of the SEC for most of the season, but won 7 of their last 9 games.
Despite their conference record, and despite the overall aura that "we suck" from most fans, Auburn is a scary team to rest of the conference. They proved they can play with anybody (see #1 Florida, twice). Plus, Auburn is playing for fun right now. Arkansas is playing for an NCAA tourney bid, and the last time they played they were blown out by an Alabama team that is no better than Auburn. That's why Auburn will win this one.
Previous meetings:
1/25 – at Arkansas – 86-67, L
Round 3 (3/14): #4 Tennessee – Auburn played the Volunteers twice this season, and the two games couldn't have been more different. The Tigers traveled to Knoxville in January and hung around until the foul game gave Tennessee a 10+ win. Then the Volunteers came to Auburn last week and it was 12-0, then 27-5, then Auburn trailed by 24 at the half. I wouldn't say it was anything other than Auburn being completely cold from the floor all night. Tennessee is good, but they weren't as good as they looked that night, and Auburn wasn't as bad. It definitely wasn't the same team that should/could've beaten Florida two weeks before.
All that being said, I think this is where Auburn's 2013-2014 journey will end. If they were able to knock off Arkansas, I don't see a similar thing happening two nights in a row against another team that had not played the night before.
Previous meetings:
1/15 – at Tennessee – 78-67, L
3/5 – at Auburn – 82-54, L
Here's how I see the rest of the tournament shaping up, and yes, I do think it will be about as cliche as it can be with a #1 vs. #2 final. If Georgia is the next best team behind Florida and Kentucky, you know there won't be anybody good enough to get on a run and knock one of those two off.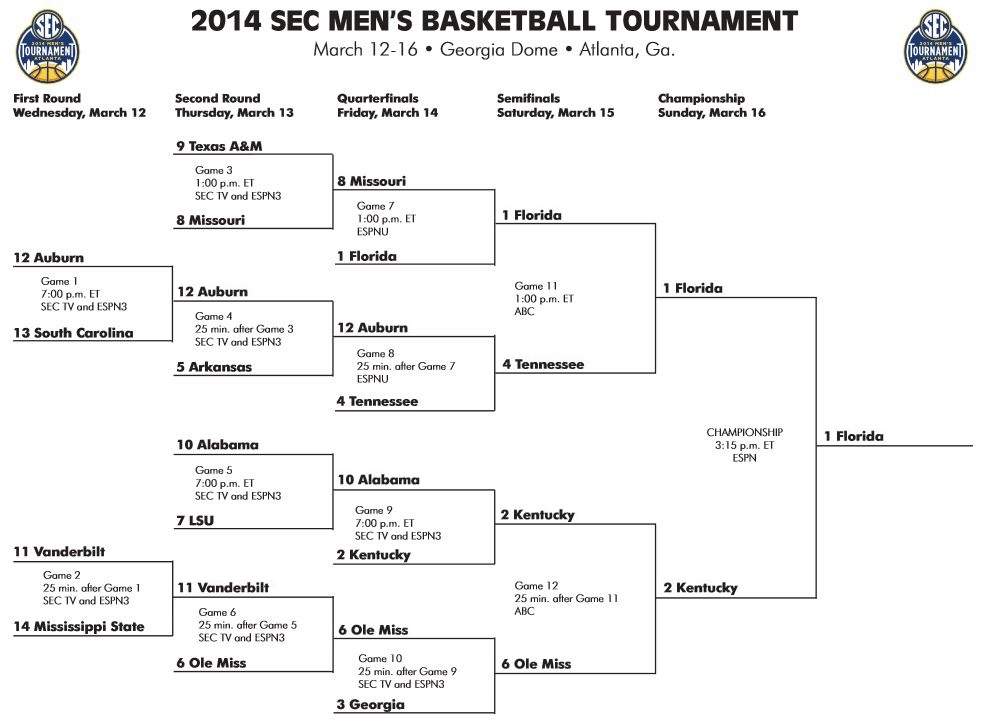 Post your thoughts on my homer-ism, how bad "we suck," how much better you are in basketball than any SEC player or coach, and your predictions on the tournament in the comments below.