WHERE TO WATCH
Kickoff – 6:30 CT, September 4th, 2021
Watch –  ESPN+/SECN+
Listen – Auburn Website
Gamecast – ESPN
TEAM HISTORY
Akron has an overall record of 524-564-1. Not great. In fact, in terms of the 131 teams playing on the FBS level, this winning percentage ranks them 102nd. Take it for what it is, Akron is no behemoth when it comes to college football. This team does have ties to Auburn as Terry Bowden was the HC from 2012 to 2018.
Taking a look at program trajectory, Akron is trending in a positive direction as last year they achieved 100% more wins than they did the previous year. In 2019, Akron played 12 games and won 0 of them. Last year, during a covid shortened year, Akron was able to capture 1 win in 6 contests. Does it matter that the 1 win came against the dynamic coaching tandem of Scot Loefller and Brian Van Gorder, whom you may remember.
SERIES HISTORY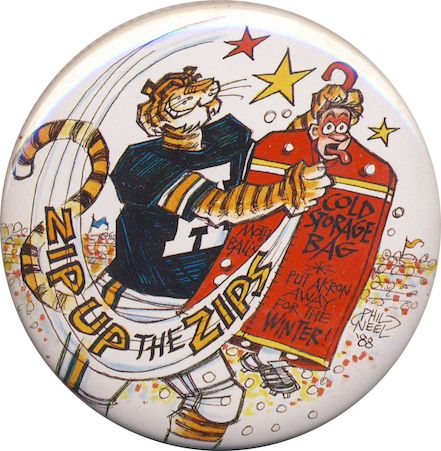 The series history between these two programs is brief. Having only met once, Auburn pulled out the victory in 1988 en route to a 10-2 record. If you allow me to put on my tin-foil hat, the last time Auburn played Akron was the first year of the last time Auburn won 10 games in back-to-back seasons. Coincidence? Most likely no. Akron is the catalyst for Auburn winning 10 games in back-to-back seasons.
WHAT TO WATCH
How long will it take for Auburn to get going? I'm not convinced the coaching staff LOVES either QB as they continue to take their time announcing the starter. The recent COVID outbreak, you may have heard of, could be playing into this, but if the staff had a guy the LOVED, they surely should've announced by now. Is Bryan Harsin missing time going to affect …effect… cause an issue for the continuity of the offense? There don't seem to be many worries about the defense, so the onus is on the offense to prove their worth.
Speaking of defense, the biggest question marks on this side of the ball seem to be around generating a pass rush. It's time for Derrick Hall and T.D. Moultry to take big steps forward. We know that the linebackers will be solid this season and no one questions that the secondary will be one of the best in the nation. Auburn needs to use this game to find an identity on the defensive line and generate a pass rush to help out the players behind them.
I tweeted earlier that we should shut down the season if Akron scores. This was mostly tongue and cheek, but let's be real, if our defense is as good as we think it should be, Akron shouldn't have much success. If our offense takes care of the ball and can keep the defense out of bad situations, I don't see why Akron should score. However, this is college football and crazy things sometimes happen. Look for Auburn to cover 49-7.