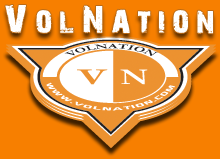 We've got a newcomer to the "Other Sideline" this week, and his name is "Freak" or "Vol Freak" to his closest friends. Well that's what he goes by on his site VolNation.com (@volnation), a hotbed of Tennessee Vol news heavy on the message board side. You can find him on Twitter at @vol_freak.


1. What is a Tennessee fan's first thought of Auburn football at this exact moment?
I think Tennessee fans, along with most of the nation, are a bit surprised by the amount of success Auburn has enjoyed so far this season. Coming off of a 3-9 season last year, the homecoming matchup with the Tigers is one that Tennessee fans circled as a potential win before the season; and one that would be necessary for the Vols to become bowl eligible.
The numbers that Auburn is putting up running the football is nothing less than astounding.
2. Tennessee is 0-5 against Auburn in the last decade, does that dominance register with Vols or is this truly a new day for both programs?
Honestly, I'm willing to bet most Vol fans couldn't tell you Tennessee's record versus Auburn during the last decade. Not to take anything away from the Tigers, but it's not a matchup that many people think much about. With the teams playing in different divisions, the series just isn't much of a rivalry these days. And as for good teams who have dominant records against Tennessee in the past five to 10 years, get in line. It's been a very difficult and frustrating stretch run for a fan base who is used to debating topics such as 'why nine-win seasons aren't good enough, not 'if we win out, do you prefer the Liberty Bowl or the Music City Bowl?'
3. What's the fanbase's thoughts on Butch at this point?
In short, most believe that 'Butch gets it'. By beating South Carolina, he already has one more big victory than the former coach managed in three seasons. While some think his marketing tactics may be overrated, most believe that turning around Tennessee's program had to begin with changing the attitude of players and, to a lesser degree, fans. These kids needed someone to believe in—someone who, on the surface anyway, seems to truly care. This current group of players, while not the most talented, would run through a brick wall for Butch Jones.
The big question mark on the minds of many when Butch was hired, was whether or not he could recruit at an SEC level. Granted, Tennessee was in a nice situation this year with quite a few highly rated legacy players, but fans couldn't ask much more than what we've seen from this staff on the recruiting trail. It looks as though Tennessee's 2014 class could finish ranked in the top five. If Jones can pull that off, fans will be ecstatic.
4. Does Tennessee claim Paul Finebaum, a son of your institution?
Absolutely and unequivocally, no. Next question.
5. Name two relatively unknown Vols that Auburn fans need to keep their eye on and why.
With the exception of the upperclassmen on the lines and maybe A.J. Johnson, who led the SEC with 138 tackles last year, one could make the argument that most of the Vols' roster is relatively unknown.
On offense, true freshman Josh Dobbs will get his second career start at quarterback. Tennessee struggled on offense last week at Missouri, even though Dobbs put up decent numbers, completing over 60% of his passes for 240 yards, while rushing for another 45 yards.
Alton "Pig" Howard has been Tennessee's most productive receiver in terms of receptions; look for him to have 10-12 touches if things are going well for the Vols. But Marquez North is the Vols' most talented receiver. His clutch catches were a big reason Tennessee was able to upset South Carolina.
Also, watch for running back Marlin Lane. He's dealt with some injuries this season, but has been a more effective than Rajion Neal, who has started every game this season. Last week Neal carried the ball eight times for eight yards, while Lane carried the ball six times for 39 yards. Look for Lane to get more carries this week.
6. Name your two favorite Auburn football players of all time and why.
At the top of my list is Bo Jackson, of course, because 'Bo knows'. He's one of the top running backs I've seen in this conference in my lifetime. Plus, I feel a special bond with him since he and I won a lot of Tecmo Bowl games together on Nintendo back in the day. I mean, the Raiders were the best team in the game. Right?
The next player that comes to mind is Cam Newton, party because I followed his recruitment very closely and partly because it was just amazing to watch that 2010 Auburn team win game after game despite having Gene Chizik on the sideline.
7. Where do you see these two teams having a distinct advantage over the other?
I must admit I haven't had the opportunity to watch Auburn this season as much as I would like, but Auburn's rushing numbers obviously jump off the page. Trying to slow down a team averaging 306 yards per game on the ground will be a huge challenge for Tennessee's defense, which has struggled to stop the run at times this season. 
If Tennessee has anything going for it, home field advantage would be at the top of my list. The Vols have played much better at home this year than they have on the road, just ask Georgia and South Carolina. Other than that, I think the unknowns associated with Josh Dobbs at quarterback could be beneficial. The freshman showed some promise last week and I expect an even better showing this week, with a few more wrinkles, in front of the home crowd.
8. What's your score prediction for this year's game?
My heart says Tennessee can play well enough at home to squeak out a close one, but my head says Auburn is just too much for this team to handle right now. As long as the Malzahn sticks with what his team does best, which is running the football, and doesn't out-think himself, my prediction: Tigers 27 Vols 17.
9. Where do you think Auburn and Tennessee will end up this season?
I can't see Auburn beating Alabama, but playing at home in a big rivalry game like that, anything is possible. I think a 10-2 regular season is a strong possibility.
Tennessee should beat Vanderbilt in Knoxville and take care of Kentucky on the road to finish 6-6 and earn a bowl birth—a big win for first-year coach Butch Jones.
10. You know that rock you paint that Alabama fans defaced a few weeks back? You know it's poisoned now, right? It will wither away within two years.
From what I understand, the Alabama toxins lose potency if Nick Saban bolts for Texas.