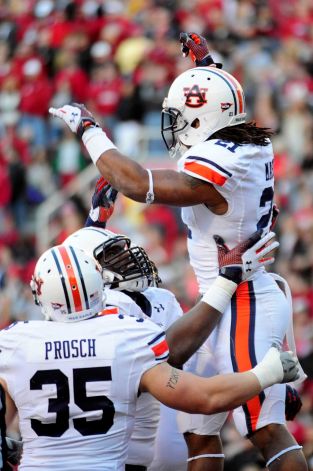 It was exactly what a normal Auburn-Arkansas game usually ends up being: frustrating, annoying, and stupid. Therefore, it was the most frustrating, annoying, stupid 18-point SEC win on the road I have ever watched. I guess it's a good thing when you can be frustrated and annoyed by a stupid win, and I guess that truly shows me that Auburn is not only back, but actually at the top of college football. It was still stupid.
You know how you know that you're head and shoulders better than the team on the other side of the field? Right about the time you realize that you can run the same five plays over and over and still run all over them. Tack on the fact that you only throw the ball nine times in an entire game, and only had three full drives in the entire first half, and you really know it.
All week and all summer we heard that Bret Bielema was going to bring his Big 10 running game to the SEC. We heard him call it "normal American football." We heard him talk about the dangers of the gimmicky hurry-up offense.
So which team ran two halfback passes, kicked an unnecessary onsides kick, and executed the swinging gate on a 4th down play? That would be the gimmicky Arkansas Razorbacks.
And which team ran the ball 84% of their non-4th down plays, threw one of nine total passes over 10 yards, and took no chances on 4th down? That would be the normal American Auburn Tigers.
It wasn't the most exciting thing to watch as Auburn fan. It felt like the run game had opened up plenty of deep ball opportunities, but part of me thinks that Gus wanted to show that his "gimmicky" offense was more "normal American" than Bret realized. It was like he just wanted to show that he could win the game with the most basic game plan possible. If he didn't mean it that way, it certainly proved it anyway.
The Razorbacks were able to control the ball and keep it out of Auburn's hands with 8,000 converted 3rd downs and a pretty decent running game, which is the only positive about the team this year. There were a few dumb penalties that kept drives alive, but the defense was able to lock down, create turnovers, and keep Arkansas out of the endzone for the most part, just as they've done all season. That 4th down stop at the goal line was especially huge.
Special teams were a bit shaky. The punt game and kickoffs were excellent, but for the first time this season they allowed the opponent to get a pretty hefty kickoff return right around the time they started to get a little excited. You know, when the deficit was less than 20. It's nothing to really worry about. Things like that just happen, and this was one of those times.
Overall, the game felt terrible. Auburn could have won by three more touchdowns. But considering that this game was Senior Day for Arkansas, following a bye week, with a lot of extra stuff to play for, it was somewhat expected. Games in this series are never easy, and again, I'm saying all of that about an 18 point win on the road. Times are good, it just didn't feel like it, which means times are good. Keep 'em good, Auburn.