In an email sent by Jay Jacobs to Auburn supporters tonight, he confirmed what had been going around the message boards over the last few days. There will be statues of each of Auburn's three Heisman trophy winners placed outside of Jordan-Hare Stadium. There were various topics in the email ranging from A-Day details to recent academic honors, but here's what was said regarding the statues:
Heisman statues in production
Honoring our former greats is an important part of our tradition at Auburn, and I am excited to announce that statues of all three of our Heisman Trophy winners are currently in production. The iconic statues will be placed on the east side of Jordan-Hare Stadium during the 2011-2012 academic year.
Noted sculptor Ken Bjorge of Big Fork, Montana, began planning and producing Heisman statues for Auburn legends Pat Sullivan and Bo Jackson last spring. Little did we know that we would need to add a third statue so soon. Bjorge is now in the production stages of a third statue in honor of 2010 Heisman Trophy winner Cam Newton. We have also commissioned a bust of John Heisman to be displayed near the statues to celebrate a history and tradition that is uniquely Auburn. Auburn University is the only school where Heisman coached that also boasts a Heisman winner.
The three bronze Heisman statues, which will be one and one-half life size and weigh about 1,900 pounds each, will further enhance the gameday experience we all enjoy at Jordan-Hare Stadium. We look forward to sharing more information on the statues' dedication at a later date.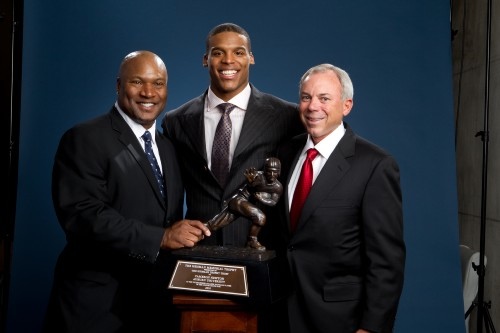 I think this is pretty cool. Auburn is currently tied for 3rd most Heisman winners by school, so it's time to start reminding people of that. The only negative I can see about this being announced now is that Florida just revealed the statues of their Heisman winners last weekend, so although we know this has been in the works for months, the world will think we're being copycats. Ah, but everybody hates us anyway, so who cares?
What do you think of this idea? I imagine some people will love it and some people will hate it. I understand both sides, but for now I'm all for it.
It is rumored that this the image below is a preliminary bust of Cam's statue.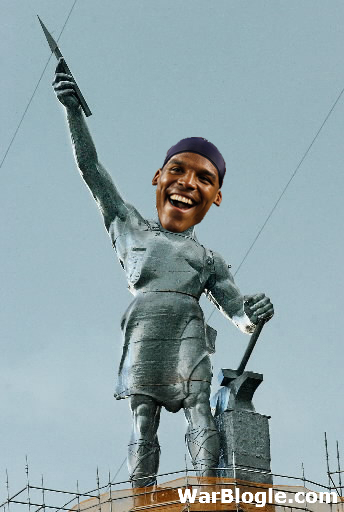 This is from the sculptor's website: "Ken is frequently commissioned to create special pieces and monuments. He's recently finished two larger than life-size monuments for Auburn University of Heisman Trophy winners, Pat Sullivan and Bo Jackson."