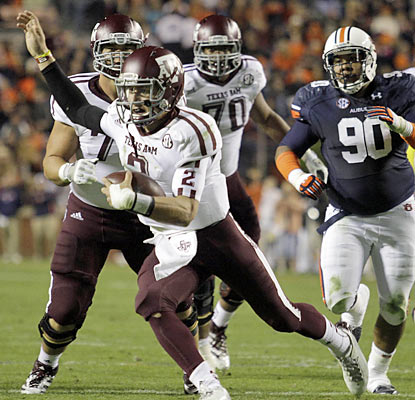 When one thinks of beating Texas A&M, the first question that comes to mind is "How do you stop Johnny Manziel?" I then respond to this question with "Who?" because I'm just like that. But really, when it comes to beating Texas A&M, all you have to do is score more points than they do. Novel concept, huh?
Texas A&M's defense makes that easier than it should be regardless of the fact that they have one of the top five quarterbacks ever on their roster. They are currently in the low 100's in terms of stopping the run. They've given up 28+ points to teams like Rice, Sam Houston State, and Arkansas of all teams. They allowed Alabama to score the most points it's scored all season (49). Keep in mind that Alabama has played teams like Georgia State, Colorado State, and Kentucky.
Auburn currently ranks 7th nationally in rushing offense. That's like the complete opposite of low 100's. That's a perfect matchup for Auburn. That's going to be the difference in the ball game.
Johnny Manziel can and will run all over the place and can and will make some throws that nobody has any business making, but if Auburn can run the ball (and they can) and eat up the clock, Manziel's talents will be sidelined, literally.
I know there have been lots of rule changes recently, and we gots womenz on the playoff committee, but I don't think they allow quarterbacks to run and throw the ball when their defense is on the field. I'm not positive, but I'll check the rulebooks and get back to you.
All it's going to take for Auburn to beat Texas A&M, and I say this with 100% confidence, is for Auburn to cause Texas A&M to punt or turn the ball over three times. That's it. It's that simple, Auburn. Keep the Aggies out of the endzone three times and the game is yours. I've never been more confident about an arbitrary prediction in my life.
Remember when Tuberville won every road game over a two year span or something like that? Remember when you didn't care if the game was in the Swamp or Tuscaloosa? I have that feeling right now.
Auburn hasn't won a road game since beating South Carolina early in the 2011 season. They've lost seven straight road games. That has to end soon. This team is playing like they can end it. They've been to Death Valley. They know what a loud home crowd sounds like. Kyle Field is loud and weird, but it's not Death Valley.
This is a team with talent, and a team that is more complete than Texas A&M right now. This is a team with confidence that has to stop one guy. This is a team with a chance to truly make last season disappear. This is a team that can beat Texas A&M in College Station. This is a team that will beat Texas A&M in College Station.
Auburn 38, Texas A&M 31