Yahoo! (actually Yahoo! Shine, which I think is a blog for women) has rated Auburn the top tailgating school in the nation. Of course it was. It includes the War Blogle tailgate, right?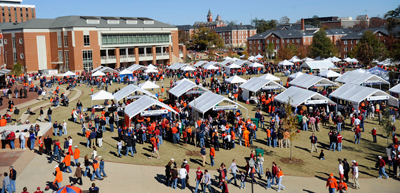 The top 5 included:
Auburn
USC
Alabama
LSU
Ole Miss
That's a little heavy on the SEC. Not sure Alabama is in there, though. That's not even a rivalry thing. I've been there. I don't get it. Anyway, here's what the artcle had to say about Auburn (no mention of my tailgate), and you can read the whole thing here.
Tailgating at Auburn just got a little easier, thanks to the university's brand-new plan to open an extra 2,000 parking spots around campus just for game day. After all, this is one university that takes its tailgates very seriously; fans start lining up in their campers days before game day, decked out in their Tiger-inspired gear. What's more, Auburn University cemented the school tradition of the pregame walk with the players to the stadium, called the Tiger Walk. And then you know, bring some extra rolls of toilet paper so you can TP the crap out of Toomer's Corner should the Tigers win. Let's just say, game day in Auburn is a spectacle unlike any other.