Auburn Athletics recently asked fans for their biggest issue with football gamedays. A resounding 48% of the fans that responded said parking/tailgating was their issue. There wasn't another factor that was even close. Being that I make sure to have a chair marking my spot months in advance, I never have this problem, but some people just aren't as dedicated.
So today, Jay Jacobs and Co. shuttled around a few dozen media members, influential people, and yours truly to show what they have laid out as the new and improved plan for parking and tailgating for the 2013 football season. In short, it will add 2000 new free parking spots, along with 800 new paid spots. The locations are spread mostly on the South-Southwest side of the stadium and are all within reasonable walking distance.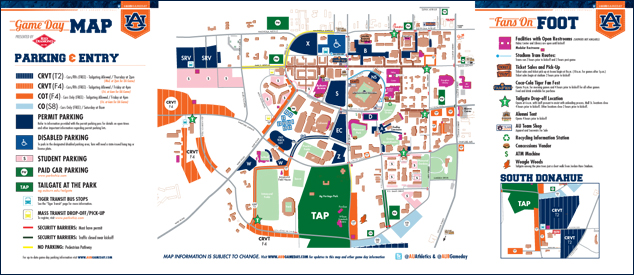 My favorite spot is the new "Weagle Woods" that was recently cleared out by the School of Forestry. It will be free, first come first serve, and shaded. It is located just across from the big barn on Donahue. BARN, get it! Also, I asked specifically if the WarBlogle Tailgate would go unharmed, and after a meeting of the minds, I was given a thumbs up. Whew, thanks Jay!
There's much more information provided by Auburn here, and a full map here. There's also this video, which is probably the snazziest video about a parking and tailgating you've ever seen. Tailgate U, indeed.