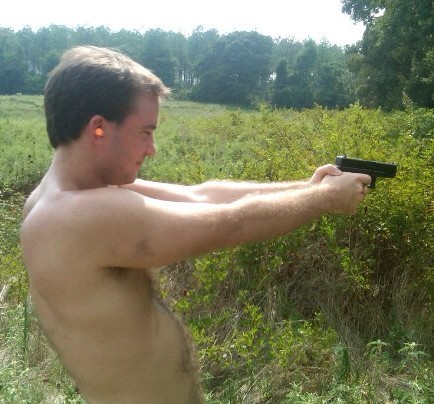 To wrap up the Summer 2013 edition of the Other Sideline, I brought back one of our favorite Bams. Rick Muscles (@rickmuscles) is an Alabama fan and Ole Miss season ticket holder, who is making his 4th or 5th appearance on the Other Sideline series (he claims it's 15). He has written for EDSBS, Friends of the Program, and Roll Bama Roll. In real life he's a recovering alcoholic claims adjustor who loves to lift weights and see rock concerts.

1. Right at this moment, what is an Alabama fan's first thought of Auburn football?
My 1st thought is y'all haven't hit rock bottom yet. That's not necessarily a good thing. Auburn is in a downswing, but I'm not sure you've hit the "Eating off brand Oreos while listening to Nickleback" moment yet. Teams don't hit big upswings until they've started begging Jon Gruden to coach their team on his Facebook page. Think Terry Bowden quitting during halftime or Mike Price nailing some nursing school reject down at the Motel 6. It's not that bad yet. Not sure it will get there either.
Gus is an adequate coach. Whether or not he's a home run remains to be seen. Not sure he'll win more than 10 games w/ his offense. It seems like a fad. So, to answer your question, I think Auburn has the potential to be above average.
2. Who is/was more hated by the Alabama fanbase, Cam Newton or Johnny Manziel?
Cam for sure. There was so much more to dislike about Cam. He was more flamboyant than Johnny. He won the '10 Iron Bowl in the 2nd half. Johnny got up early on Bama last year. The list goes on. Most importantly, Cam deprived The Tide of a 'Ship. From my perspective, Cam will always be a donut on a table of fresh fruits and vegetables.
3. Do you agree with the one game suspension handed down by Saban to Geno Smith following his DUI? Seems a little quick and light, huh?
Oh, I think one game for a DUI is right on point. Reese Dismukes was suspended a game last year for public intox. I agree that walking drunk isn't nearly as bad as driving drunk, but one game seems fair for screwing up while spending the night making Pat Dye proud. I think we can all agree that Les Miles not suspending Jeremy Hill is way worse than both. That dude is a repeat offender. Y'all think playing Hill is the sign of a coach on the hot seat?
4. Who are two Tiders that Auburn fans haven't heard of that they should worry about?
Anthony Steen will be the unsung hero of the offense. He'll hold down the right side of the offensive line like a hickory stump. He's like if the Incredible Hulk was raised on sweet tea and Walmart biscuits.
Brandon Ivory is the next of the big Bama nose tackles. He might not be flashy like Jesse Williams or Terrence Cody, but he'll have to dominate if Bama three-peats. Real talk, he's smaller than all those guys. He was critical last year, though. Especially in the SEC title game when Jesse Williams jacked up his knee.
5. Who are two Tigers that worry you and why?
The Barner I'm most worried about is and will always be Jay Prosch. I was really sorry to hear about his family and it seems like he's ready to bounce back. Jay Prosch is the Mike Dexter of the weight room. Every time he squats a nerd's Magic the Gathering card catches on fire.
The other Barner is Carl Lawson. He's the heir apparent to Cory Lemonier and Stanley McClover. The Barn will always do two things, grind the football and rush the passer. I'll miss the old Barn football where playing the Tigers was tougher than watching an entire Adam Sandler movie.
6. Which position will be a major strength for Alabama this year? Which position will be a weakness?
The strength will be Linebacker. Nobody recruits and coaches backers like Bama. CJ Mosley has been the unsung hero of Bama's most recent championship run. Sure AJ is great but CJ has made huge defensive plays in the last 2 BCS games. Going by the stats, CJ was much better than Manti Te'o last year. Dont forget Te'o finished 2nd in the Heisman Ballot prior to the world finding out he didn't know how to google someone. Bama has so much depth at backer that 5 star recruits w/ 2 years experience are on the field less than the coaches.
The weakness will be defensive line. They're going to play some freshman. Bama won't be a team that can rotate 10 guys at defensive line. Hope those bros are in shape because they're gonna be on the field a lot. This is a big concern. The defensive line wins the league each year.
7. Do you agree with Saban/Bielema's argument about HUNH and player safety?
No, those guys are posturing in the media. The SEC is so competitive, propaganda can still score you a couple of points on Saturday. Tennessee has drones in practice these days. I wouldn't be shocked if Muschamp had an army of nerds who spend 12 hours a day trying to hack into Mark Richt's MacBook Pro.
8. What is your early score prediction for this year's Iron Bowl?
Auburn reminds me of Ole Miss last year. Also, Hugh Freeze and Gus Malzahn run the same offense, came from Arkansas State, and are visor enthusiasts. There are a lot of similarities. I'm predicting Auburn will have the exact same season as Ole Miss last year. Can't wait to cheer for y'all at BBVA! The only difference is y'all don't have a QB. That said, Ole Miss lost to Bama 33-14. I'll take the same score.
9. Where will Auburn and Alabama end up this season?
Bama has depth at WR, RB and a great QB. They don't have depth at DL, DB and OL. Reminds me of 2010! Not a great season. That said, I'm not buying a lot of other teams in the SECW. So I'm predicting 13-1 and a skull dragging of South Carolina in the SECCG. Hope Bama plays Stanford for the 'Ship and then…who knows!
As I said earlier, Auburn will have the same season as Ole Miss last year. I don't buy Wazzu at all. Those bros have walk-ons starting on their O-line. So they'll win one more than Ole Miss last year. I say Auburn goes 8-5 with a bowl victory in Memphis. Liberty, y'all.
10. Would you rather shave your chest and have a replica of McCarron's tattoo done or pull Barn?
Oh, I'm taking the chest hair for sure. That chest piece protects your knee, gets free suits at Tuscaloosa Mens Wear, endows your Mom, and attracts Auburn beauty queen Katherine Webb. I swear there's some sort of white trash magic in that design.