If you don't like a broken record, it's probably best you stop reading and get back on TikTok. That's about as far as most of our attention spans last these days. We can't stay focused long enough to watch a 30-second clip without scrolling, but we can sure breakdown quarterback play can't we? Well, a lot of people think they can anyways.
I'm going to talk about Saturday's game briefly, why some of you are still wrong, and then we'll turn the page to Texas A&M. If you haven't noticed, or just refuse to at this point, everything that has happened up to this point is irrelevant. SEC play is about to kick-off, and the last time I checked, 3-0 is the best we could possibly be at this moment.
In simple terms, there are just too many Auburn folks that think Robby should still be the guy. I'm not sure how it could be any more evident that Thorne is head and shoulders better than him. Oh, and did you see the new wrinkle? It appears Thorne isn't exactly slow in his own right. Just imagine what new wrinkles you might see once SEC play starts.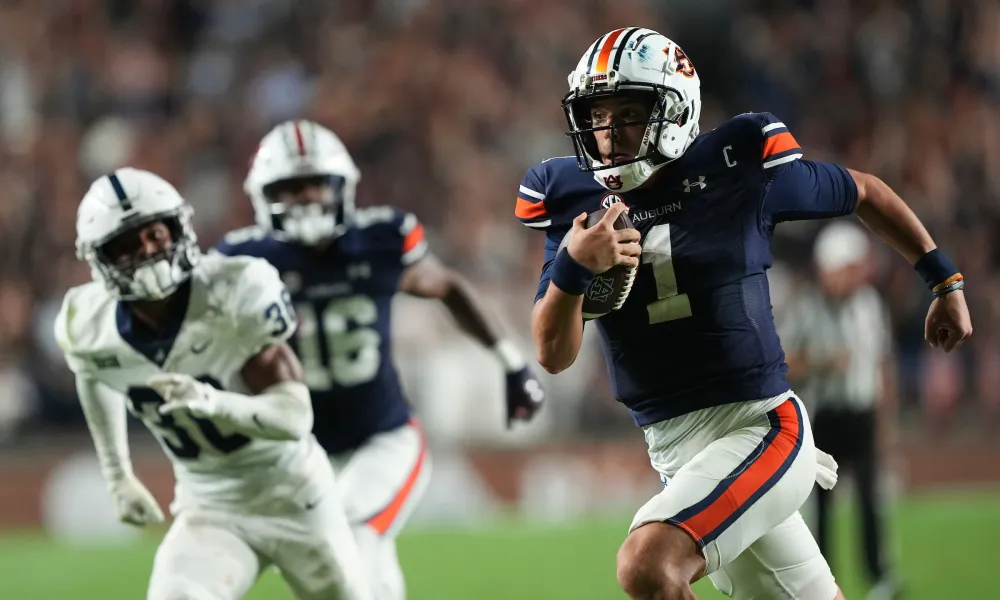 A lot of you folks are still too quick to judge offensive malfeasance on quarterback play. It's extremely hard for a quarterback to look good when his receivers aren't getting any separation. When the offensive line isn't getting any push to run the football, that obviously makes an offense one dimensional.
What happens when you're one dimensional? Defensive coordinators dial up pressure and give your receivers even less time to create separation. If these things happen, by the end of the game the box score that you're all basing your judgement off of isn't going to look very impressive.
Having said all of that, I'm not speaking strictly on Auburn's situation. Payton Thorne has had his share of misreads, but it isn't any more prevalent than any other quarterback in the country outside of maybe your Heisman favorites. Thorne doesn't have the luxury of an elite surrounding cast right now, so his mistakes are seemingly magnified.
I'm turning the page. Hugh Freeze himself said earlier this week that Payton Thorne gives this team the best opportunity to win. We are going to see less Robby in every down situations, but he will continue to have his red zone packages, which I love.
It's time to get on board with Thorne and stop pretending he's terrible and somehow holding the offense back. The guy holds Michigan State's single season touchdown pass record. Random untalented folks don't get that title. I'm sorry.
He's our Chris Todd, Jarrett Stidham, healthy Sean White. We've had great success with quarterbacks of this caliber and no reason to think we can't do it again. The only real concern is the aforementioned quarterbacks had a better surrounding cast. No, that isn't an excuse, but I think most would agree. It's time to get behind this kid.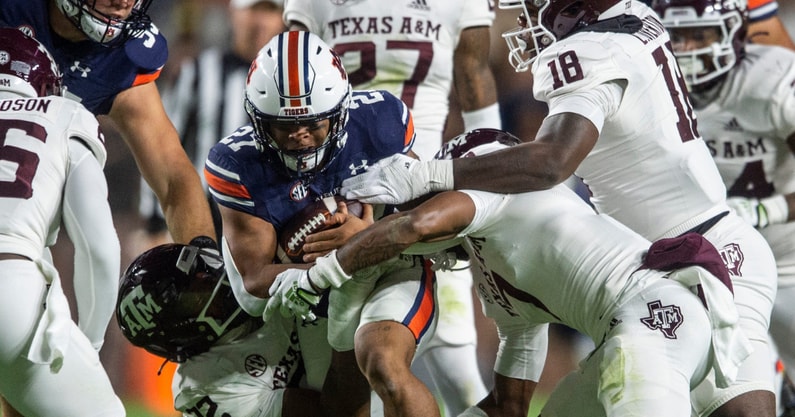 Saturday's game is huge. I'm not calling it a "must win" by any means. I, like most of you, should have realistic expectations for this season. We simply aren't as talented as the top tier SEC programs right now. This is a big game in the sense that it is very much winnable.
A win Saturday with all of that momentum heading into Georgia week would be amazing. There are obviously some interesting recruiting implications this week as well that would be lovely to fall our way. Most importantly, a win Saturday would just continue to affirm that our program is heading in the right direction.
If Auburn can play a clean game Saturday and not turn the ball over I think we'll win. I think it will be a lower scoring game where a key turnover or two will sway this game one way or the other. The key matchup, as is in most football games, will be in the trenches.
Texas A&M has a very talented defensive line. If Auburn's O-line can get a push up front and establish at least somewhat of a running game I really like our chances. We just need Payton Thorne to be a game manager.
Yes, I said it. Game manager. Take what the defense gives you and don't force something that isn't there. Let our stable of backs grind out the tough yards and let that Auburn defense play fast and physical. If we can do that, Auburn will be 4-0.