Moments ago, the SEC released the 2013-14 conference basketball schedule. I've removed all of the fluff, and given you exactly what you want: the Auburn games. Let's take a look at the trek Auburn will take in route to an undefeated season.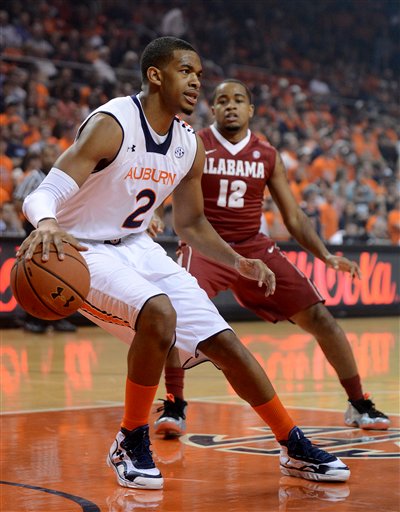 Jan. 9 – at Ole Miss (7pm, ESPN/2)
Jan. 11 – Missouri (2pm, ESPNU)
Jan. 15 – at Tennessee (7pm, CSS)
Jan. 18 – Florida (4pm, SEC)
Jan. 22 – at Mississippi State (TBD, ESPN3)
Jan. 25 – at Arkansas (6pm, FSN)
Jan. 29 – Alabama (8pm, SEC)
Feb. 1 – Georgia (1:30pm, SEC)
Feb. 5 – at South Carolina (7pm, ESPN3)
Feb. 8 – at LSU (4pm, SEC)
Feb. 12 – Kentucky (8pm, SEC)
Feb. 15 – Mississippi State (1:30pm, SEC)
Feb. 19 – at Florida (7pm, FSN)
Feb. 22 – Vanderbilt (6pm, FSN)
Feb. 26 – South Carolina (9pm, FSN)
Mar. 1 – at Alabama (3pm, ESPNU)
Mar. 5 – Tennessee (8pm, SEC)
Mar. 8 – at Texas A&M (4pm, SEC)
A few things to notice in this national championship year for the Tigers:
Auburn starts on the road against the Rebels of Ole Miss. Will Marshall Henderson be playing? That's a mystery. But we do know he won't return to Auburn Arena during his senior season. The Tigers only battle the Black Bears once this year.
Missouri makes their first trip to Auburn as an SEC member, but Earnest Ross will be making his return to the Plains after transferring in 2011.
The first four games are brutal. That's all there is to say about that.
The Foy-ODK Sportsmanship Trophy will be making it's return to Auburn on January 29th. Mark your calendars.
Auburn plays their home-home series with Alabama, Florida, Mississippi State, Tennessee, and South Carolina.
So that's it. Football starts in 10 days, and here's your basketball schedule. No offense, but I'll worry about it in a few months.
Speaking of scheduling, expect a football related post shortly. It's like fate put these two posts together today.