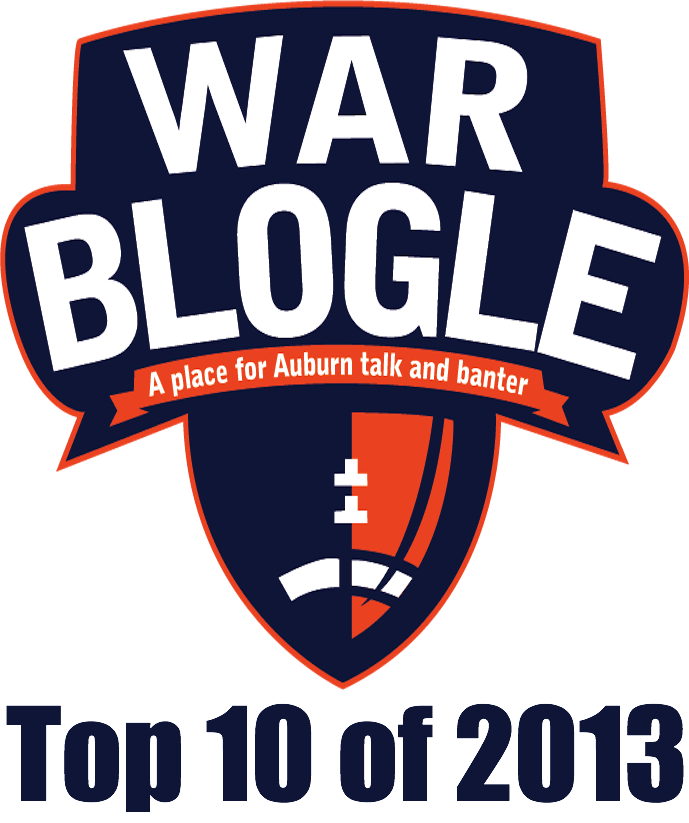 What a difference a year makes. In 2012, all things Auburn (including the Blogle) limped along just wondering when things would get better. Now we're staring down another national championship and the Blogle is celebrating its biggest year since the days of 50 page views a month in 2007.
I can't take all of the credit, though. Any success the site has is directly correlated to the success of Auburn. It's why I wanted Gus. Gus means winning. Winning means page views (34.6% more page views, up to 1.3 million for the year). Thanks, Gus.
As far as Blogle Enterprises as a whole, 2013 was great. Twitter followership went up roughly 11,000 over the year. 36,500 of you care? I know most of you are Alabama fans, but still. And @BabyBlogle's "We KILLED Alabama" vine was featured on ESPN, Fox Sports, and USA Today, so that was awesome.
In terms of the most viewed blogles of the year, I am slightly hurt. Not one of them involved actual writing. Every single one is based on a video or a picture. Every. Single. One. This tells me one of two things: you hate my writing or humans have truly gotten so simple that would rather watch than read. I'm gonna go with both.
The interesting, but not very surprising thing is that 8 of the top 10 have come from the final two months of the year. Think about that. Posts that have been up less than 2 months outgained posts that have been up all year. Those Immaculate Deflection and Kick Six things were pretty big, huh?
Either way, whether you came here to read or to watch a video, you still came to the site, so I love you. You make this guy who does this for fun a happy Blogler. Here's to an even better 2014.
10. 'Bama Tide Radio' Confused by Kick Six (12/3/13, Views: 12,023)
Here it is, the 2013 Iron Bowl final radio call you probably haven't heard. The call of confusion from "Bama Tide Radio." This is good, and really – probably – not all that far off.
9. Will Herring Narrates the 2013 Iron Bowl (12/3/13, Views: 13,684)
Prior to the 2013 Iron Bowl, former O-town Killa, former Auburn linebacker/safety, and current Saints linebacker Will Herring offered a few words to the Auburn Tigers via his cell phone and my other YouTube account. Now that it's obvious that his words worked, our man A96 has put them to highlights of the greatest Iron Bowl in history. Chills.
8. Auburn Man Passes, Honored in an Auburn Way (1/2/13, Views: 13,731)
Chris Rushing loved Auburn. Chris Rushing was an Auburn man. Chris Rushing died unexpectedly on Christmas morning in his parents' house in Macon, MS. He was 30 years old.

Chris was born on September 25, 1982, in Birmingham, AL, and graduated from Auburn University in 2005 with a degree in Journalism. He worked for Media Relations in the Auburn Athletics Department throughout his time at Auburn. At the time of his passing, he was a sports writer for The City Wire, a newspaper based out of Fort Smith, AR.
7. Charles Barkley Goes to Tuscaloosa, Gets Mugged (2/15/2013, Views: 14,332)
Charles Barkley has no filter. Sometimes that's a bad thing. Sometimes that's a good thing. In regards to what he did/said on TNT last night, it's a good thing… if you like trolling Alabama fans as some of us like to do.

It's a real shame that Charles can't even make a classy move like going to Tuscaloosa to congratulate Nick Saban and… well, just watch.
6. Alabama Fan Reacts to Auburn's Miracle Pass Against Georgia (11/17/13, Views: 17,254)
Alabama fans do not watch Auburn games, let alone pull for them to lose. Auburn is irrelevant. Right. Get ready, buddy. If Auburn beating Georgia hurt you this bad…
5. Auburn's 2014 BCS Championship Jersey (12/14/13, Views: 18,755)
Since Auburn is ranked #2 in the BCS rankings, they will be the visiting team in the 2014 Vizio BCS Championship Game. Storm Troopers, baby.

Here's your first look at the jersey Auburn will wear, complete with the BCS patch. It's getting real.
4. Stadium Reaction of Iron Bowl Kick Return Will Bust Your Speakers (12/1/13, Views: 19,673)
I had just bought new computer speakers after they were destroyed the first time I listened to the stadium reaction to Ricardo's catch, and then I listened to this. Back to Best Buy I go.
3. Auburn Loco's Does Harlem Shake after Miracle Catch (11/22/13, Views: 21,355)
Early yesterday, I tweeted the original security cam footage of the Auburn Loco's Pub & Grill reacting to Ricardo's miracle catch to beat Georgia. I was then given an awesome idea by the creator of the War Blogle iPhone app, @davecowart.
2. Mother of All Iron Bowl Fan Reaction Compilation Videos (12/3/13, Views: 21,411)
I didn't cry when Auburn beat Alabama on Chris Davis's missed field goal return (Uncle Blogle did), but after watching this, I got a little misty. Good Lord, this is good. It's the music, it's the raw video, it's @BabyBlogle's vine (which has somehow now been featured on SportsCenter, Fox Sports 1, MSN, and USA Today) ending it, it's everything.
1. Stadium Reaction of Ricardo's Catch Will Bust Your Speakers (11/17/13, Views: 68,623)
If you don't get chillbumps from this, check your pulse or what colors you're wearing. Seriously, if you have a decent set of speakers, it might blow out your windows. If you're listening on headphones, turn it down a notch. If you're listening on anything cheap, it will be busted.
Thanks again for all of the support. Speaking of support… nevermind, I'm not allowed to "beg" or "panhandle" anymore. But really, there's a donate button down there if you'd like to click it. War Eagle either way. Now let's beat Florida State.