We all know how Paul Finebaum works. He has built his show around stirring the pot, creating controversy, and feeding off those that claim they'll never listen to him again. You can listen one day and he's all on the Nick Saban bandwagon, and the next day he's bashing him and all about Chizik. This past Friday, I heard him switch back and forth from one caller to the next, so it's no surprise as to what he's doing. Most see it, but those that continue to call do not.
HOWEVER….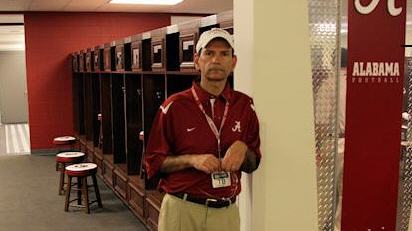 Last week, Finebaum spoke at Birmingham Southern College in front of a couple hundred students and faculty members. The lecture was called "Paul Finebaum: Sports Management." Are you done laughing yet? No?…ok, what about now? Basically, he argued through innuendo and rhetorical questions to the audience that Alabama was a perfect machine, comparing them to Apple, etc. He then argued that Auburn could be compared to a Ponzi scheme. Some students (more Bama fans not attending Bama) threw out names like Enron, which he agreed with.
Next in his stand-up routine, he called Jay Jacobs a puppet to Bobby Lowder, and implied that Cam Newton had 180-thousand reasons to go to Auburn. Not to mention the only reason Auburn won a championship under Chizik so quickly was because they cut corners and cheated. Those are only a few of his ridiculous claims. They don't even begin to scratch the surface of the rest of his innuendo and lies.
Now I know this may seem like nothing new. We've heard him say things like this on the radio for years, especially on a day when he notices not many Auburn fans are calling, but this is actually very different. He wasn't on the radio with hundreds of thousands listening. He was in a small auditorium speaking to a few hundred students, with no knowledge of it being recorded for the outside world to hear. He wasn't trying to stir the pot, he was telling them his true thoughts.
Some may say "Who cares? He's just another hater." And that's true, but this hater is on ESPN weekly during football season and is for some reason known in Bristol, CT as the representative of the SEC. As long as he spouts out everything he told the students and faculty at Birmingham Southern, then the outside world will view everything that he says as fact. Like it or not, he is very influential, and he's influencing anyone who wants any reason to believe Auburn cheated with his half-wit jokes and blatant lies.
Remember when I said he had no knowledge of it being recorded for the outside world to hear? You knew where I was going with that, right? Yep, one of my loyal readers was in that auditorium and knew that this needed to be heard. He only agreed to let me post it if I told you how awesome and sexy he was, so thank you Mr. Anonymous Awesome Sexy Guy. I commend you for not being in jail for multiple beatings after hearing what I have heard in your recording.
The whole lecture is around 40 minutes long, but you'll want to hear every bit. Have at him.
[audio:https://warblogle.com/audio/Finebaum_BSC.mp3|titles=Finebaum Speaks to Birmingham Southern]
Can't see the audio player? Click here.