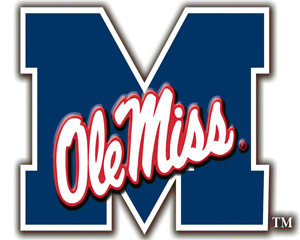 When the Ole Miss Rebels walk into Jordan-Hare Stadium for their early, Saturday morning tilt with the Auburn Tigers, it might as well be like two ships passing in the night.
As expected, the Rebels Black Bears Landsharks are in the midst of a downward spiral that started as soon as Hugh Freeze was booted. After struggling to handle UT-Martin, Ole Miss lost at Cal and then failed to make Alabama break a sweat while getting beaten by 63 points. It just so happens that right around the same time that Ole Miss's tailspin was getting going, Auburn seemed to find it's way and has been on the rise ever since.
The problem with Ole Miss is that they know this isn't ending any time soon. They are stuck with an interim coach for the rest of the year. I still don't know his name. And then any day now, at least before the end of the season, the hammer will be dropped by the NCAA. You don't become what Ole Miss became that quickly and it not mean things were lily white. That said, cheating doesn't mean all the players you cheated to get are all of a sudden gone.
Ole Miss QB Shea Patterson has the skills. He can sling it. He's a gamer. He has some really good receivers to throw to as well. But yeah, they lost to Cal and scored 3 points at Alabama. So maybe none of that really matters. Couple the NCAA stuff and the surprise interim coach stuff. Sometimes that stuff is too much and talent doesn't matter.
As I mentioned, this game will be played before high noon. The running and overblown complaint most Auburn fans have about early games is that Auburn typically doesn't perform too well in them. First off, the numbers aren't that bad. Auburn is something like 14-6 in morning games since 2000. And to be honest, nobody plays that well in early games. It's all about the crowd. The crowd is usually late, half asleep, and not… lubricated. It's also usually a less enthused crowd because the opponent isn't that great, and that's why the game is in the morning.
But I am not worried. This Auburn team has done exactly what they wee supposed to do the last two weeks. I mean exactly. They know that they are in the top 3 of the conference and there is no reason to take a game off. The offense is sparked and working. The defense is likely the best in the nation. This isn't a team that's run up on recent success and thinks it's just all easy from here. This is a team that has figured it out and is getting better game by game.
Not to mention, Ole Miss is worse than Mississippi State, who Auburn beat by 39 a week ago. So yeah, it's that simple.
Jarrett Stidham will continue his passing prowess with three 1st half touchdowns. Kerryon will tack on two more and sit the entire 2nd half. Pettway will sit the whole game while Kam Martin and Malik Miller get the reps they need. Oh, and that other Malik will get to play again, too. It will be another fun Saturday in Auburn.
Auburn 45, Ole Miss 7