Given Auburn's current situation with injuries on defense, and especially given that Washington State is the first opponent the schedule, the depth chart that Coach Malzahn released on Wednesday (below) is not near what we'll see later in the season. Are they ever? That said, this is who will be playing for the most part, so let's take a look.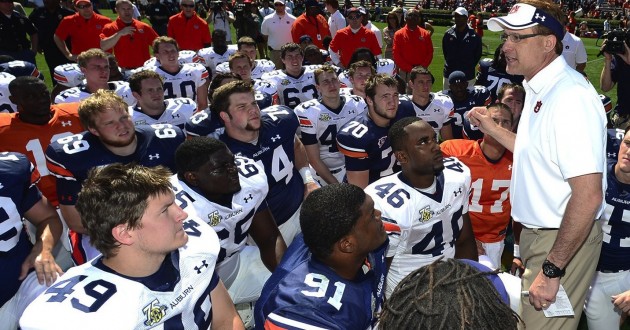 Offense
QB
14 NICK MARSHALL (6-1, 210, Jr.)
12 Jonathan Wallace (6-2, 206, So.) OR
6 Jeremy Johnson (6-5, 219, Fr.)
We've know Marshall was the starter for a few weeks now, and we knew that Jeremy Johnson was not a foregone conclusion to redshirt. The now-popular use of "OR" shows that if Marshall goes down for an extended period of time, Johnson is definitely an option.
RB
21 TRE MASON (5-10, 205, Jr.)
44 Cameron Artis-Payne (5-11, 210, Jr.)
This is probably, most definitely a 1A/1B situation. Tre might play the first snap, but I think we'll see an even split.
HB
35 JAY PROSCH (6-0, 258, Sr.)
40 Gage Batten (6-0, 235, RFr.)
No surprise at fullback (h-back). You trying telling the Incredible Hulk he isn't starting…
TE
11 BRANDON FULSE (6-4, 263, Jr.) OR
81 C.J. UZOMAH (6-4, 258, Jr.)
The "OR" returns to show how even this race was during camp. I thought Uzomah would take it, but Fulse has done a fine job over the years. Malzahn's offense will find a use for both of them.
WR
18 SAMMIE COATES (6-2, 201, So.) OR
81 C.J. UZOMAH (6-4, 258, Jr.)
Wait, Uzomah is gettting "OR"d at WR, too. Do two "OR"s make a start? Really, though, this shows his versatility. I'm glad to see Coates in a starting spot though. I think he's going to do big things.
WR
89 JAYLON DENSON (6-3, 219, Jr.)
11 Brandon Fulse (6-4, 263, Jr.)
Denson apparently had a great Fall, which explains his spot at the top of one of the WR positions. Fulse at the two-spot shows the versatility of Auburn's tight ends and the versatility of the offense.
WR
4 QUAN BRAY (5-10, 186, Jr.)
1 Trovon Reed (6-0, 190, Jr.)
This is a slight surprise. Reed has been that guy everybody's been waiting to bust out for a while. It seemed like he would get the start this year and do just that. Bray is one of the quickest guys on the team, and I guess that won out.
WR
5 RICARDO LOUIS (6-2, 215, So.)
80 Marcus Davis (5-9, 176, Fr.)
I was told that Ricardo Louis was a beast in scrimmages this Fall, so I figured he'd get the start.
LT
73 GREG ROBINSON (6-5, 320, So.)
72 Shon Coleman (6-6, 299, RFr.)
LG
63 ALEX KOZAN (6-4, 297, RFr.)
53 Devonte Danzey (6-4, 282, So.)
C
50 REESE DISMUKES (6-3, 297, Jr.)
65 Tunde Fariyike (6-2, 305, Jr.)
RG
62 CHAD SLADE (6-5, 313, Jr.)
76 Jordan Diamond (6-6, 315, RFr.)
RT
51 PATRICK MILLER (6-7, 283, So.)
56 Avery Young (6-6, 304, RFr.)
The offensive line is exactly what I thought it would be. Well, I thought Avery Young may start over Patrick Miller, but it was a toss up. Look at these names, their years, and their measurements. Auburn will win a national championship in the next three years.
Defense
DE
13 CRAIG SANDERS (6-4, 245, Sr.)
94 Nosa Eguae (6-3, 269, Sr.) OR
97 Elijah Daniel (6-2, 264, Fr.)
We knew that Dee Ford's injury would shake some things up at one end spot. I knew Craig Sanders was a candidate, but I didn't really think he win the spot. I'm glad for him, though. You bust enough heads on kickoffs and it will eventually pay off. SR Nosa Eguae sharing the "OR" with freshman Elijah Daniel is surprising on one hand, but very exciting on the other hand.
DT
98 ANGELO BLACKSON (6-4, 310, Jr.)
1 Montravius Adams (6-4, 305, Fr.) OR
93 JaBrian Niles (6-2, 293, So.)
Blackson should get the start, but I wouldn't be surprised if Adams takes it over later this year. That's not a knock at Blackson. That's just what I think of Adams.
DT
54 JEFFREY WHITAKER (6-4, 310, Sr.) OR
90 GABE WRIGHT (6-3, 296, Jr.)
50 Ben Bradley (6-1, 295, Jr.)
This "OR" is the microcosm of what I've thought of the DTs for the last year or so. I think Whitaker is good enough, but Gabe Wright is good enough to push him, but not superior enough to win the spot. And then there was Blackson, too. See, I'm confused. I feel like three guys could play, but none of them were solid enough to definitely win one of the two DT spots.
DE
10 LaDARIUS OWENS (6-2, 250, Jr.)
92 Kenneth Carter (6-4, 280, Sr.) OR
55 Carl Lawson (6-2, 258, Fr.)
I really like Owens. I don't know why. I think I just paid attention to him in 2011, when things weren't great at times, and he was still giving it everything. I do expect Carl Lawson to be heavy in this rotation, too.
MLB
5 JAKE HOLLAND (6-1, 240, Sr.)
17 Kris Frost (6-2, 238, So.)
What's that they say about brains over brawn? I think that's what's going on here. Maybe I'm wrong…
WLB
8 CASSANOVA McKINZY (6-3, 246, So.)
43 Anthony Swain (6-2, 239, So.) OR
16 JaViere Mitchell (6-2, 205, RFr.)
Cassanova was a lone bright spot for the Auburn defense a few times last season, but he was too green for them to give him the reins. Glad to see him at a starting spot.
Star
26 JUSTIN GARRETT (6-1, 218, Jr.)
27 Robenson Therezie (5-9, 204, Jr.)
Garrett was hurt most of camp, but never lost his starting spot at Star. He's going to be the leader of the secondary.
CB 6 JONATHON MINCY (5-10, 200, Jr.)
37 Kamryn Melton (5-10, 173, Fr.)
Not a surprise at all.
FS
9 JERMAINE WHITEHEAD (5-11, 201, Jr.)
24 Ryan Smith (6-2, 194, Sr.)
Not a surprise at all.
BS
15 JOSHUA HOLSEY (5-11, 197, So.)
25 Kiehl Frazier (6-2, 224, Jr.)
I knew Holsey would start, and I heard Frazier was doing well, but I didn't think he was doing "one play away" well. I'm ready to see Holsey lock down the secondary, but I would like to see what Kiehl can do. Just for fun, you know?
CB
11 CHRIS DAVIS (5-11, 200, Sr.)
19 Ryan White (5-11, 196, Sr.)
Hopefully Davis can get rid of the injury bug and play out his senior season. He's one of the best DBs on the team. We just haven't gotten a lot of time to see it.
Special Teams
PK
36 CODY PARKEY (6-0, 190, Sr.)
38 Daniel Carlson (6-4, 205, Fr.)
P
30 STEVEN CLARK (6-5, 230, Sr.)
28 Jimmy Hutchinson (6-2, 190, Fr.)
H
19 RYAN WHITE (5-11, 196, Sr.)
12 Jonathan Wallace (6-2, 206, S0.)
DS
59 JAKE LEMBKE (6-2, 240, Sr.)
48 FORREST HILL (6-1, 247, Jr.)
No surprises with the kicking specialists. We'll have some new ones next year. That's about it.
KR
21 Tre Mason (5-10, 205, Jr.)
20 Corey Grant (5-11, 205, Jr.)
4 Quan Bray (5-10, 186, Jr.)
5 Ricardo Louis (6-2, 215, So.)
I really want to see Corey Grant return some kicks. I saw him run across the field en route to a touchdown multiple times in our hometown. O-town Killas 4 Lyfe.
PR
11 Chris Davis (5-11, 200, Sr.)
4 Quan Bray (5-10, 186, Jr.)
1 Trovon Reed (6-0, 190, Jr.)
Now this was a major surprise. I've never known or heard of Chris Davis returning a kick. Given the struggles Auburn has had just catching a punt over the last few years, maybe that's why he's back there, he can catch the ball.
All in all, not one part of this depth chart worries me. Mainly because I trust the coaching staff, but also because it's very logical based on what we've heard. We'll see how well it does tomorrow. TOMORROW.