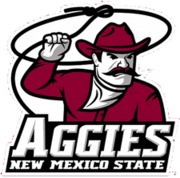 Reading that title probably doesn't put too much fear or excitement in your heart, so there's not much to get too pumped about, but right now it's exactly what Auburn needs. New Mexico State and Auburn have met two times before: once in 1993, a 55-20 Auburn win, and once in 2007, a 55-14 Auburn win.
The Aggies have been arguably one of the worst teams in college football over the last decade or so. You could say they have been one of the worst ever with an overall record of 422–574–31. They have three bowl appearances total and four conference championships, with the last coming in 1978. They currently hold the same pitiful 1-7 record as Auburn, with their lone win coming over Sacramento State in the first game of the season. They also boast losses to teams such as Idaho and UT-San Antonio. Even worse, their colors are listed as crimson and white.
However, as has been the case for weeks, Auburn's biggest opponent has been themselves. The Tigers beat themselves against Arkansas, Ole Miss, and Vanderbilt, and looked lost against Texas A&M. It hasn't mattered who the team across the field was, Auburn could not get out of their own way.
That was until a small little positive showed up in last week's massacre. I speak of the emergence of Jonathan Wallace as a true dual-threat quarterback. He played most of the 2nd half after an injury to Moseley and once Frazier didn't provide much of a spark. We learned today that he would get the start this week. It only makes sense.
Regardless of how Auburn has played, New Mexico State will easily be the weakest opponent they have faced. It is a perfect time to get Wallace a full game's worth of experience as a starter as Auburn goes into Amen Corner. You can call me crazy all you want, but I still think a night game in Jordan-Hare could give Auburn the chance to knock off Georgia. I thought the same for the Texas A&M game, but there was no excitement in the stadium. Wallace will bring that excitement and a positive vibe that Auburn has missed for weeks, provided he plays well this week.
You could say that this is Auburn's first true cupcake this season with the way UL-Monroe has emerged this season. It may have come way too late at this point in the season, but Auburn can use it to tune up and play spoiler for the rest of the season, and get ready for next year.