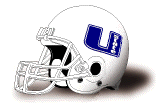 When the reigning national champion Auburn Tigers take the field tomorrow, there will be some new faces on the field and one new face on the sideline, but the goal will remain the same. The fans know it. The players know it. The opponents will know it.
The Utah State Aggies will be the first to learn.
No offense to the Aggies, but they are the perfect tune up for the rest of the season for the Tigers. There are many questions on both sides of the ball that could start to find an answer when playing a team like Utah State. The offensive line will need a few games to gel, Barrett Trotter will need some time to learn play as the starter, and the defense can use this time to gain experience.
I don't want to make it seem like Utah State will just be a cakewalk. They opened the season last year against Oklahoma and put a major scare into the Sooners with a 31-24 loss. This time, though, they come in undecided on who will play quarterback. Both of their options have never taken a D-1 snap.
Auburn has always had a problem with making quarterbacks from smaller schools look stellar, but I can't see guys who have never played a D-1 school, let alone an SEC school, let alone the defending national champions, doing too well.

The Aggies will walk into Jordan-Hare, a stadium three times larger than their own, and will no doubt see no less than 2,827 national championship logos. I'm sure it will strike fear into the hearts of some of our visitors, but may also help pump them up. They saw that they could hang around last year with Oklahoma, and they may feel the same way this year.
They may have no experience behind center, but they do have a 1,000 yard rusher (from two seasons ago) and a pretty experienced offensive line. That could cause some problems for Auburn's young, but somewhat slightly experienced defensive line. However, with a quarterback that is likely to hand the ball off a lot, the secondary can move up and help out.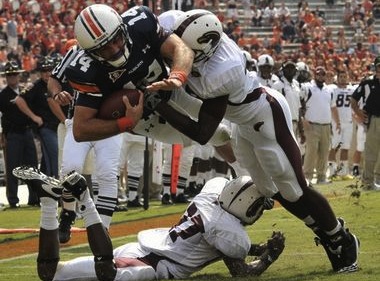 Speaking of a quarterback who might do a lot of handing off early in this game (and maybe season), Barrett Trotter has the luxury of giving the ball to two of the best running backs in the SEC. Onterrio McCalebb can break one on any play, and Dyer will grind down the smaller Utah State D-line, which will end up giving Barrett Trotter more time to throw and work on his game time touch.
The Aggies have a pretty quick kick returner, and given the amount of time he'll probably be catching kickoffs (see what I did there?), he's likely to rack up a few yards. But considering that Jay Boulware turned Auburn's kick coverage into one of the best last season, they should be able to keep him under wraps pretty well.
Dang, I can make a negative into a positive just like that, can't I?
The world wants you to think that Auburn returns nothing, gained nothing, has nothing, and will struggle to get to six wins this year. As I said in my 2011 Season Preview, that is simply not the case. Auburn has guys who played a huge part in a national championship season. Auburn has the #1 recruiting class in the nation joining them. Auburn has the best coaching staff in the nation.
All this team needs is a little time to put it all together, and what better way than with a smaller, but competitive opponent in Utah State.
Auburn 45, Utah State 10.