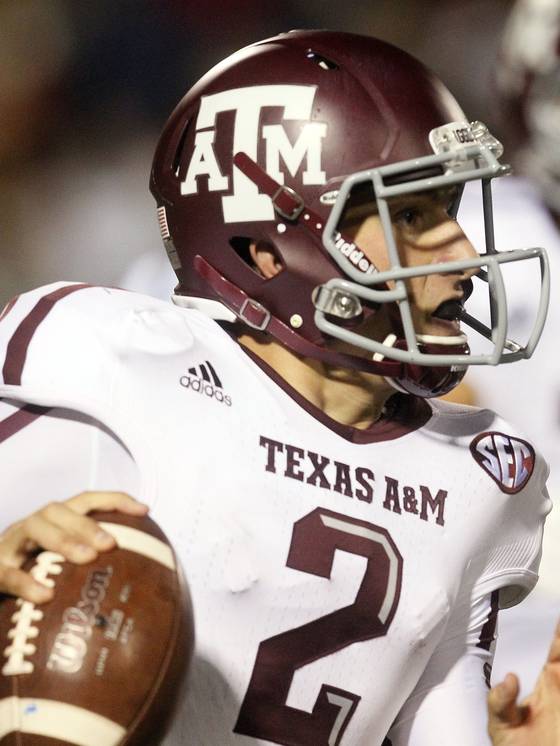 The history between Auburn and Texas A&M is minimal. I wrote about it this summer. In short, Auburn is 0-2 against the Aggies. One loss came before you and maybe even your grandparents were born, and one came in the 1986 Cotton Bowl. Needless to say these two programs don't really know each other, therefore there's not much reason for hate. But let me tell you a few reasons why we can get up for this one.
1. They are new to the SEC. The Aggies have held their own so far this season, with their only losses coming to LSU and Florida, but that doesn't mean they know what it's like to play in the SEC just yet. This is the first time they will be visiting Jordan-Hare. This will be the first real road night game they will have in the SEC, well in a real stadium. Ole Miss doesn't count.
Regardless of how the season has gone, Auburn's best overall performance came against LSU in a night game at home earlier this season. This is a chance to finally get a big win and show the Aggies what it's like playing in the SEC. I think.
2. Auburn has never beaten Texas A&M. As far as I know, not one current player on either team was alive the last time these two teams played. At least I hope there are no 26-year-olds on either team. The current deficit is only two games, but Auburn can't afford to go much deeper. Texas A&M is going to continue to improve, next year's game is in College Station, and it's only going to get tougher to beat them. When the Aggies joined the SEC this summer, Auburn automatically inherited another team that owns the series. They need to knock the Aggies off that list soon.
3. They have "yell leaders." They aren't called male cheerleaders. They don't do cheers. They call them "yells." Therefore they use "yell leaders." Okay? I understand tradition, but that doesn't mean it isn't weird. I mean guy cheerleaders are absolutely fine, but just watch this.
4. Johnny Football. Is anybody else tired of hearing about red-shirt freshman quarterback, Johnny Manziel, and his cheesy nickname? I am. He reminds me of Jay Cutler. I don't know why. But I'd like to beat the Aggies just because of him.
There's no denying that the Aggies can score points, but their defense is suspect. Hopefully, the coaching staff will have a game plan that exploits the weakness of Texas A&M (that means run Tre Mason a lot, setting up the play action with passes across the line of scrimmage) and hopefully the Auburn defense can continue to improve and slow down the Aggies' scoring.
I know the season has been awful, but I have this feeling that Auburn has at least one good game in them. Somewhere. If the Auburn fanbase shows up, as they should, and creates a loud and crazy environment, it will only help. We saw what it did to LSU. It's bound to do the same to a team playing on the road in the SEC. Be there if you can. If not, I want a written excuse.