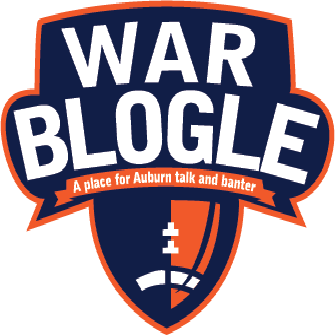 Yesterday was a busy day. It began with a birthday party, then the game, then fighting Auburn and Alabama fans alike on Twitter. I've never counted how many words I've tweeted in one day, but I did this week. Guess how many. Go ahead. Guess. Ok, you were a little off. It was 948. That's about twice as long as most of my blogles. I have a problem. Oh well, follow me.
Pregame:
Great to sit down with you. WE @Samantha_Steele: I'm thinkin my celebrity guest picker interview today will be the best one yet.
Two nights ago I had a dream about Brandon Cox. Last night I had a dream about Kyle Davis. Guess I love mid-2000 Auburn athletes this week.
So THAT's why. WE @IzzyGould: Injury makes Auburn quarterback Kiehl Frazier doubtful to play against Ole Miss http://bit.ly/Rox5Q0
Really? same schedule, too? WE @dennisdoddcbs: Welcome to halfway point of cfb! Duke has four more wins than Auburn.
Sticking with the @Under_Armour polo today, but switching back to old faded hat. The hat brought the ULM win. I'm sure of it. #auburn
Fixed it. WE @wareagleextra: Vaught-Hemingway: absolutely gorgeous (high school) stadium http://bit.ly/P0oMhm
Today, we are all Tigers… o_O WE @HunterLJohnson: Today, we are all Rebels. #RollRebels
#febreeze WE @Aubielicious: @WarBlogle Dude- that shirt was used as draws this week. Gross.
Does this mean I've made it? Bring it. http://instagr.am/p/QueJZUGPB4/
WE @AUBlog: #Auburn SID Shelly Poe contradicts report of injury for quarterback Kiehl Frazier. Says he's not injured and is "available."
I'm just gon' say it: I don't think Clint Moseley was ever that hurt either. #auburn
Doing a little pirate/princess party before kickoff today. #parenthood @BabyBlogle http://twitpic.com/b3sjwc
They always do. WE @DWadeK24: @WarBlogle apparently shakers are considered a weapon because they are taking auburn shakers up at the gate.
Quality tweets/info so far. Keep up the good work. WE @AntiWarBlogle @WarBlogle I'm just offering AU fans an alternative to your dumb@$$.
So no Dismukes… last time he was out, Auburn put up arguably their best offensive performance of the season (Clemson). #tunde #teriyake
The last time I watched a game in this garage, something magical happened. It was known as the 2010 Iron Bowl. #auburn http://twitpic.com/b3t4rz
During game:
Lehgo. #wareagle
Quick, some media member make a joke about a quarterback catching a TD at Ole Miss.
Well, that looked pretty good. Nice play calling. #auburn
I love Sammie Coates. Talk all you want. #auburn
Parkey drags and Parker bombs. #auburn
For those in Oxford, tell me how the band sounds at halftime…. oh wait. #auburn
Kinda gave 'em 10 points, but can't complain about the point scorage. 17-17 is good for now. #auburn #wareagle
Both sides have done well at different times of the game. Time to put it together for the rest of the game. #auburn
This game could be summarized as "WALLACE KEEPS IT." #auburn
That's just not fair. Yes, five people should have made the tackle. But the guy was up because he rolled on Richardson's arm. #auburn
Now a somewhat halfway decent performance is just gonna look stupid.
One lucky play turned this into a perceived blowout. Be mad all you want, but that's the truth. #auburn
Postgame:
What did you ppl just watch? It was a 7-pt game, and should have been Auburn's ball when we "tackled" the guy who rolled over our guy's arm.
I defended the "blowout," not the loss. No way we should ever lose to Ole Miss, but the amount of points in the 4th were fluky. #auburn
Saban hates the spread because his teams struggle against it. All teams struggle against it. Idea: let's go back to it. #auburn
I'd like you to guess the fanbase that is tweeting me the most trash talk right now. Hint: they are doing so while their team is playing.
During my own team's game? No. WE @David26point2: @WarBlogle ….and you NEVER trash talk, do you, Sport?
The $77 @UnderArmour polo is now 0-3…. #auburn
100% WE @Aubielicious: I'd rather have a 3 win season with Gene Chizik than a 9 win season with Bobby Petrino.
Y'all watch this… Auburn's special teams are tons better than Alabama's.
The people who say "I wan't Petrino because I just wanna win" do not understand Auburn… at all. #wareagle
Ppl who say this is the worst season ever are like the people who said Bush was the worst. You lived during Earl Brown and James Buchanan?
Must be older one without new label. http://bit.ly/OUSyEj  WE @nat4au @WarBlogle Aubie's choice of alcohol after today! http://bit.ly/RrJKVk
Petrino lovers, his teams have no defense and are 0-4 against Alabama. On top of the other 50 reasons it's a terrible idea, you'd want that?
Wrong. 1999. WE @bfreezy4: @WarBlogle auburn has never lost to both ole miss and miss state in the same season.. Til this year
It's "you're"… idiot. WE @swilcox84: @WarBlogle your an idiot. Shutup.
Looks like I'm staying in Auburn tonight. Anybody up for a fight club at Toomer's in about 30 minutes?
So this Tennessee-Mississippi State game is the battle of oversized helmet stripes. #overallstoo
The South Carolina kicker is the first guy I've seen wear glasses inside his helmet since Lucas. No wait, that kid on Little Giants.
LSU beat Auburn by two, ending the game with an interception. LSU beat South Carolina by two, ending the game with an interception.
Thats funny. I'm going now. WE @jefflockridge: Franklin: "Auburn's coming in here … it's going to be 99 percent Vanderbilt fans."
Dan Mullen has done a phenomenal job (of beating Jackson St, Auburn, Troy, S Alabama, Kentucky, and Tennessee) this year. Cream of the crop.
I try. WE @PatrickDever Bc he's the blogle AU deserves. Bammers hunt him. Bc he can take it. He's a silent guardian, a watchful protector.
I'd like to personally thank Kentucky for… well, you know.
Wait, how did I miss the rest of the season? Texas A&M and Louisiana Tech are playing in the Independence Bowl already?