For the first time since 1999 (13 years!), Auburn (1-3) and Arkansas (1-4) will meet as two unranked teams. Given the stat I gave you earlier this week, that's a good thing. On the other hand, rankings don't really matter when it comes to Arkansas's ability to ruin anything good or promising about Auburn.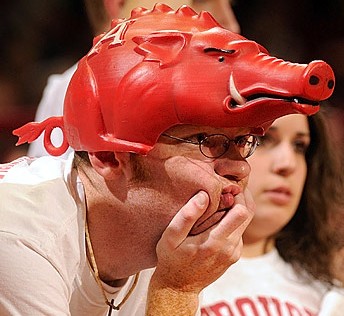 It doesn't matter who's been favored, and it doesn't matter what should happen. The Razorbacks always seem to have Auburn's number just exactly when Auburn doesn't need that to happen. This could be one of those times.
Arkansas is coming off one of the worst four game stretches you can imagine. They started the season with a decent win over Jacksonville State, but have since lost to UL-Monroe, Alabama, Rutgers, and Texas A&M by a combined score of 179-67. Simply put, they've lost to the Sun Belt, the Big East, and given up 50+ points in both their SEC games. Not good.
Auburn hasn't exactly done much better when it comes to records, but a close loss that could have gone either way against Clemson, a solid performance turned not-so-solid in the 4th quarter against ULM, and a very good defensive performance against LSU leaves much more to be said about their season so far.
Arkansas's season is already down the drain. The team has nothing to play for because they know John L. Smith won't be there next season. They have been embarrassed at least three times already. They have absolutely no reason to show up ready to play Saturday against Auburn.
Auburn has seemingly improved since the Mississippi State game and is staring a much easier October in the face. If the offense can get on track, a much better record is in their grasp. Things could be looking up. It could be a start to a new season. But that's when Arkansas steps in. That annoying little gnat. Always there to ruin anything promising.
Speaking of offense, the biggest current struggle is the passing game. Frazier starts each game with confidence but as the pressure rises in the game and in the pocket, he gets a little skiddish if two or three receivers aren't wide open. Given that Arkansas has one of the worst secondaries in the SEC, Frazier should be able to slowly pick them apart and gain confidence that he can use for the rest of the season. If Auburn can get up two scores early, Arkansas will give up and back off which should really let Frazier remember the abilities we know he has.
On the defensive side of the ball, Auburn played their best game of the season against LSU two weeks ago. There has been improvement overall, but I think the reason for the vast improvement in that game was due to the style offense LSU runs. The Arkansas offense is similar, but will sling the ball around a little more. We know what Tyler Wilson can do in Jordan-Hare stadium because we witnessed his coming out party in 2010. Their offense has struggled this season, but with Wilson and a few good receivers, they are still dangerous.
The 11 am kickoff is exactly what Auburn does not need, but hopefully it will not matter. Auburn is a team slightly on the rise with a chance to turn things around. Arkansas is done and dreaming of Smith-less days in the future. As I said, if Auburn can get any sort of lead, get the crowd behind them, and knock Arkansas further into depression, they could take the first step towards a more successful October.
That's exactly what will happen. A steady running game early, with a Frazier-to-Coates bomb will get the offense rolling. The defense will hold the Arkansas offense to under 20 points and Auburn will cruise to a much needed victory.
Auburn 34, Arkansas 17