As you know by now, Auburn will take on Wisconsin in the Outback Bowl on January 1, 2015. It will be played at 11 am CT on ESPN2.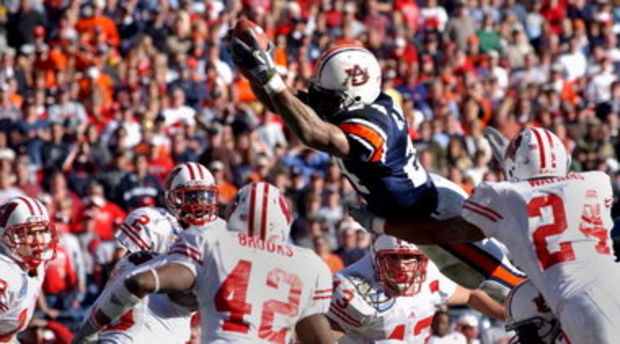 It was believed and nearly certain that Auburn was set to play in the TaxSlayer (Gator) Bowl leading up until the bowl announcements, but when Ole Miss "moved up" to the Peach Bowl (a New Years' Six bowl), it shook things up for the rest of the SEC.
Bowl selections changed for the SEC this year. After the playoff bowls and the New Years' Six, the SEC helped place the teams among the rest of the remaining bowl tie-ins. It was believed this would be a pool and anybody could go anywhere, but it was obvious after the selections that the pecking order was still mostly intact.
Taking a look at other SEC teams' records and results and bowl destination, it appears that the SEC placed Auburn somewhere around the 5th best spot. Tennessee ended up going to the TaxSlayer Bowl. So it looks like Auburn dodged a bullet in terms of not going somewhere that the SEC thought that Tennessee deserved.
Given the final month of the schedule, four losses, losing to both rivals, and other overall suck, the Outback Bowl is a perfectly fine spot and is possibly even a little bit better than was expected. I mean, we all know that Auburn isn't four-loss bad, as if 8-4 is actually bad, but it shows a little bit of respect when Auburn gets a respectable bowl after what has happened recently. Plus, Georgia is going to the Belk Bowl, so that's a positive.
In terms of Auburn playing Wisconsin in the Outback Bowl, the first reaction was not great. After most Auburn fans heard Notre Dame as a possible opponent in other bowls, that's who they wanted. When it didn't happen, and when Wisconsin was named, the groans from Auburn Twitter were audible.
The ones most vocal about it were those around my age whose peak post-school, but no kids yet fandom fell during the three years that saw Auburn play Wisconsin in two bowl games. "WISCONSIN AGAIN?!" they shouted. Auburn hasn't played Wisconsin in 9 years, so I think we're good.
In true Blogle fashion, I've dug up some of the best and generally useless facts about Auburn, Wisconsin, and the Outback Bowl. Well, some are probably okay, so take a look:
Auburn and Wisconsin have a 1-1-1 record against each other. The total overall score is 45-45.

October 10, 1931 – Madison, WI – Auburn 7, Wisconsin 7
December 31, 2003 – Music City Bowl – Auburn 28, Wisconsin 14
January 2, 2006 – Capital One Bowl – Wisconsin 24, Auburn 10

Since Auburn and Wisconsin last played, Auburn has gone 78-38, while Wisconsin is 87-32.
Auburn has played 11 games against Big Ten teams with a record of 6-3-2.

9 of the 11 were bowl games.
Wisconsin has been Auburn's most common Big Ten opponent, playing them three times. This year's Outback Bowl will make it four.

Auburn is 2-1 in Outback Bowls.

1990 – Ohio State (31-14) – then called the Hall of Fame Bowl.
1996 – Penn State (14-43)
2010 – Northwestern (38-35)

The last time Auburn played in the Outback Bowl, they won the National Championship the following year.
In years following playing Wisconsin in a bowl game, Auburn is a combined 24-2.
Auburn's bowl record is 22-14-2 (61%).

Auburn is 8-2 in their last 10 bowls.

Wisconsin's bowl record is 11-14 (44%).

Wisconsin is 3-7 in their last 10 bowls.

Auburn and Wisconsin had one like opponent in 2014: LSU.

Wisconsin lost to LSU 28-24 in the season opener.
Auburn beat LSU 41-7.

Wisconsin's RB Melvin Gordon will be the 2nd Heisman finalist Auburn will face this season. The first was Alabama's WR Amari Cooper.
Wisconsin will be the 2nd team Auburn will face this season that has lost a game 59-0.

Alabama 59, Texas A&M 0
Ohio State 59, Wisconsin 0 – Big Ten Championship

Auburn will be wearing white jerseys. Auburn fans are asked to wear blue.
Wisconsin will be Auburn's 8th straight and 10th overall opponent with a shade of red in their color palette. This streak will continue into the 2015 season with Louisville and Jacksonville State.
Here is the overall schedule for Auburn for the week of the Outback Bowl:
Friday, December 26
Auburn arrives at Grand Hyatt Tampa Bay.
Auburn practices at Jesuit High School or Jefferson High School.
Outback Steakhouse Team Welcome Dinner, 5:45-7:00 PM. Both team travel parties will feast on special Outback Steakhouse meal.
Saturday, December 27
Auburn practices at Jesuit High School or Jefferson High School.
Team Hospital Visit, 2:00-3:00 PM – Tampa General Hospital. Players from both teams will visit Children's wing of Tampa General Hospital.
Team Night at Tampa Bay Lightning, 7:00 PM. Both teams will be guests of the 2004 Stanley Cup Champions at the St. Pete Times Forum in
downtown Tampa.
Sunday, December 28
Auburn practices at Jesuit High School or Jefferson High School.
Team Night at Splitsville, 6:00-8:30 PM. Players from both teams and media will enjoy food & bowling at Splitsville at Channelside. Teams will compete in bowling competition. Photo opportunity.
Monday, December 29
Auburn practices at Jesuit High School or Jefferson High School
Head Coaches Joint News Conference, Noon – Holiday Inn Westshore
Busch Gardens Team Outing, 3:00-4:00 PM.
Tuesday, December 30
Auburn practices at Jesuit High School or Jefferson High School
Clearwater Beach Day, 11:00-4:00 PM – Hilton Clearwater Beach. Marching bands & cheerleaders performing on the beach, skydivers, volleyball,
cheerleader tug-o-war, and key lime pie eating contest.
MetLife/Mercedes Benz Gridiron Gala, 7:00-10:00 PM
Wednesday, December 31
Team Walkthroughs – Raymond James Stadium. (CLOSED)
Battle of the Bands – Busch Gardens
New Year's Eve Parade, 5:30-8:00 PM – Ybor City.
Light Up Tampa Bay, 10:00-Midnight – Channelside. Fans will celebrate with music, fireworks show, and ball drop on Tampa's downtown
waterfront.
Thursday, January 1, 2015
Pre-game Bowl Bash, 9:00AM-11:30 AM – between Gates C & D along Tampa Bay Blvd. Bands & cheerleaders, live band on
stage, interactive displays by bowl sponsors.
Corporate Tent Village, 9:00 AM-11:30 AM – Hillsborough Community College, west of stadium across Dale Mabry Hwy).
Outback Bowl 2015, 12:00 PM.
As of today, Wisconsin's Heisman finalist, Melvin Gordon, has declared for the NFL draft, and their head coach, Gary Andersen, has left for Oregon State. On the Auburn side, they are still looking for a replacement for Ellis Johnson at defensive coordinator. Both teams will be in a slight transition and be far from a normal game situation, but for now it seems Auburn is a little bit more fortunate in that respect.
The 2015 Outback Bowl is in 20 days, and hopefully this is everything you need to know about it… for now.