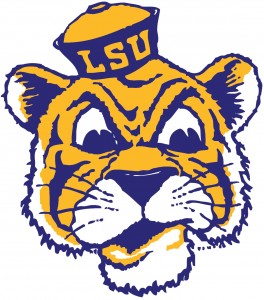 The task is formidable. The chances are slim. The probability is low. But nothing – in football – is impossible.
Auburn will obviously need to play it's best game (times 1000) if they want to knock off the #2 ranked LSU Tigers tomorrow night. The offense must continue to improve and stay consistent. The defense must continue the improvement with tackling and pass breakups that we saw last week. The special teams have been perfect and must stay perfect. All three phases of the game must be at their best. Why not tomorrow?
LSU, while they are 3-0 with three blowouts under their belts, still has a few questions left to be answered. This is their first road game. Their first SEC game. Their first game against a team that (usually) has a pulse. They have a new starting quarterback in Zach Mettenberger that will be experiencing all of those firsts of his career as well.
Speaking of Mettenberger, he's not exactly the fleetest of foot. That's perfect for Auburn's pass rush. Dee Ford, Corey Lemonier, and company have had no problem getting in the backfield this season. It's just the whole holding on to the quarterback and tackling him thing that's been tough. That shouldn't be so tough with Mettenberger. This will be the quickest and best pass rush he's faced all season. If Auburn can get to him, it could take the LSU passing game out of the equation.
That leaves LSU's rushing attack, which just so happens to be one of the best and deepest in the nation. The Purple Tigers won't have starter Alfred Blue this week, but as I said, they have depth. The loss probably won't hurt them too much. Auburn knows LSU is going to run the ball first and foremost so they can focus on that and hope to force Mettenberger to have to pass.
This season he has four touchdown passes, two interceptions, and has already been knocked out of the game by a North Texas defensive end with a helmet to the chin. He hasn't been spectacular, nor has he really had to. However, if you take a quarterback's arm out of the game, it's a lot easier with only one facet of the offense to focus on.
In terms of the Auburn offense, they must play like they did in the opening drives of both halves last week. They were able to mix the run and the pass and moved down the field quickly and effectively – almost in a 2010 type of way. It was beautiful. It was what we had all been waiting for.
Then, as sun got hotter and the lead got a tad wider, it appeared the offense, and especially the play-calling, got a little stagnant. That can't happen against LSU. If LSU gets the running game going, they can score a lot of points. They've averaged almost 50 points a game this season. Bottom line, Auburn needs to score any time they can. If, somehow, the good Tigers go up 7 or 10, they need to play like they are down 7 or 10.
This offense can be effective if Frazier stays confident in the pocket and gets the ball to an Auburn receiver. The LSU defense can be scary, but a good mix of pass/run will keep them honest. The mix has to be there.
X's and O's are usually what it all comes down to, and in terms of who's better at X's and O's right now, it's LSU by a lot. That doesn't always matter in football, though. Auburn has the luxury of getting the Purple Tigers in their house… at night. Auburn can and has done great things when the game is played under those conditions.
If Auburn can do something special, just something, to start off the game – something like an interception or an effective drive ending a touchdown – the crowd is going to start to believe and go nuts. That's the key for an Auburn win. I don't care who is better. If the Auburn crowd can get in Mettenberger's head, and rattle a team that hasn't left home yet, it severely levels the playing field.
I don't pick Auburn to lose. I just don't. They can win every game they play. Therefore…
Dee Ford will come off the end on LSU's first drive, cause a fumble in LSU territory, setting up a quick and easy drive for the offense. The crowd gets in it, and never lets up. Auburn wins in a close one as a last ditch effort by Les Miles finally goes in the other direction.
Auburn 24, LSU 20