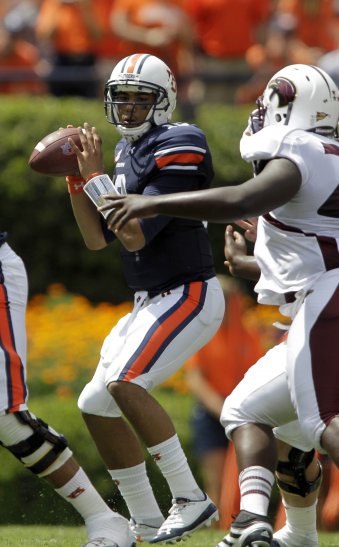 It's very easy to look at the score in Auburn's 31-28 overtime win over UL-Monroe and think that nothing got better for the Tigers since their embarrassing performance against Mississippi over a week ago. But that's only if you're a pessimist who wants the easy way out. No, you're not a realist. You're someone who looks at the picture from very far away and doesn't understand how college football works sometimes.
Yes, Auburn should trounce a Sun Belt team anytime they are given the chance, and normally needing overtime to beat one of those teams is an embarrassment, but we all know or should realize that Auburn is in a time of transition and youth (I don't care how long you think Auburn has used the "youth excuse," the team is still young).
I'm not making excuses, I think Auburn should contend for a national championship every season (read my bio). Sometimes, though, you just to have to realize that coaches leave, players move on, and certain things cause situations that aren't ideal. Not to mention, starting the season with two games away from home made this time of transition worse than it would have been than if the Tigers had opened up the season at home against ULM.
My whole point is that it's not that bad. Calm down. Auburn won. They could and should have won by a lot more. Step off the ledge.
ULM was overmatched for most of the game, aside from the opening drive, and the second half of the 4th quarter, they didn't do much. The Auburn defense held them pretty much in check, as much as you can hold a dink-and-dunk offense in check.
That offense can beat anybody. We've seen it happen. It doesn't matter what the talent level is, if you are throwing quick passes before the defender has time to react, you're going to be able to move the ball. That being said, the Auburn defense did a pretty good job against it.
They were burned by a quarterback keeper with the field left wide open, but there weren't too many situations where they looked completely confused or out of place. Also, you can hate and bandwagon all you want, but they're tackling was TONS better. I can only think of two or three missed tackles of the style that we've seen all season. Maybe that's coming around. Let's hope so.
They held ULM to 9-of-21 on 3rd down conversions. That's good, people. They are getting better. This defense is causing punts. Did a team punt to us at all last year?
The offense looked perfect on the first drive of the game. It was what we had all expected. Frazier looked much more comfortable in the pocket through the first half. That probably had something to do with a Sun Belt pass rush, but that's probably all he needed to gain confidence.
I'm still a little confused by some of the play calling. I would never, ever run McCalebb up the middle unless we've been setting it up as sort of a trick play. Oh, and speaking of trick plays… I missed the Frazier-to-Bray-to-Frazier touchdown because I was taking Baby Blogle to the bathroom, but after watching the replay, it was run to perfection. But of course Auburn is terrible because they needed to run a trick play against ULM to win the game. If that play didn't specifically happen right then, Auburn would have lost. Please.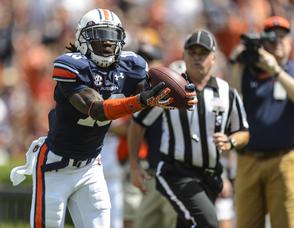 Oh, and then there was the last second of the 1st-half hail mary that was completed to Sammie Coates. If that play didn't happen, Auburn would have lost. Because, you see, if you take away those 14 points, and then assume everything in the game happened exactly the same, then it means that Auburn lost 28-14. Bummer, right?!
If we're going to think that way, let's do it for the whole game and in the opposite direction. If the ref doesn't call "illegal formation" on the Frazier-to-Coates bomb in the first half, that's another 7 points for Auburn. If Blakely doesn't fumble inside the five yard line, that's another seven points for Auburn. If Lemonier wasn't called "offsides" late in the 4th on 4th down, the drive ends and ULM never scores the tying touchdown. See, wasn't that fun?
You can't pinpoint plays and take them out to your liking, but all of those were small, fluky fixable things that if they had not been called or happened, then Auburn runs away with it. That's all I need to see. Ifs and buts and all that, but I'm happy knowing that the game should have been a blowout. This team is still learning, and that may be the reason it wasn't, but it was good to see that they had it in them after what we saw last week.
The major problem of the game was the offensive performance beginning in the second half of the 3rd quarter. It almost felt a little Tuberville-ish. Once it looked like Auburn had fully taken control over of the game with Mason's touchdown to start the half, they seemed to go way conservative, only throwing the ball five times after the first drive. It just felt like a "let's get it over with" mentality.
You can't do that with a team like UL-Monroe with an experienced quarterback who proved last week that he can come back and lead a team to win over an SEC team on the road. I don't think the players quit and assumed the win, but this offense shouldn't pack it in with a 14-point lead early in the 2nd half. This team needed a blowout.
I said last week that if Auburn didn't win by more than 14 points, then I would probably still feel like it was a loss. But I don't. Auburn played much better, at times, than we have seen them play all season. Now that we've seen it, we know it's there. It may be hidden behind some small mistakes, but it's there. More importantly, the team has seen it happen, so now they know that they have it.
It doesn't get any easier from here. Auburn has one of the top-2 challenges of the season coming up with LSU. But it's at home, it's at night, and stranger things have happened. Maybe the win, maybe the new successes on offense, and maybe a defense that seems to have learned how to tackle will give this Auburn team the confidence it needs to do something big when nobody thinks they can or will.