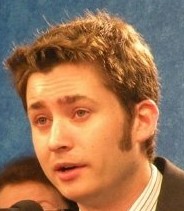 Since Auburn and Vanderbilt rarely play in football, I've never had a Vanderbilt-based "Other Sideline." After scouring the web, for someone that likes Vanderbilt football, I came across Christian D'Andrea. Christian is a manager and editor at Anchor of Gold, the blog that drove Gordon Gee and his pot-smoking wife to Ohio State (his words). If you're one of the many SEC fans who rate Vandy as their "second-favorite team" (I'm not), you can find him at www.anchorofgold.com and on Twitter at @TrainIsland.

1. Are Vanderbilt fans as excited about football as James Franklin?
The fans are starting to come around. One of the biggest obstacles that Franklin has had to deal with is reversing the football culture around Nashville. Last year's season was a good start, and Franklin's work on the recruiting trail is starting to pay dividends with the fans as well. It's a tall task, but the second-year coach is already on pace to break season-ticket sales for the 2012 season. Dudley Field won't be as rabid as any other SEC location this year, but it's getting better every day.
2. Do fans expect to win now, or do they see another so-so year before Vanderbilt becomes a real contender?
Another so-so year? I don't think you understand; for Vandy fans, a 6-7 year IS a "win now" year.
Fortunately, Vanderbilt has the talent and the schedule to improve on last year's mark. Almost every significant player on the offense returns and Vanderbilt has the fortune to only have Georgia as a tough away game this season. There are questions about the defense after losing Chris Marve, Tim Fugger, Sean Richardson, and Casey Hayward, but Vandy has the players to replace much of what those guys brought to the table.
Realistically, this team has five games it should be favored for; Presbyterian, UMass, Kentucky, Ole Miss, and Wake Forest. There are two more games that are coin flips right now; Northwestern and Tennessee. The final five games are matchups where Vandy will be underdogs, but still able to pull off the upset (South Carolina, Florida, Missouri, Auburn, Georgia). I think it's possible that a fired-up Commodore squad gets hot enough to pull eight wins out of that schedule, especially with favorable matchups in Nashville awaiting them.
3. Who are two unheardof Commodores that Auburn fans should be worry about?
I'm going to cheat a bit on the first one and go with Warren Norman. He was the SEC's Freshman of the Year in 2009 but injuries have derailed his past two seasons, causing him to redshirt last year. He's finally healthy in '12, and he'll help give Vandy the deepest backfield in school history. You guys probably know all about Zac Stacy at this point, but Norman was the guy who pushed him down to option 1B in their freshman and sophomore years. He'll slide into that platoon position behind Stacy this year, but he's also a dangerous kick returner who will add an extra gear to the Commodore offense.
The other guy who is due to step up is linebacker Chase Garnham. Garnham came on as a starter last season for a team that had very little depth at the position, and now he'll step up to a leadership role to fill the void Chris Marve left behind. Garnham is an uber-athletic player who adjusted well to his first major action last season, and he should be able to transition from outside linebacker to inside based on how well he's picked up the game in the past. The junior has big shoes to fill on defense, but he's loaded with potential and could have a breakout year in 2012.
4. Name two Auburn Tigers that scare you, past or present.
Present: Emory Blake. Blake is a quick, experienced wideout who can take advantage of a Vandy secondary that lost its two best members from 2011. If Vandy's young players can't step up and blanket him on deep routes, then Blake could change the course of the game with a single play in October.
Past: Dameyune Craig. The high leg stomp out of the shotgun, the utter disdain and anger towards his own offensive line, the 611 yards passing in Europe…13-year-old me was in awe of Craig back in the day.
5. You know 2008 was a fluke, right? Tony Franklin, and all that…
Call it the curse of the Herbstreit. Vanderbilt REMAINS undefeated in games when College Gameday comes to town…
6. What do you think about Vandy's new uniforms?
The white-on-white and black-on-black look pretty impressive. Those gold tops with the black shoulderpads? Not as much. On the plus side, the team avoided any Pro-Elite/Jackson Pollock fuckups, so that's a plus. They're keeping it simple, which is the way it should be with a classic-style logo and color setup like black and gold and the Star-V.
7. What are the realistic expectations for the Commodores this year?
A bowl game is a very real baseline for success. As I mentioned earlier, you can look at the schedule and find five games that most people would favor the 'Dores for. They're usually good for a big upset and they'll have the lingering storm of 2011's five defeats by a touchdown or less hanging over them. Last year gave this team the seasoning and experience that they need to stay composed down the stretch. If they can win the games that they're supposed to and pull out a few dogfights in the middle of the season, it's not a stretch to say that this can be an eight-win team.
Of course, this is still Vanderbilt, and we're prohibited by law to be happy about our football program for more than a few months at a time once every five years…so a 3-9 season with losses to UMass and Kentucky is always in play.
8. What's your prediction for this year's game?
Both teams combine for over 500 yards rushing as Onterio McCalebb and Zac Stacy duel things out at five yards per carry. Vandy gets a boost from a raucous home crowd (total attendance: 44,341!) to take the lead in the fourth quarter thanks to an upgraded passing attack with Jordan Rodgers and the Matthews/Boyd combination at wideout. In the end, the 'Dores ability to play from behind nets them a big SEC win at home, 34-31.
9. Where will Auburn end up this year?
I've always been a bit of an Auburn homer, and an extra year of experience will really serve you guys well. Question marks about the offense, especially the passing game, still have me worried, though. I can see an 8-4 season on the horizon, with losses to Vandy, 'Bama, LSU, and Georgia on the schedule – but that's a pretty soft prediction that is also coupled with my own Vandy homerness. That should be good enough for an Outback/Cotton/Chick-fil-A bowl bid.
10. What's the longest you've ever stood in line at the Pancake Pantry?
Like 5 hours. Worth. It.