Up until around the year 2000, most college football coaches wore a coat and tie on the sideline during games. Those more noble get-ups then took a backseat to polos, mock turtlenecks, and sweatshirts. Auburn coaches, being that the school is in a hotter climate and contracted with Under Armour, have worn "Heat Gear" polos since 2005.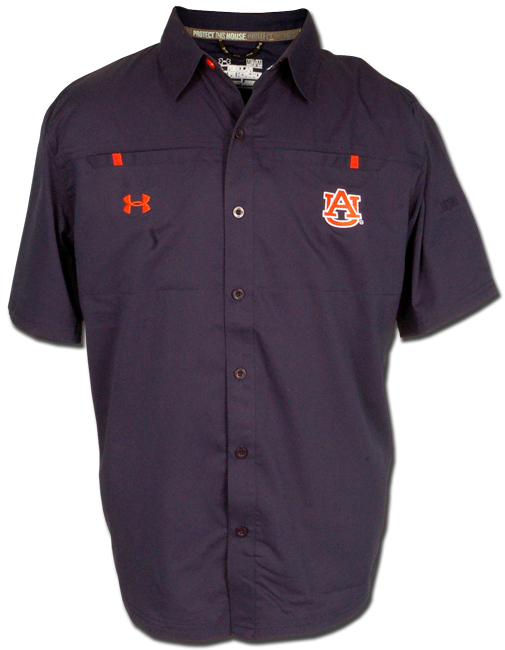 Gene Chizik's fashion choices have been talked about all over the 'Blogle. Whether it's the shirt he stole from Disco Inferno's closet, the recycling of that shirt, or his customary white shacket (shirt jacket) with the huge AU logo on the back, he's definitely not afraid to show where he came from: Florida in the 1970's.
In general, Chizik is a pretty chill bro. Unless a player has just been penalized for unsportsmanlike conduct, he's usually pretty reserved. It shows in his "just don't care what you think about my clothes" attitude, and it shows even more with the new Tommy Bahama-style sideline shirts being sold at Tiger Rags for this season.
Nothing says chill or Chizik like a loose, thin, button down shirt that just won't look right if you tuck it in. We got a glimpse at what the coaching staff may look like with this style of shirt on back during the first Tiger Prowl, but I always figured they would be reserved for summer coaching visits. Nope, it looks like it will be coming to a sideline in Jordan-Hare very soon.
I could be wrong, but Tiger Rags is calling this a "sideline shirt," and coupled with what I was told about Chizik possibly having a "different" style shirt on the sideline this year, it makes sense. Technically, the shirt is called a "Sideline Contender Button Down," so I guess Auburn is a contender this year. Take that, Phil Steele.
Typically, the shirts in the stores that are sold to the public are slightly different from what the coaches wear. We aren't cool enough to get the exclusive stuff. Given that this one is pretty reserved, and by that I mean no crouching tigers or huge eagles, it gives Chizik the freedom to set the coaches apart from the public and really show their sense of style. I can't wait to see what they come up with.
You can still get the normal orange or blue polos, and I assume the "beachy" shirt will be reserved for those early September kickoffs, or just when the Chiz wants to just let loose and cast a few lines after the game.
Update: Check out the warning about this shirt from the website.
– WARNING: This product will melt when exposed to extreme heat or open flames, posing a risk of serious injury where melted product comes into contact with skin.
So your shirts that are designed for extreme heat melt in extreme heat? That'll be fun.