What started as a perfectly overcast atmosphere turned a little gross early in the first quarter. It was about as gross as Auburn's offensive performance until Samford was able to punch one in and punch Auburn in the gut enough to wake them up.
It was supposed to be a breather and a week to get things back on track before the Iron Bowl. For the first quarter, it was not. It was 0-0.
But then I used logic. You may call it a homer-ism, but I call it logic. And that's what it is.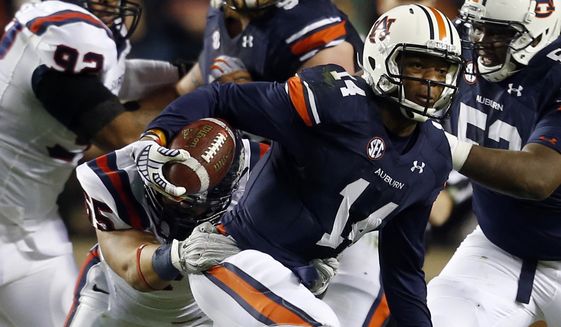 First, Auburn was coming off two straight losses, and they were reeling a little. There were questions abound, and in front of them stood guys half their size with half their talent. It's easy to come into a game like this, after games like those, and before a game like this week's, and not really give your all to start.
This has been a rough month, and it would be easy to see Samford on the schedule and think the win is just going to fall in your lap. Does that mean Auburn doesn't have a chance this Saturday? Not at all.
To add to that, it was Senior Night. The guys that were mostly running the show probably had the fact that this was the last time they'd put their cleats on Pat Dye Field running through their heads for the first few series. It was a distraction. It always is. And they were playing Samford. Is that something that should worry Auburn fans as an ongoing problem? Not at all.
To throw a little more on it, the offense wasn't going to do anything they didn't have to do. Yeah, they ran one flea flicker that didn't work, but they weren't going to show Alabama anything. They knew if they played at 25% of their ability, they'd win. They weren't going to do anything to get anybody hurt. Nobody got hurt. They scored more than enough to win. Does that mean the Gus Bus is running on empty? Get out of my face.
And to top it off, Auburn was playing Samford. Samford is coached by Auburn legend Pat Sullivan. Sullivan basically got Gus hired. Do you think they were just going to ram it down their throats for 60 minutes. This was what soccer fans call a friendly. Did Samford want to win? Sure. Did they know they were going to lose? Yes. Did Pat Sullivan, who's health is most likely at the forefront of his mind, care that Auburn was going to win this game? Not at all.
Am I asking a lot of questions? Shutup.
The bottom line is that this game meant nothing. It was a glorified scrimmage to have something to do between rivalry games. Nothing you saw in it is something that's indicative of what this team is made of, and yes I'm including the fact that the defense only gave seven points. Will it help that a little bit of positivity showed, as in a win? Absolutely.
It ended up being a breather, with a comfortable win, that gave the starters a chance to take nearly a quarter off. It was fine. It was what Auburn needed. It's Iron Bowl week. Let's go.