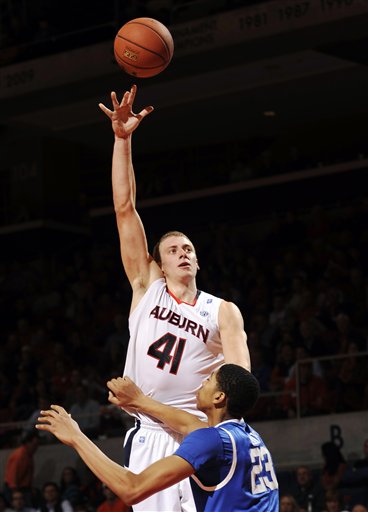 As much as we may want to, I'm not going to let this past basketball season go. Given my love for March Madness and anything bracket-related, I just can't move on yet. Regardless of whether Auburn makes the NCAA Tournament or not, it is definitely in my top three favorite sporting events of the year. However, it does include one of the biggest shams in sports: the automatic bid for all conference tournament winners.
But I'm not going to get into the fact that regardless of how bad the world thinks Auburn was this year, they could still beat at least 10-15 of the small conference tournament winners. Today I just want to take a look back at how Auburn fared against tournament teams this season.
The Tigers faced seven tournament teams in eight games this season (South Florida, Long Beach St., Florida St., Vanderbilt, Kentucky, Alabama (twice), and Florida). Their overall record against these teams was 1-7. The lone win coming against South Florida (52-40) in December. We can use the Bulls in this record now that they officially entered the tournament last night with their win over Cal. No, they were not in the tournament until they won their play-in game. If they were in the tournament, it wouldn't be called a play-IN game. They were PLAYing to get IN. Sorry, that gets on my nerves.
In Auburn's seven losses to tournament teams, they averaged 48 points. The opponents averaged 67. That's losing by an average of 19 points. Not very good, although those numbers may be slightly skewed by two pitiful (and back-to-back, no less) performances against Florida State and Vanderbilt. The Tigers lost by 29 and 30 respectively, only scoring 35 against Vanderbilt.
If you take those two games out, Auburn's average margin of loss drops to 14, a little more respectable given that about 7-8 of those points are usually those cheap, throwaway points at the end of a semi-close game. For instance, against Kentucky and Florida, Auburn was within 5-10 points late in the second half of both games, but when they were forced to foul in the final minutes, the margin of loss jumped up. A loss is a loss is a loss, but in terms of playing two of the top teams in the SEC, these weren't as bad as the final score looked.
Long Beach State easily handled Auburn in the Diamond Head Classic in Hawaii. It was one of those games where we hoped that it would look like a "good loss" by the end of the season, but the 49ers waned later in the season only managing to get in the tournament by winning their conference. They are a 12-seed and handled the Tigers. Not too good.
I already mentioned Florida State and Vanderbilt. They both beat the Tigers easily. Florida State was up by 30 in the first half. Vanderbilt didn't seem to miss a shot and held Auburn to their lowest point total of the season. I still blame this partly on their gimmick arena, though.
Auburn arguably gave Kentucky one of their biggest scares of the season, in terms of a game the Wildcats won. Auburn played with the best team in the nation until the final minutes when what always happens happened. Their lack of swagger took over and the better team won. However, regardless of how bad all of these other losses looked, the way Auburn played with Kentucky proved to everyone that what I said all season is true: Auburn has the talent to play with anybody in the country. They still just need to improve on the mental aspect of the game, i.e., don't be stupid.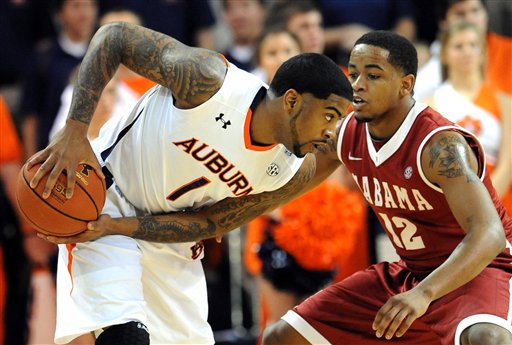 Alabama may have given Auburn their worst home loss in the series the first time around, but as we know now, something could have been up. I speak of Varez Ward. The ridiculous three technical fouls (two coming on dunks) in the first half almost throws this game out the window for me.
Auburn's second meeting with the Tide, I was on a plane for most of, but the glaring stat that I noticed was that Auburn had twenty less free throw attempts than Alabama, and only lost by six. Nothing else to say. Auburn lost both, but could have easily won both as well.
Auburn played one of their best halves of the season against Florida. The Gators looked lost and Auburn looked like the better team. Then Auburn scored 17 points in the second half. Again, it all comes down to finishing and maturity, which is something Auburn didn't have this year.
This post may come off depressing, but if you watched the games, outside of the FSU, Vandy, and maybe LBSU games, Auburn wasn't completely out of their league against these tournament teams. In fact, they seemed to fare better against the better ones. But as we've said all too often, Auburn is almost there, they just can't get over the hump. We'll see if a good recruiting class can change that. For Barbee's sake, I hope it does. In terms of results, it's all more of the same.