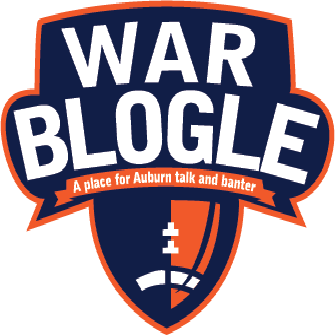 Once again, due to no service, I wasn't able to get a single tweet to work from kickoff to the end of the game, but here's what I was able to send out. Clemson's "Death Valley" has 7,000 fewer seats than Jordan-Hare, which means 7,000 less phones, so maybe things will work a little better next week.
Free t-shirt today to anybody who steals a cowbell and brings it to me. Original owner's arm can still be attached. I don't mind. #StateHate
14, -28. WE @MrCFB How many carries and how many yards will Vick Ballard get against the Auburn defense today?
On campus. Not a cloud in the sky. Warm, but cool. A perfect day to shove a cowbell down somebody's throat. #StateHate #auburn
WE @wardamnphil Shot through the 9 in 1957 on the nat'l champ banner above the jumbotron. #auburn lockerz.com/s/137473940.
Hey all of you that are wearing orange today, do you just not have the internet? #wareagleanyway
Just spotted two State fans carrying cowbells. Based on their size, the bells should have been tied around their necks. #StateHate
If your band uniform consists of a baseball hat, just quit. twitpic.com/6iv5c7 #StateHate
I'm at Jordan-Hare Stadium for Mississippi State Bulldogs vs. Auburn Tigers.
The Mississippi State kicker is wearing Oregon's cleats. Fitting, we beat them too. #StateHate #auburn #wareagle
I'm giving away t-shirts. WE @AU_Bagman: I'm buying shots for anyone who destroys a cowbell.
AKAJFXNAIDJCNMCDKDKDKDMDFJFJDKRDMRKRJDJDJRIFMREKIFMRLDFKEKDDKDKDKDOFMFSMSJDDMFKDJDJJDJRRNDNDJD!!!!!!!!!!!!!!!!!!!!!!!!!!!
In terms of probability of a heart attack, I thought last season was the worst. Two games this season has already beaten it. #auburn
I'm at Toomer's Corner (W Magnolia Ave, at College St, Auburn) w/ 9 others 4sq.com/nsZPSV
For anyone that watched at home, what was the deal with Dan Mullen and the headsets, then what was Chizik pointing at after? #auburn
I'm at Momma Goldberg's Deli (3051 Frederick Rd Suite 5, Opelika) 4sq.com/oAYkn6
Easily the foam finger suit. WE @AubietheTiger01 What was your favorite prop today? #wareagle
Tried to tweet this earlier but I, of course, had no service in JHS. War Eagle-san: twitpic.com/6j25z3. #auburn #wareagle
Hey @ESPN, I better hear about these UGA fans leaving with their team down 10 and less than 3 minutes left all week.
I need the cowbell. WE @mbs0010 @WarBlogle I trashed a cowbell. Where do I get my shirt?
I can't confirm this, but I heard that after the game Ted Roof told the media "Hey I got dis. Beleedat." Just a rumor. #auburn #wareagle
Today I saw Blue. It looked glorious: twitpic.com/6j3g1t. #auburn #wareagle
Yes, he did. He was convinced by the Chiz. WE @TrueBlueAU I just want to say that I called this win. @WarBlogle can attest to this
Considering today was called TRUE Blue, doesn't that pretty much say what we should be wearing? I don't dislike orange. Just saying.
WE @JonSirico @WarBlogle AU under Chizik is 2-0 on True Blue games. 3-0 if you count Navy Nightmare vs Ole Miss on Halloween in 2009.
Have you ever seen someone walk into a glass door? Yeah, the eagle did that today. WE @Hitch_Holmes youtube.com/watch?v=_jvvKe…
Yep. @BeautifulBlogle and I are back. (@ Quixote's w/ @webbdabau) 4sq.com/qTYdux
Just realized that with Auburn and Michigan's wins it truly was a TRUE BLUE day. #auburn
U mad, bro? WE @RickMuscles Auburn has said, "u mad, bro" to me since January, 2009. I give up.
WE @zalsobrook Chiz's players at Iowa St.: balling. Chiz's players at Auburn: balling Chiz: balling.
Good to hang with @jeremygolson, @jhyink, and @wardamnphil at @Quixotes_Auburn tonight.