Last Wednesday, as I was taking my seat in the press tent at the ESPYs, I pulled up Twitter and saw that the college football world was all abuzz over Pete Thamel's latest report. The article seemingly uncovered a confrontation between Coach Gene Chizik and an NCAA rep that occurred at the end of May during the SEC coaches' meetings in Destin, FL. Here's how Thamel wrote it:
Julie Roe Lach, the N.C.A.A.'s vice president for enforcement, made a presentation to the group, which included every men's basketball coach, football coach and athletic director in the conference. When she opened up the room for discussion, Auburn's football coach, Gene Chizik, raised his hand first.

He peppered Roe Lach with a flurry of questions about the N.C.A.A.'s investigation into Cam Newton and why the N.C.A.A. had not publicly announced that the investigation was over. Chizik complained that the inquiry's open-ended nature had hurt Auburn's recruiting and he followed up at least three times, leading to a testy exchange.

"You'll know when we're finished," Roe Lach told Chizik, according to several coaches who were at the meeting. "And we're not finished."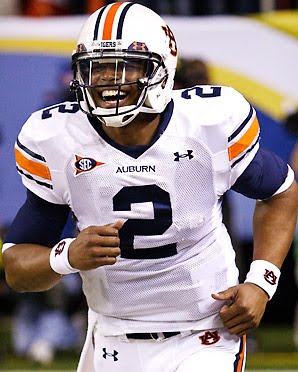 As expected, this had everyone but Auburn fans salivating. Somehow, those that are confident that Auburn cheated saw the report as proof that there was evidence to be found. All it really proved was that the investigation wasn't closed, opening the door for those wishful thinkers to believe something bad was coming for Auburn. "So you're telling me there's a chance," basically.
What's important to note about the releasing of this article is that it came 45 days after the reported exchange. If you're not good with calendars, that's a month and a half, yet the headline read N.C.A.A. Inquiry of Auburn Isn't Over, Exchange Reveals. That's not entirely true. It could still be open now, but all we know is that it was open 45 days ago. And that's all.
Now since the rest of the world is going off the assumption that what was true 45 days ago is also true now, let me do a little assuming with fact-based reasoning…
Since November, Rich McGlynn, Auburn's senior associate athletics director for compliance, as well as anyone from the Auburn Athletic Department has shot down, ignored, and refused to acknowledge any question regarding Cam Newton and any investigations that may be related to him or his recruitment. It was their policy that they would not and could not talk about the issue until it was closed by the NCAA.
So why then around 18 days ago (early July), some 27 days after the Destin exchange, did McGlynn spill his guts to Auburn Undercover about the Cam Newton saga as he experienced it? It wouldn't be a huge stretch to believe that since he was now talking then he could have been told that the investigation was over. Why wouldn't Auburn announce it? Because they never received a formal letter of investigation from the NCAA. They have nothing to announce.
It's possible that McGlynn may have only told Auburn Undercover what he was legally able to without getting into too much trouble. Or who knows, their policy might have changed. But I highly doubt it. This coaching staff and administration has been very tight-lipped about everything. It doesn't make sense that just all of sudden the head compliance guy just starts talking unless something changed in regards to the NCAA.
You may have read Clay Travis's little piece that he, just out of coincidence I'm sure, released on day 1 of SEC Media Days and day 1 of his new website. In it he claims that certain businessmen in Montgomery were being questioned as recent as late June as part of an investigation on Cam Newton. That's good and all, but that would mean this supposed questioning fell on a date prior to McGlynn opening up about the investigation.
So let's take one last look at the the order of events:
Late May: confrontation between Chizik and NCAA rep (according to Pete Thamel)
Late June: investigators in Montgomery (according to Clay Travis).
Early July: McGlynn speaks about the Cam Newton situation.
I may be way off. I may be missing something. But the timeline just doesn't add up to show or prove that Auburn is still under investigation. In fact, of what we know for sure, it does nothing but the opposite.