It was the start of something new. Auburn had played 4 tough ones in a row. Saturday was the start of 4 not as tough ones in a row. Mississippi State was the first.
Speaking of firsts, Auburn got a first down on the first play from scrimmage. That was a first. Then they completed a few quick passes. Then Thorne floated one to Shane Hooks, who drug a receiver into the endzone. It was Auburn's first touchdown on a first drive since the first drive of the first game.
The next drive was 1 run, 4 passes culminating in the first true bomb caught in stride this season. Thorne to Johnson had the Tigers up 14-3.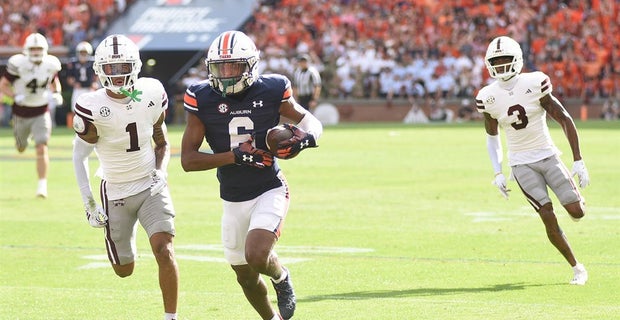 Then after back-to-back punts by each team that were both downed on the literal exact same 3-yard line in the South endzone, Auburn mustered a field goal to take the score to 17-3.
After two more punts and a big stop on 4th down by the Auburn defense, Auburn had 1:14 to go about 68 yards to score. A nice mix of 10-15 yard passes, plus a nice one to Hunter who then hurdled a guy, setup a nice little play call. Thorne floated a literal dime over the defender and Jeremiah Cobb's head, landing right in #23's hands. It was 24-3 at half.
Easy peasy.
Both teams traded field goals to start the 2nd half. The lead was still 21. But then the Maroons went 75 yards and and completed a one-handed pass that was actually on really good defense. Mississippi State's backup quarterback, who had looked like a backup the entire game was finding a rhythm.
The lead was still 14, but with a hot sun, a heavy TV commercial rotation, and Auburn's very conservative play-calling, the 2nd half was met with some groans and felt like it might last until Monday. A few extremely look-at-me defensive holding and offensive pass interference calls didn't help.
But considering Auburn's defense held Mississippi State to a punt, interception, and turnover on downs the rest of the way, it didn't really matter.
Auburn finally decided to put the hammer down on their last drive with a combined 67 yards rushing on back-to-back rushes by Jarquez Hunter, who easily had his best game of the season.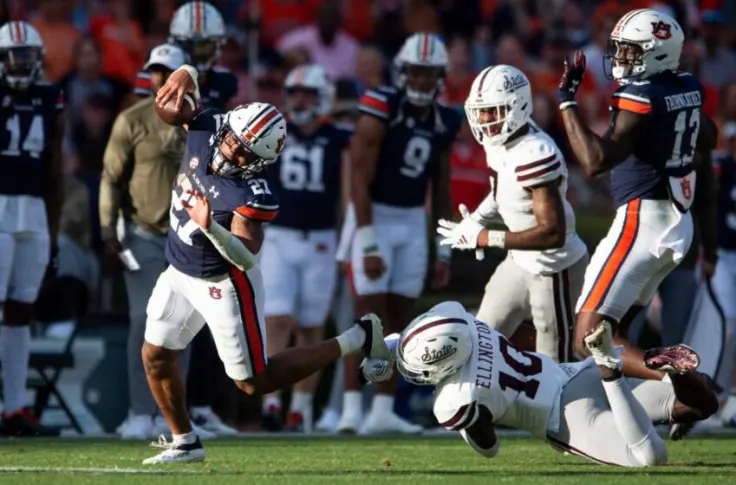 While it would've been nice to see them punch it in one more time and make the score look a little better, college football coaches don't think the same way Joe Superfan thinks.
Hugh Freeze is not worried about beating Mississippi State by 21 instead of 14 when it's their first SEC win of the season. Hugh Freeze does not care about making you happy with 24 more points in the 2nd half, or what you think that better SEC teams would do if Auburn ran those exact same plays against them. He's trying to get an SEC win in year 1, and he pretty much had that in the 1st half and knew it.
Auburn got the win they desperately needed, nobody got hurt, and the start of something new… started. The first one of the not as tough 4 game stretch is over and done and Auburn won. Put that on a shirt.
Now we see if the Tigers can go to Vanderbilt and win a game for the first time since 2003.