Recently on Jeopardy, "What is Auburn University?" was the question for the answer below: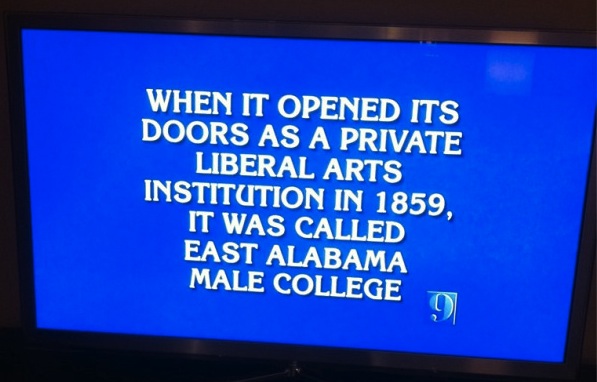 At first glance, I just thought it was cool that Auburn was mentioned on the world's favorite trivia show, but after reading over it a few times, I noticed something strange. 1859? Was my Camp War Eagle counselor and my student recruiter wife lying to me? I thought it was 1856. It is 1856, right?
To confirm what I had beaten into my head those few days in the summer of 2000, I went to Auburn's admissions website. Here's what it says:
"Auburn University was established in 1856 as the East Alabama Male College, 20 years after the city of Auburn's founding."
See Trebek, you're wrong and so is your mother. Or so I thought…I kept reading…
"In 1859, Auburn's patrons erected and equipped a four-story building at the cost of $1,100 and opened its doors on October 1 to 80 students, six faculty members and a preparatory enrollment of 100. Five students were graduated after the first year."
So the school was established in 1856, but didn't actually educate anyone until 1859? Is that what I'm reading? What happened from 1856 to October 1859? Should we really say that Auburn started in 1859? And how do you graduate after one year? I should have gotten on that plan.
I'm sure someone out there knows the answers to these questions. If so, let me know in the comments below (that rhymed).
Pic from @wallflowerjess.