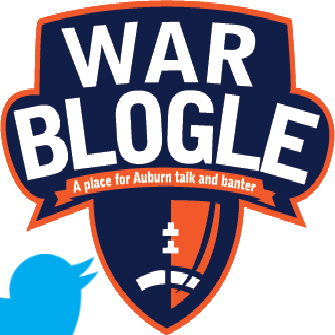 Twitter is pretty much the only reason any of you ever end up here. I admit that. I wish it wasn't that way, but it's how the world works today. That being said, Twitter is a good thing. And it was good to me again this year.
As I've done in the past, these are the top 10 most retweeted tweets of my year. I guess since Twitter changed Favoriting to Liking this year, I should probably go about this a different way, but for now, retweets are my gauge on if you liked it or not.
Three are Cam Newton related. The houndstooth tweet that I post every year still somehow makes the list every time. Then there's that big scoreboard in there a few times. Two regarding Sean White were back to back tweets. That's rare.
As always, thanks for following. If you don't, how did you even see this? And why aren't you following me yet? Get on that.
#10
Many wonder how students will throw the visiting teams' FGs out of Jordan-Hare with Auburn's new board. I helped. pic.twitter.com/gicwwg3Btu

— War Blogle (@WarBlogle) July 10, 2015
#9
It's big. #auburn #wareagle pic.twitter.com/bgjLCzqAH3

— War Blogle (@WarBlogle) July 27, 2015
#8
I DON'T CARE. Auburn is 2-0. I DON'T CAAAAARRRRRRRRRRREEEEEE!!!!! #wareagle

— War Blogle (@WarBlogle) September 12, 2015
#7
Sean White is Auburn's starting quarterback against Mississippi State this weekend. #wareagle

— War Blogle (@WarBlogle) September 22, 2015
#6
Auburn's starting quarterback for this weekend's game against Mississippi State. #wareagle pic.twitter.com/tGJ4Hk1UAy

— War Blogle (@WarBlogle) September 22, 2015
#5
Days to kickoff: Philip Lutzenkirchen #auburn #wareagle pic.twitter.com/pAfDZqiISk

— War Blogle (@WarBlogle) July 24, 2015
#4
Jonathan Wallace proposed to his girlfriend with the help of the #BOOMtron tonight. (@AUChief @jeremygolson) #auburn pic.twitter.com/hnMeM4SU3g

— War Blogle (@WarBlogle) December 13, 2015
#3
Your annual reminder that Bear Bryant primarily wore plaid. #IronBowlWeek #auburn pic.twitter.com/LO0cFhCwmI

— War Blogle (@WarBlogle) November 23, 2015
#2
Cam Newton has been 12-0 before. #auburn #wareagle pic.twitter.com/453TBNKgIe

— War Blogle (@WarBlogle) December 7, 2015
#1
How did Cam Newton take Auburn's Iron Bowl loss? He rode a hoverboard scooter upstream in traffic. Really. pic.twitter.com/ct3gZggaK2

— War Blogle (@WarBlogle) December 1, 2015