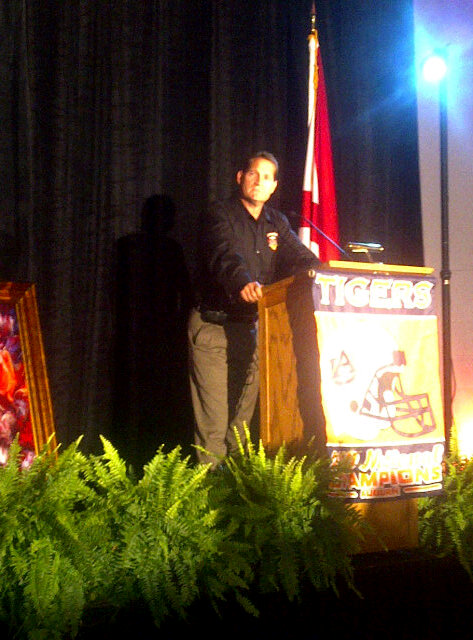 Last night, the Baldwin County Auburn Club met in Robertsdale, AL. Their special guest for the evening was none other than National Championship coach, author, and man of leather, Gene Chizik. My twitter timeline was blowing up all night with all sorts of updates and pictures from the event, which looked like a grand ol' time. They definitely took out all the stops for the Coach, as seen by giving him the key to the city and naming May 12, 2011 "Gene Chizik Day" in Baldwin County.
Here's a rundown of the night/what Chizik said from 'Blogle follower @beaslma, as well as some pictures that she took at the event. The plane landing picture is from @brittanylathan, who has promised some entertaining footage of Aubie at the event as well. Stay tuned.
Chizik came in to cheers, they decided not to do a Tiger Walk.
Tree update: The trees are not doing very well. We did everything we could possibly do to save the trees. The issue is more how long will they last at this point. "We have rallied and raised money towards saving or replacing the trees."
New radio station WHFA will carry Auburn programming, football, and some basketball. Said it would also have programming that would combat the negative energy from other stations.
Oldest Auburn alums present included four who graduated in 1949. Many of them left in the middle of school for the service and went back to graduate in 1949.
May 12th declared Gene Chizik Day in Baldwin County. There was OVER a thousand people there. Last night over 200 people were told that they were sold out and were turned away. Aubie was also there. He was very sweaty. (My favorite update)
Chizik takes the stage. Tells story of getting on bus after the last game. Said it was quiet, everyone taking in what they just accomplished. He and wife on seat, she looks at him and says "Really? A field goal? You could have won by 2 or 3 touchdowns!"
He was floored that so many came to championship game and didn't even have tickets to get in. He said he loves the passion of the Auburn Family. The BCS people said they had never seen anything like it. It was really impressive.
The vet school gave him a gift brand new girl calf, named Gina, that was born at the school. He says he's blessed to be head coach at Auburn and to be part of the Auburn Family.
70 people from athletic department were sent to Tuscaloosa to help with the clean-up and supplies. He stated it would be a long on-going process, and to help anyway you can.
Football is a never ending circle of season, practices, recruiting, and spring play. It's going to be a very young team, but standards and goals have not changed. Our goal is championships. Period. The expectations have not changed. You'll have to get use to new names and faces, but that's it. This year won't be any different. It will be better. This senior class started with 28 signees, and we only have four left. That's why recruiting is so important.
"All In" means you are all in, all the time, perfect record or not! That's what separates Auburn and makes us different! It is easy to be all in at 14-0. We need you all in all the time! There's no question this year we defined that!
His book will be out in July called "All In!". He wouldn't tell us what it was about because then we wouldn't read it. He did say to relive the season by picking it up.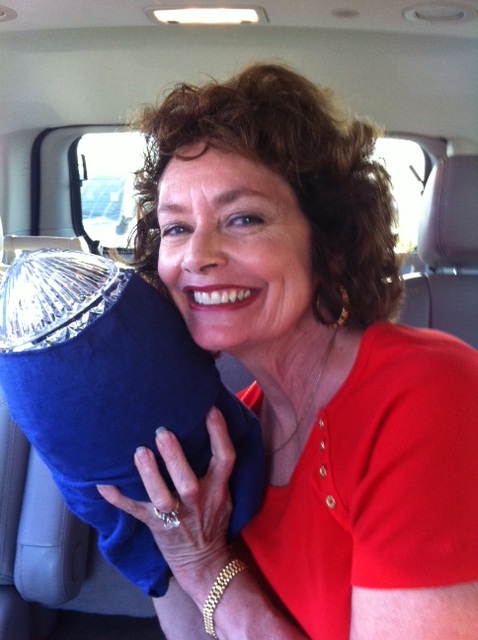 Were you there? If so, send your pictures, videos, and stories to stuff@warblogle.com.