Last night, I wrote about why the site CamNewtonLieDetector.com was a joke and how the whole idea just doesn't matter. Today, someone took it one step further and one-upped the supposed West-Coasters who are "sickened by the integrity issues permeating the system."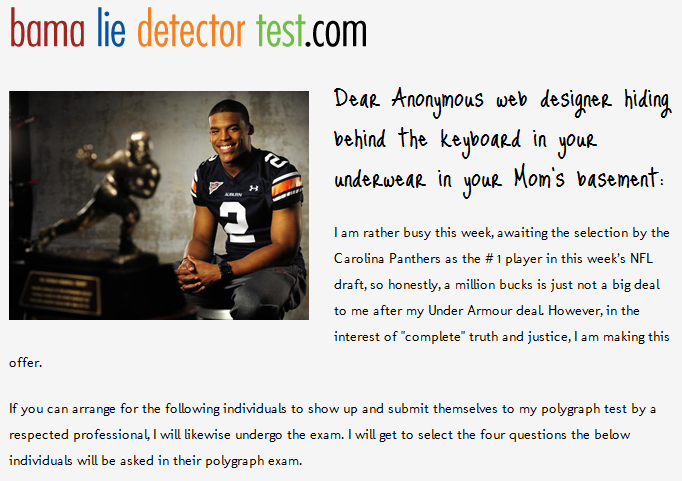 Although simple, the site (BamaLieDetectorTest.com) looks like a million bucks (pun intended) compared to the one calling Cam out. Even though the site is intended to be a joke, rather than intending to be real but perceived as a joke, BLDT brings up the question that we're all wondering about: why is everybody so worried about Auburn and their "truth" when there are many other problems on their sides of the fence as well?
"Cam" calls out all of the usual suspects in his letter to the "Anonymous web designer hiding behind your keyboard in your Mom's basement": Peaches, Thayer, Nick Saban, Dan Mullen, and Antoine Dodson just for fun. Topping it off is the submit button at the bottom of the page. I won't ruin it for you, so just go look. It's good.
I am currently searching for whoever is behind this site. If you are he or she, or know who he or she is, email me.