Over the weekend, I read a few tweets and heard a few rumblings about a website run by someone who claims that they will give Cam Newton one million dollars if he agreed to take a lie detector test and answer "No" to each question. The test would consist of four questions all relating to his recruitment and all that other stuff we're tired of hearing about (because we know it's all true, right?).
I don't know about you, but this pretty much proves to me that the creator of the site and most of the rest of the world believes that the NCAA is done investigating the Cam Newton case. They are so caught up in the fact that they know the "real truth" that they have given up on the NCAA finding anything new and are coming up with ideas to get the truth they want to hear out there.
The site, CamNewtonLieDetector.com, which looks like it was designed and created by someone under the age of 13 using Geocities, contains one of the first pictures you'll find when doing a Google image search of "Cam Newton", very nice text colors, bold lettering, and even some italicized words. In short, it deserves a Webby.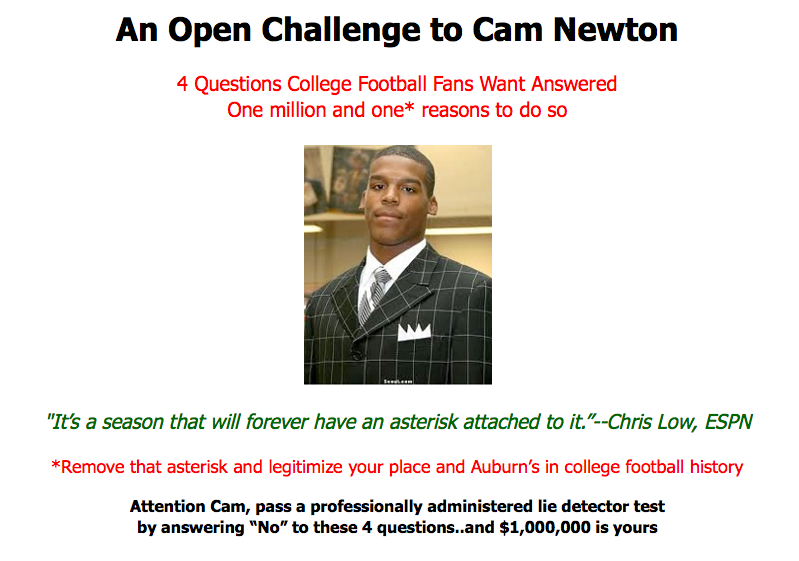 Alright, enough making fun of this obvious publicity stunt, which is all it is. Some guy just thought it would be funny and could get a few interviews and some major website hits, but hello… no ads on a site that's going to get millions of hits for the next few days??! Oh wait, we're talking about Geocities-level web design and knowledge here.
Oh, I almost forgot. I would be totally remiss if I didn't mention the quote that they have from Chris Low on the site.
"It's a season that will forever have an asterisk attached to it."–Chris Low, ESPN
Thanks Chris. Love your stuff. Here's another Twinkie.
Ok, seriously. Let's actually talk about why none of this matters, at all, especially the questions that they want answered. As I said, they all center around the major issues surrounding Cam Newton that were brought forth during the season. And again, they reek of desperation. They reek of someone being unable to accept the fact that Auburn won the National Championship and/or beat their team, and want to find any way to try to bring Auburn down. They couldn't do it on the field, so why not bring up points (as if the NCAA didn't) that could beat Auburn off the field.
Plain and simple, the idea behind the site is a cop out. The creator (who will be on WJOX on Tuesday morning) has no intentions of giving up one million dollars, but they also know that Cam Newton will never agree to this, probably because he's more worried about being the #1 pick in the NFL draft in a few days. However, the creator probably also knows that because Cam won't take the test then a few people will assume that he's avoiding it, when we all know that isn't true. Cam has no reason to do this, and as sad as it may be, some people will use that against him.
But if Cam did happen to take the test, we all know what would happen. It would be a no-win situation, therefore it wouldn't matter what the outcome turned out to be.
Before I go further, here are the four questions they want answered:
1. Prior to signing with Auburn, were you aware your father was "shopping" you to Mississippi State or any other school?
I've said this from the time the first report came out. Does it matter? Cam played at Auburn. Auburn was never found to have done any wrongdoing. In fact, they distanced themselves from players who were being represented by street agents, regardless of how much time and effort had been put into getting them (see: Lache Seastrunk). It was found by the NCAA that Cam did not know of his father talking to Mississippi State, and Auburn played him because of they were told it was okay to do so. They can not be punished for something they were told it would be okay to do.
The world thinks this was a one day investigation just because ESPN reported that the NCAA opened the case one day and re-instated Cam the next. It wasn't that quick. The coaches and the Newtons know what went on with the investigation and that's all who really needs to know. The NCAA did not and does not have to give us all the details.
2. Did you tell Dan or Meghan Mullen that you signed with Auburn because of the money because you truly believed Auburn had paid for your commitment?
I'm going to come up with a website based off of a line in message board fodder that came from an unnamed source. Maybe then will I get a headline on SI.com and other national sports sites.
3. Did anyone on the Auburn coaching staff/athletic department instruct you how to answer questions from the NCAA by lying or avoiding the truth?
Why not go ahead and ask him if he was the second gunman in the JFK assassination? This question has never even been a question.
4. Did you or your family ever receive any impermissible benefits from Auburn?
There has never been any proof, writing on the wall, or anything other than blind assumption and jealousy behind this one. If they don't think the NCAA looked into this the most then they're crazier than their crazy web design skills.
Again, even though he never will, let's pretend Cam did take the test and look at it from both outcomes:
Cam takes and passes the test. The world made their minds up months ago. Even with no proof, they continue to claim to know the "truth." They know so much more than the NCAA investigators do and will believe any conspiracy they hear. The week following Cam's passing of the test, message boards would be full of stories that claim that the guy who gave the test is actually a friend of Bobby Lowder or the grandfather of a girl who goes to Auburn or one of Pat Dye's hunting buddies. It's a no win. We would just continue to hear about other impending FBI investigations, more hammers dropping, or the famous "oh but you know he did" line.  Cam taking the test and passing would do no more good than him just ignoring it all together.
Cam takes and fails the test. Would the NCAA trust a lie detector test set up by a guy with a shady website? Any site that has an "open challenge" and calls out or even expects the person they are calling out to call or email them isn't the brightest guy in the world, so how would the NCAA even take this seriously. It's a joke. If Cam failed this test with flying colors, it wouldn't make a difference.
So all in all, this website, the media coverage it's being given, and the interviews that will take place are all a big waste of time. It won't be taken seriously by the NCAA or fans or even Cam. Don't give this guy any more publicity or credibility than he's already gotten. I'll allow you one viewing just to see how bad the site is, but that's it. No more than one.
Oh, and since they did put their phone number (302-284-6213) and email address (info@camnewtonliedetector.com) on there, let's have a little fun with that. If you do send them something or give them a call, post what you sent/said in the comments below.