Last Sunday night, a few (ahem, a few thousand) lucky Auburn fans were given the opportunity to attend an A-list party at Shade Lounge at the W Scottsdale hosted by Charles Barkley. The party was called Legends of Auburn and was attended by multiple Auburn alum/athletes and many of Charles's friends from around the sports world.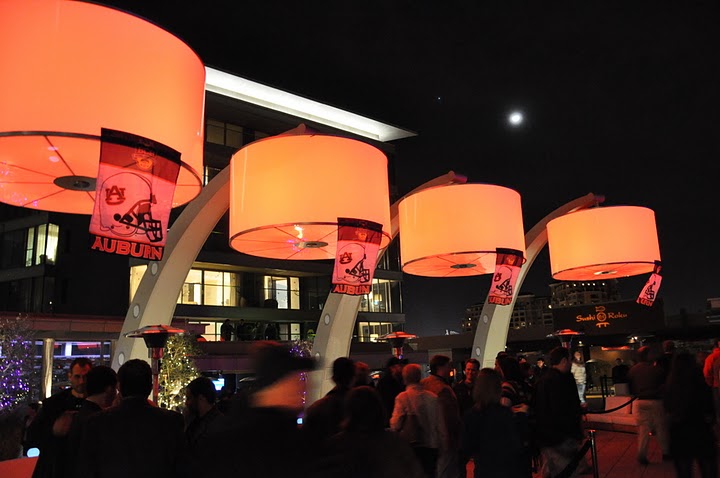 I was asked by one of the club's managers to promote the party and compile a list of Auburn fans staying in Scottsdale that wanted to attend. I expected a few, but I got thousands. At last count, I received 1013 emails requesting to be put on the list. Most had an average of four names; some had over thirty. Obviously, the party was huge, but not just in numbers. Names like Steve Nash, Donovan McNabb, and many other big name athletes/celebrities attended the party as well.
In fact, on Monday's episode of ESPN's Pardon the Interruption, Michael Wilbon picked Auburn to win the BCS Championship based on the awesomeness of the party alone, and according to the club's manager, an affluent Auburn booster called it one of the top-3 Auburn parties of all time. Wish you would have been there? You should read the 'Blogle then shouldn't you? I'm here to help people.
I would have been attended and really blown the roof off the place, but I was too busy losing money in Vegas. Oh well, maybe next time Auburn plays in Glendale I'll be able to go.
Here's a cool video with footage from the party that was done by Mike Greene (@mickstevenz) of Full Circle Film. If you have any pictures or video, you know what to do.
Can't see the video? Watch it here.
Here are few pictures from the party as well (courtesy of Zach May Photography, @c_crittendon, and @wardamneagle,):