The 'Twas the Night Before Christmas rip-offs have apparently become all the rage within the Auburn Family. Here's a pretty good one about this year's Iron Bowl that I ran across:
'Twas the Night After Thanksgiving
'Twas the night after Thanksgiving, and all through Bryant-Denny,
The Bama nation was excited, there were few doubters, if any.
The Tide would rise, old Bear's ghost would appear,
And once again Bama's destiny would be clear.
The Tide started strong, they were ready, no doubt,
They had their way early, giving AU the clout.
"Enough of this talk about national champs,
That's our inheritance, you Cow College scamps!"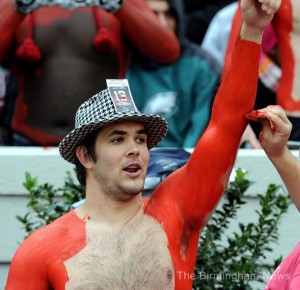 First Ingram, then Jones, who wants to score next?
It appeared for Auburn the day would be hexed.
Then McElroy unleashed all the bombs he could heave,
One Tiger fan was heard, "I'm ready to leave!"
Before the half ended, the score it was tilted,
The champs were lifeless, Tiger dreams were wilted.
It looked as if Bama would never let up,
They could do as they pleased, whenever Greg said "hup."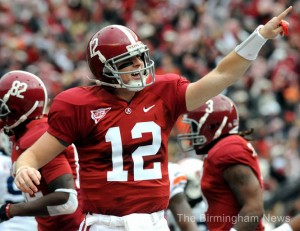 But halftime arrived, and Chizik stood up,
"Men, we've been here before, we've tasted this cup.
Now let's get out there, and work, and fight hard and well,
Let's show this red rabble we'll answer the bell."
So Dyer, and McCalebb, and Burns stood tall,
Then Fairley, and Bynes, and Bell played ball.
The winds, they changed, the "tides" they did shift,
In the Bama nation one could detect a slight rift.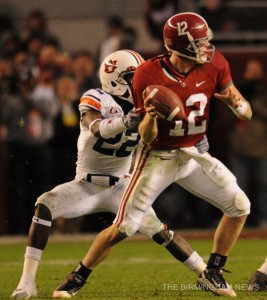 Auburn answered the call, like a big cat awaking,
It happened so fast, it sent Saban a-quaking.
One by one, yard by yard, they scratched and they clawed,
It was clear, near the end, this "Saban dream" was flawed.
When the last second ticked, Auburn had won the game,
For Bama, they played hard, but squandered the fame.
A great day for football in the state of Alabam,
AU proved this was a team, and not just a "(s)Cam."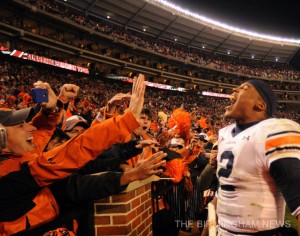 But alone in the corner of the stadium, one could see,
A small man dubbed "Shorty", quite unhappy, he.
Crying and sobbing, he was in a terrible state,
He couldn't believe it, this loss was HIS fate!
You could hear him moan, you could hear him groan,
"Just tell me, please, then leave me alone!
I just don't understand this AU mystery;
I thought I was supposed to write football history!"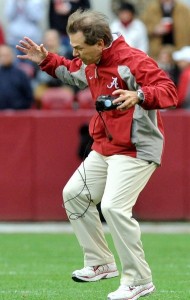 Well, you see, Coach, money a real winner can't buy,
It takes courage, an attitude that says, "I won't die!"
It's something down deep, it separates men,
But in life, as in football, if you've got it, YOU'LL WIN!!!!!!