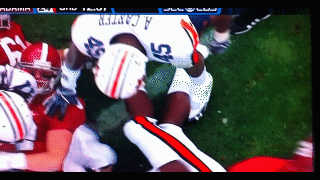 With 12:37 remaining in the 3rd quarter of the 75th Iron Bowl, Greg McElroy lined up behind his center on 4th-and-inches at Alabama's 49-yard line. Auburn had just trimmed the Tide's seemingly insurmountable 24-0 lead to just ten points a few plays earlier. Needless to say, this was a very important play in regards to the momentum for the rest of the game. If McElroy was stopped, Auburn would get the ball around the 50-yard line with a chance to cut the lead to three points very early in the 2nd half.
McElroy took the snap and lunged forward behind his linemen, barely making any forward progress from the line of scrimmage. His helmet did definitely touch the 50-yard line, but you don't carry the ball with your helmet. To my Auburn-biased eyes, it was definitely worth a review or at least an extra look, but not to worry McElroy. Mr. Line Judge has your back.
What you are seeing in the video above is the line judge placing his foot at the spot the ball, but once he notices that it might be a little too close to giving the Auburn the ball on downs, he nonchalantly brings his back foot up next to his spotting foot. He then drops the spotting foot back. This "process" gives Alabama a good 4-5 inch gain. Football is a game of inches, and those inches mattered on this play.
I'll be honest, the overhead replay shows that McElroy probably did get the first down, but why would an official do this? Why would he be moving his feet so discreetly to move the ball up a few inches on a 4th-and-inches play? This was a huge point in the game with an easy opportunity to continue the Tide's drive by just a bump of a few inches, and this flat out looks like he took advantage of that.
I'm not completely calling foul, but I think someone should look at this.
@JHokanson with the credit.