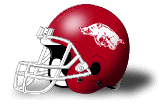 Due to the Harlem Globetrotters and a possessed 15-month old, I wasn't able to give you a preview last night. Since I'm heading to campus in a few minutes, I'll do the best I can. See y'all in a bit.
By the way, Kirk Herbstreit just called Auburn "his Auburn Tigers" on ESPN's Gameday.
What Auburn needs to do:
Draw up plays that are working towards a touchdown on every drive. No quick kicks. No running plays on third-and-12 to get a few more yards on the punt. The Tigers need to score on every possession, or at least show me that they are trying to.
Pin their ears back and do whatever it takes to hit Mallett early. then drop back and let him make mistakes. I don't care if it allows a touchdown or two. I want Fairley in the backfield on the first drive, letting Mallett know that they will be back there all day.
Tackle on kickoff coverage. This hasn't been a problem at all this year until Randall Cobb returned kickoffs last week. Many of Kentucky's points came from great field position, and Auburn can't give Mallett a short field if they want to win. Arkansas doesn't have a Randall Cobb, but I'd like for them to act like he is back there and do whatever it takes to make the Razorback's start drives inside the 20.
What Auburn can't do:
Get cute, bog down, punt.
Give Mallett all day to throw, play soft, give up the dink-and-dunk and the big play. Like I've always said, they usually end up with the same result.
As I said before, give Arkansas a short field. Gotta pin 'em deep.
Arkansas has ruined Auburn's season too many times in the last few years. They are definitely #2 on my list of teams I want Auburn to beat, at least on the revenge scale. They always seem to be un-ranked and beat a ranked Auburn, and it's usually never close. Maybe since both teams are ranked (for the first time), this one will go a little differently.
If Auburn can score on every possession, it won't really matter how many points Arkansas scores, but since that won't happen, the defense has to make some big stops, hit Mallett, and force turnovers. With the home crowd, the fact that Mallett has been forced down their throats for a week, and Cam's ability and desire to take over the game, I see Auburn getting a big win to finally prove to the entire world that they are for real.
Auburn 38, Arkansas 27