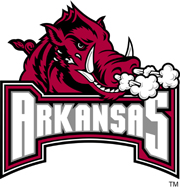 JackTheRabbit almost puts me in a depressive state after reading these words about our games with Arkansas past, present, and future. He does make some valid points, though, while bringing up the ghosts of games-kicking-off-before-I'm-really-awake. What are your thoughts on the game?

New Questions
by JackTheRabbit
This weekend Auburn will take on the Arkansas Razorbacks in Fayetteville. Chances are you're already familiar with Auburn's 5-0 start and outstanding offensive performances this season. All of these accomplishments are great, and I hope they continue, but we could talk about stats and numbers all day. In this preview I want to discuss something a bit different. One thing I'm eager to see is how this coaching staff prepares the team for this weekend.
If you have been following Auburn football over the past years (especially the Tuberville era) you know that Auburn has a tendency to show up to a game like Arkansas and look flat. Auburn is coming off what many people consider to be a big win this past weekend at Tennessee, and also I shouldn't forget to mention this will be the first day game Auburn has played this season.
All of these factors make me think back to the Tuberville era, and honestly it makes me cringe. Who can forget the let down games of 2006? Arkansas and Georgia were both games that Auburn was not only favored, but should have won. While we're at it let's go just a bit further and recall the Capital One Bowl against Wisconsin. These are all games Auburn should have competed in, and were picked to win, but came out flat and stunk up the place. I'm almost conditioned to see this game as a let down. Even when Auburn did win these types of games it still felt like we came out flat and didn't play well (see Arkansas game 2007).
All in all I think this game will tell a lot about our team, and most importantly our coaching staff. Will Chizik have the Tigers ready to play after a big win? Can he keep his players focused and prevent a very Tuberville-like letdown? Those are the questions I look for to be answered this weekend. My prediction: Auburn 35, Arkansas 17.